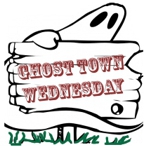 Indianola is referred to as the "queen of Texas ghost towns" and could actually be filed under two Digging History Wednesday categories – ghost towns and wild weather.  German immigrants began settling in the area in the mid-1840's and in 1846 the town of Indian Point was established.  The location was ideal as a deep-water port during the Mexican War and was the chief port of debarkation for thousands of European immigrants who would settle the western parts of Texas.
After the area was surveyed and lots were sold the town began to grow.  In September of 1847 the post office opened and a few months later stagecoach service was established.  The nearby town of Karlshaven had been home to some of the first European immigrants (Germans) and in February of 1849 the two communities merged and became known as Indianola.

NOTE: This article has been SNIPPED.  Why?  Digging History is now a monthly digital (PDF) magazine.  This article will be included in a future edition of Digging History Magazine. Check out the latest issue here:  www.digginghistorymag.com or try a subscription here.  Want to TRY OUT the magazine?  Click the magazine link in the previous sentence, then scroll to the bottom of any page and provide your email and Subscribe.  A free issue will be coming your way soon!