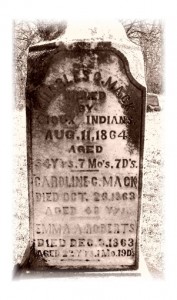 Charles C. Mack was born on January 4, 1810 to parents Jesse and Mary Ann (McCollister) Mack in Washington County, New York.  It appears that Charles might have still been living with his parents in 1830, but around 1832-1834 he married Sophia Brown.  Their first son, Jesse William, was born on Christmas Day of 1834.  Three daughters followed: Emily (1836), Sarah (1839) and Emma (1841).
Emily died in 1841 at the age of four years, about eight months before Sophia gave birth to Emma.  Sophia died on October 21, 1846 and Charles married a woman by the name of Caroline (maiden name unknown).  In 1850 the Mack family was enumerated in Washington County, but not long afterwards, perhaps around 1852-1853, they migrated west to Minnesota Territory.
NOTE: This article is being re-purposed and will be included in a future edition of Digging History Magazine. Please check out our new site:  www.digginghistorymag.com.  Samples are available by clicking magazine image.  Regular monthly issues currently available for only $1.99. – Updated 1/20/18.