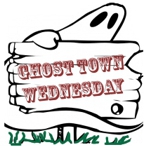 Ranchers were first attracted to this area of Hale County, Texas because of an abundance of water.  The J.N. Morrison ranch was established in 1881 and many settlers who came to the area worked there.  Ranch operations continued to grow as other cattleman joined the partnership, including Christopher Columbus (C.C.) Slaughter.
Slaughter wore many hats during his lifetime — as a Texas Ranger, banker, cattleman and more.  As a highly successful businessman, Slaughter made his four million dollar fortune in cattle ranching and land speculation.  Born in 1837, Slaughter was a part of history as the Texas Republic took shape.  Between 1877 and 1905 he managed to amass more than a million acres of land – from just north of Big Spring and stretching to the New Mexico border — and forty thousand head of cattle . A Dallas newspaper once called him "the Cattle King of Texas", a title I might add was given to more than one Texas cattle rancher.
NOTE: Digging History is now a monthly digital (PDF) magazine.  This article will be included in a future edition of Digging History Magazine. Check out the latest issue here:  www.digginghistorymag.com or try a subscription here.