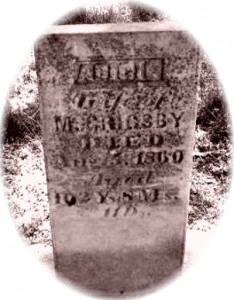 According to her gravestone, Abigail Fritter Grigsby died on August 5, 1860 at the age of 102 years, 8 months and 11 days.  The picture I found at Find-A-Grave appears to be of the original gravestone.  That would mean she was born on November 25, 1757 if this calculation tool is correct.  The Find-A-Grave entry lists her birth date as November 11, 1764 and the death date as August 5, 1860.  Clearly, there is some sort of discrepancy, but this isn't the only "twist" to Abigail's story …. read on.
Under oath and by her mark ("X"), Abigail Grigsby swore to the following facts on August 10, 1840 before the Marion County (Indiana) Probate Court:
NOTE: This article is being re-purposed and will be included in a future edition of Digging History Magazine. Please check out our new site:  www.digginghistorymag.com.  Samples are available by clicking magazine image.  Regular monthly issues currently available for only $1.99. – Updated 1/20/18.