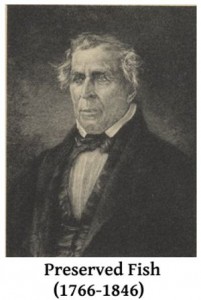 This name was so unusual I decided to research it a bit.  As it turns out, there was more than one person with this name, apparently from the same family line.  First of all, the name was most likely not pronounced as we commonly do today (prɘ ˈzɘrvd), but rather something like "pre-SER-ved" or "pres-ER-ved".  Here are a few short biographies of those bearing the name (pay attention — it's a bit of a tongue-twister at times!).
Preserved Fish (1679-1745)
According to the Fish genealogical record, the first known person with the name "Preserved" was born on August 12, 1679 in Portsmouth, Rhode Island, the son of Thomas and Grizzel (Shaw) Fish.  He married Ruth Cook on May 30, 1699 and to their marriage were born these children: Grizzel, Ruth, Thomas, Amy, Sarah, John, Preserved and Benjamin.
NOTE: This article is being re-purposed and will be included in a future edition of Digging History Magazine. Please check out our new site:  www.digginghistorymag.com.  Samples are available by clicking magazine image.  Regular monthly issues currently available for only $1.99. – Updated 1/20/18.