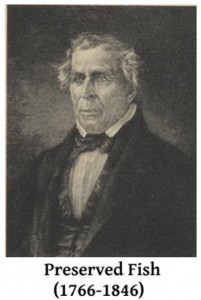 This name was so unusual I decided to research it a bit.  As it turns out, there was more than one person with this name, apparently from the same family line.  First of all, the name was most likely not pronounced as we commonly do today (prɘ ˈzɘrvd), but rather something like "pre-SER-ved" or "pres-ER-ved".  Here are a few short biographies of those bearing the name (pay attention — it's a bit of a tongue-twister at times!).
Preserved Fish (1679-1745)
According to the Fish genealogical record, the first known person with the name "Preserved" was born on August 12, 1679 in Portsmouth, Rhode Island, the son of Thomas and Grizzel (Shaw) Fish.  He married Ruth Cook on May 30, 1699 and to their marriage were born these children: Grizzel, Ruth, Thomas, Amy, Sarah, John, Preserved and Benjamin.
His namesake born on May 19, 1713 lived to be ninety-nine years old, dying in February of 1813 as the result of falling on a hatchet. While many of the Fish family were thought to have been of the Baptist faith (Rhode Island was essentially a Baptist colony found by Roger Williams), it appears that Preserved may have been a Quaker since his death on July 15, 1745 was recorded by the Society of Friends.
Preserved Fish (1766-1846)
According to Rhode Island records, this Preserved Fish was born on July 14, 1766 to parents Isaac and Ruth Fish. The Fish genealogical record states, however, that Preserved was born in Freetown, Massachusetts (Isaac was born in Portsmouth, Rhode Island in 1744).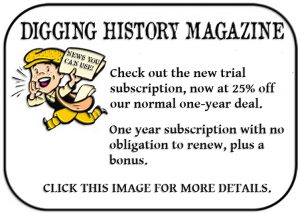 Some sources indicate that his father's name was also Preserved, while the Fish family genealogical record indicates Isaac was his name. Nevertheless, it appears the name was an old Quaker name that meant "preserved in a state of grace" or "preserved from sin", according to Jay William Frost, a Quaker historian at Swarthmore College. The Fish family was quite prominent in seventeenth and eighteenth century New England.1
While the name may have been a distinct family name, some had through the years believed it may have been attributed to the story about how he was "picked up from a floating wreck by a New Bedford fisherman, and therefore named Preserved Fish.2 That, of course, is preposterous owing to the fact there was already at least one ancestor pre-dating him who bore the same name.
Isaac was a blacksmith and his son worked in the shop, perhaps hoping that Preserved would follow in his footsteps. That seems not to have been Preserved's calling, however. He worked for a time as a farmer, but finally the sea called him. He boarded a whaling ship headed for the Pacific and became a captain at the age of twenty-one. The sea may have been in his blood, but Preserved realized that the life of a sea captain wasn't likely to make him wealthy.
Rather, he realized that his fortune would be made in selling whale oil, not in hunting for it on dangerous sea missions. In 1810 Preserved went into the whale oil business with his cousin Cornelius Grinnell and later with another cousin, Joseph Grinnell. Joseph and Preserved founded the shipping firm of Fish and Grinnell in 1815. Within a few years, owing to Preserved's keen business acumen, the company became one of New York's most influential firms.
In 1826 Preserved joined the New York Stock Exchange Board as one of the founders and later became president of the Tradesman's Bank of New York, a position he held until his death in 1846. Although he was married three times, Preserved never had any biological children, but adopted a son, William Middleton.
Preserved was a Quaker until late in his life when he joined the Episcopal Church. He was a Jacksonian Democrat until joining the Whigs in 1837 in opposition to Martin Van Buren.3 New York newspapers made mockery of the switch – a Whig in New York, home of the infamous Democrat political machine known as Tammany Hall, was openly disdained.
Just as the Mexican-American War was beginning, Preserved Fish died in Portsmouth, Rhode Island on July 22, 1846. His body was returned to New York where he was buried in Vault No. 75 of the New York City Mausoleum, joining the likes of other prominent New York families (many of them bankers).
Preserved Fish (1770-1849)
He was the son of Robert and Abigail (Hathaway) Fish, born on November 5, 1770 at the estate of his grandfather Daniel Fish. Abigail died in 1775 and his early years were spent at the home of his older brother Matthew in New Ashford, Massachusetts. He served as Matthew's apprentice, learning the stone mason trade. At the age of nineteen he purchased his time from Matthew for the sum of sixty dollars, but being poor he found himself indebted for that amount.4
When the New Hampshire Grants were made available (later becoming the state of Vermont) Preserved joined other settlers heading north. His training as a stone mason served him well and he was able to pay the debt owed to Matthew. After clearing his debts, Preserved saved his money and later invested in farm land and property.
In August of 1791 Preserved married Abigail Carpenter and to their union were born ten sons and one daughter. On December 11, 1808 they joined the Ira (Vermont) Baptist Church and later transferred membership to the Middletown Baptist Church in 1819. Preserved was also a Mason and a Knight Templar and family historians note that despite the affiliation he wasn't precluded from membership at Middletown despite the Anti-Masonic movement (1820-1840).
Preserved became one of the wealthiest members of his community and through the years served in various civic offices. He was a "very large man, tall and powerful" and his ten sons all averaged at least six feet in height. Like Preserved Fish the New York banker, he was also a banker and a successful businessman.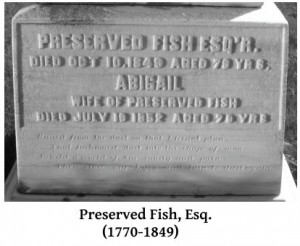 Preserved died on October 10, 1849 of septicemia following an infection of his thumb. His total estate, minus large sums of money loaned to over forty individuals, included railroad and banking investments and totaled just over $45,000. A faithful servant of the people known as Esq. ("Square") Fish, his tombstone read:
Raised from the dust on that eternal plan
That fashioned dust into the shape of man
Behold a world of sin, vanity, and pain,
Then close my eyes and turn to dust again.5
Preserved Offensend Fish (1882-1935)
This particular Preserved Fish was descended from the son of Vermont Preserved Fish's son who went by the "abbreviated" name of "Served" and was born on August 14, 1882 in Washington County, New York. The middle name of Offensend came from the second wife of Served, Sally Ann Offensend. Preserved Offensend Fish is the grandson of Served Fish and Sally Ann Offensend Fish and the son of Preserved Offensend Fish (Sr.) who was born in 1851.
Preserved Offensend Fish, Sr. died in 1904 and following his death, Preserved Offensend, Jr. headed west to seek his fortune. In Wyoming he had a profitable cattle business, but lost quite a bit of his fortune following World War I. He married Jennie A. Robinson on September 26, 1911 in Thermopolis. To their marriage were born four children: Sadie, Albert Edward (died at 16 days old), George and Robert.
Preserved roamed Wyoming it seems, living at various times in Thermopolis, Worland, Casper, Buffalo and Ten Sleep. He also lived for a time in Bridger and Belfrey, Montana. He died on October 5, 1935 and is buried in Ten Sleep.
Whether Preserved Offensend Fish was the last to bear the unique family name is unclear to me, although it seems to have been the last one referenced in the family genealogical record – he came from a long line of not just Fishes but "Preserved Fishes".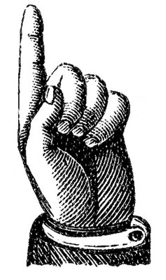 Did you enjoy this article?  Yes? Check out Digging History Magazine.  Since January 2018 new articles are published in a digital magazine (PDF) available by individual issue purchase or subscription (with three options).  Most issues run between 70-85 pages, filled with articles of interest to history-lovers and genealogists — it's all history, right? 🙂  No ads — just carefully-researched, well-written stories, complete with footnotes and sources.
Want to know more or try out a free issue? You can download either (or both) of the January-February 2019 and March-April 2019 issues here:  https://digging-history.com/free-samples/
Thanks for stopping by!