What was happening on this day in June of 1924?  The big front-page headlines were buzzing about the Republican National Convention, on the verge of nominating their man Calvin "Silent Cal" Coolidge.  The only concerns were over certain contentious planks in the Republican platform and who would be named as Coolidge's running mate.
"Sulky delegates" were threatening to withdraw support for Coolidge if their platform demands weren't met.  Herbert Hoover (better luck next time – or as it turned out, not so much) was the top choice for the vice presidential nomination, but it didn't appear that anyone really wanted the job.  The man who eventually became the nominee, Charles G. Dawes, was described as an "aggressive Illinoisan" "struggling to prevent the vice presidency from coming his way."1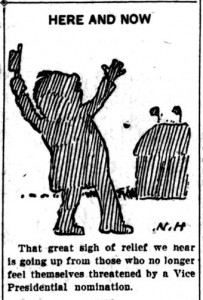 NOTE: This article is being re-purposed and may be included in a future edition of Digging History Magazine. Please check out our new site:  www.digginghistorymag.com.  Samples are available by clicking magazine image.  Regular monthly issues currently available for only $1.99. – Updated 1/20/18.