What was happening on this day in June of 1924?  The big front-page headlines were buzzing about the Republican National Convention, on the verge of nominating their man Calvin "Silent Cal" Coolidge.  The only concerns were over certain contentious planks in the Republican platform and who would be named as Coolidge's running mate.
"Sulky delegates" were threatening to withdraw support for Coolidge if their platform demands weren't met.  Herbert Hoover (better luck next time – or as it turned out, not so much) was the top choice for the vice presidential nomination, but it didn't appear that anyone really wanted the job.  The man who eventually became the nominee, Charles G. Dawes, was described as an "aggressive Illinoisan" "struggling to prevent the vice presidency from coming his way."1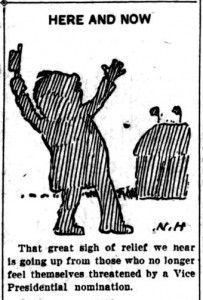 Life was good and the "Roaring Twenties" were in full swing. Frank Mondell of Wyoming called Coolidge a "courageous chief". Apparently, Coolidge's budget-busting tactics were working. The Nineteenth Amendment to the Constitution had been ratified five years earlier, giving women the right to vote. Increasingly, women were taking greater roles in politics.
Some "pretty girls" found Republican delegates easy marks as they raised campaign cash for Coolidge:
Pretty girls, with come hither eyes and a linger-a-while smile, are raising money for the campaign to elect President Coolidge. And as the saying goes: "Take it from me they can take it from you."
If they don't get you for $10 they'll get you for $1. Small change doesn't go. A man's got to pay dearly for a chat with one of these ladies. Siren-like, they lure you into conversation about Calvin Coolidge's home town and then after you've unsuspectingly admitted you're interested in their talk, they shoot a blank in your face and say: "Here, sign on the dotted line. Become a member of the Home Town Coolidge Club of Plymouth, Vermont. One dollar and you're a charter member, ten dollars, and you're a sustaining member."
What can a poor man do? If he says he's a Democrat, that won't go at all. The lady looks pleadingly into his eyes and makes him feel cheaper than a marked-down article at a one-cent sale. . . . Politics is a great game.2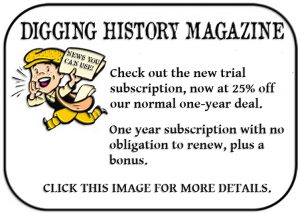 Politics aside, there were some sensational murder cases also making big headlines, one in particular featuring Clarence Darrow as defense attorney for two young men, Nathan Leopold and Richard Loeb, accused of kidnaping and murdering a fourteen-year old boy. Darrow was apparently planning to plead insanity for his clients as he declared he wanted their "minds examined."
Leopold and Loeb, both from well-to-do families, may have been done in by the testimonies of "the help". Both "intellectuals" had pleaded not guilty, but the family chauffeur and maids testified against their employers' children. Their trial was set for August 4. Justice was much swifter in those days.
Swift justice came for nineteen year-old Frank McDowell whose case was declared a mistrial on the 11th. The case was immediately retried, resulting in a guilty conviction on the 21st. His case was one of several which led one New Zealand newspaper to print an article entitled "American Fanaticism". McDowell had burned his two sisters to death in Decatur, Georgia and one year to the day later killed his parents in St. Petersburg, Florida, shooting them while they slept.
His defense? He claimed to have committed those crimes to atone for cursing the Holy Spirit when he was eleven years old. It appears that he either mis-interpreted or over-interpreted the meaning of the unpardonable sin. One day he discovered missing buttons on a shirt he wanted to wear, perhaps cursing. After hearing a preacher say that "such blasphemy was the unpardonable sin and could be expiated only through fire and blood",3 he apparently decided the best way to accomplish that was systematically killing his family.
The article pointed out that "the constant growth of strange cults, religious and of a scientific nature" appeared to have occurred in the American South. One Negro man may have been responsible for a string of murders. Perhaps, in order to repent he took the scripture "if thy right hand offend thee, cut it off" literally. He laid his right hand on a chopping block and cut if off with an ax, swinging nine times before severing it!
Eighteen-year old Jane Eva Winchester of Seffner, Florida killed "her sick father until she had trampled the life out of him." Her mother claimed that Jesus had ordered the death of her husband "because the Devil was in him." The mother had been attending faith healing services. She and her daughter dragged the man into the yard and trampled him to death. Her daughter wasn't to blame the mother declared. "I commanded her to do it. I stood over while she stamped my husband on the face and chest for 30 minutes. He cried for mercy, but I was commanded by Jesus to end his life." Hmm . . . just who really had the devil in them?
One uplifting story was, however, the polar opposite of the above examples of "American Fanaticism". A lay preacher by the name of A.K. Harper had just finished a revival in Quincy, Illinois where 539 people had confessed the Christian faith.4 Look for an article someday on the life of this industrialist turned lay preacher.
On a Somewhat Lighter Note
Enough about politics and crazy murderers. From the pages of the Belvidere Daily Republican:
Although he didn't claim any religious reason for committing his crime, Herman Oetjen of Hillsboro, Missouri admitted to reporters he had killed his wife Henrietta the previous Sunday. Henrietta, the mother of fourteen children, had put two shells in the gun, handed it to Herman and told him to kill her. "I just put the gun up and shot. We'd been quarreling. I sorta wish I hadn't shot her."
She Has Had 19 Babies – In Wisconsin the wife of farmer Peter Shallow had given birth to their nineteenth child. Thirteen were still living and the missus had birth four sets of twins. She had married at the age of fourteen and was then forty-two.
From the pages of the Brooklyn Daily Eagle:
In Chicago the American Medical Association was holding a convention and several topics were being discussed. One involved the issue of rejuvenation by gland transplantation. The name of John R. Brinkley most likely came up, he the purveyor of a procedure whereby goat testicles were transplanted into human males to cure impotence. Brinkley was quite a character, the king of flim-flam. I recently wrote a book review of the excellent book, Charlatan, by Pope Brock – you can read it here. It was one of the most enjoyable books I've read in awhile I must say, and as noted in the review contains just enough mild tongue-in-cheek innuendo to make it not only informative but humorous as well. At the AMA convention, the gland theory was dismissed as mythology.
Another discussion topic among male doctors at the convention was the possible harmful effects of face powders, rouge and jazz. In the opinion of the men, the high incidence of goiter among young women was to be blamed on the "high powered motorcars, dances, theaters, cabarets, liquor and the other innumerable factors that play a part in the regular life of many of our urban adolescents today." The hectic pace stressed the human nervous system, resulting in "complete fatigue which prevents the natural elimination of the toxins of the body, resulting in goiter." Furthermore, a professor at Western Reserve University absolutely deplored the increasing use of cosmetics. Just the day before, the convention had adopted a resolution calling for legislation "against the use of harmful ingredients in cosmetics."
The National Medical Women's Association, meeting in conjunction with the AMA convention, expressed a different opinion of the fairer sex, however: "The modern girl is the healthiest, happiest girl the world has ever known," [Dr. Katherine D. Manion] said, "and I wouldn't exchange the modern flapper, as you call her, for any other girl of any other time. Girls used to be defenseless creatures who sat at home with their knitting, laced up in tight corsets and almost never indulged in any outdoor exercise."
"The girl of today who swims, plays golf, bobs her hair, goes without corsets, wears flat heels and takes long hikes is something to be mighty proud of. Chaperones are extinct, but only because they are no longer needed. The modern girl can take care of herself. Her mind is as healthy as her body, and her intelligence and independence protect her."
This story reminded me of another story I ran across recently, the subject of a Monday Musings article (It Took More Nerve to Horsewhip a Man Than Shoot Him):
MRS. ROBERTS USES HORSEWHIP ON HER HUSBAND IN STREET – Mrs. Maud Roberts of East Rockaway might have stood up and cheered Dr. Manion's remarks. A divorce warrant served by her estranged husband had set Maud off apparently. Before attempting to serve the divorce papers, her husband Charles had requested a police escort, expecting to be attacked after he observed her "picketing his home with a horsewhip in her hand." He had slipped out of the house while her back was turned. Upon returning home with the police escort and stepping from his car, Maud attacked him. She was placed under arrest by the escorting police officer. Some women were asserting themselves it seems in some very unseemly ways.
One more item from the AMA convention:
Dr. Thomas C. Chalmers believed that drunkenness, even in the face of Prohibition, was then more prevalent than before the Volstead Act passed, becoming the Eighteenth Amendment to the Constitution after Congress overrode President Wilson's veto. Admittedly, Chalmers had seen a positive change immediately following Prohibition, but the pendulum had now swung the other way.
Chalmers wasn't advocating a repeal of Prohibition, just more freedom for physicians to treat patients. "Liquor is absolutely necessary in the treatment of many diseases," he declared – the difference in some cases between life and death. In no way, however, was he advocating the use of liquor as a beverage. Dr. Oscar Dowling strongly disagreed: "Whiskey has no rightful place in the treatment of disease." Dowling apparently won the argument, since Prohibition didn't end until late 1933 when Utah agreed to ratify the Twenty-First Amendment repealing the Eighteenth Amendment.
An assertive, independent-minded, horse-whipping wife, crazy murderers, opinionated, meddling physicians, and politics – quite an eclectic and interesting mix on this day in June of 1924, wouldn't you say?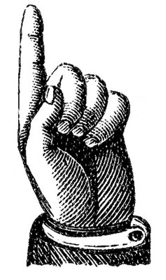 Did you enjoy this article?  Yes? Check out Digging History Magazine.  Since January 2018 new articles are published in a digital magazine (PDF) available by individual issue purchase or subscription (with three options).  Most issues run between 70-85 pages, filled with articles of interest to history-lovers and genealogists — it's all history, right? 🙂  No ads — just carefully-researched, well-written stories, complete with footnotes and sources.
Want to know more or try out a free issue? You can download either (or both) of the January-February 2019 and March-April 2019 issues here:  https://digging-history.com/free-samples/
Thanks for stopping by!