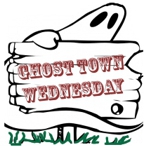 Indian legends about long-lost silver mines brought prospectors to Marion County in north central Arkansas during the 1880's.  News of shiny metallic flakes found in rocks caused a "silver rush", bringing wealth-seekers from the nearby states of Missouri, Tennessee, Mississippi and Kentucky and beyond, including the Carolinas, Georgia and Alabama.
After a rock smelter was built in 1886 along Rush Creek the first tests conducted in early 1887 proved to be disappointing — at least for those hoping it was silver in "them thar hills".  Instead, those shiny metallic flakes were found to be another mineral when "green zinc oxide fumes were emitted in a spectacular display"1 — something akin to welding sparks perhaps.  Zinc mining began soon thereafter at the Morning Star Mine.
NOTE: This article has been SNIPPED.  Why?  Digging History is now a monthly digital (PDF) magazine.  This article will be included in a future edition of Digging History Magazine. Check out the latest issue here:  www.digginghistorymag.com or try a subscription here. 

Want to TRY OUT the magazine?  Click the magazine link in the previous sentence, then scroll to the bottom of any page and provide your email and Subscribe.  A free issue will be coming your way soon!
Footnotes: