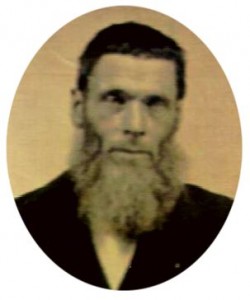 Pierre Labonté (later Americanized to Peter Labounty) was born on November 15, 1817 to parents Joseph and Marguerite Amable Labonté.   The name is French which would indicate he was born in the French-Canadian province of Quebec.  Family researchers, however, differ as to the specific location.  Some believe he was born in Montreal, while others believe he was born in either Quebec City, Marieville or Napierville.  United States census records only indicate he was born in Canada.
As is often the case, a common family name is hard to trace, especially in another country with records in this case in French.  There appear to have been many named Pierre Labonté in the Quebec province, and some believe (despite what it says on his grave) that he was born in 1820.  What is known is that at some point the family migrated across the Canadian border and settled in Clinton County, New York.
NOTE: This article is being re-purposed and will be included in a future edition of Digging History Magazine. Please check out our new site:  www.digginghistorymag.com.  Samples are available by clicking magazine image.  Regular monthly issues currently available for only $1.99. – Updated 1/20/18.