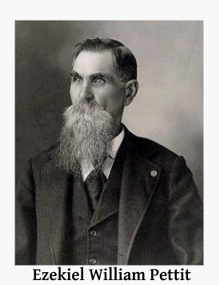 Ezekiel William Pettit was born in 1837 to parents Samuel and Polly Pettit in the province of Ontario, Canada, not far from the United States border in the township of Townsend.  One source indicates that his parents were actually United States citizens, but there are some conflicting records that seem to indicate otherwise.  Through the years, some census records indicated that Ezekiel's parents were both born in Canada and some indicate they were born in New York.
In 1851 the Pettit family was enumerated in Norfolk County, Ontario and both parents were listed as being born in "Upper Canada" (there was a "ditto" notation for an entry above theirs).  The family moved to Rockford, Illinois sometime after that census, perhaps 1852 according to one source, although a later record (the 1900 census) indicated that Ezekiel had immigrated in 1847 (probably a miscalculation since the family was clearly living in Canada for the 1851 census).
NOTE: This article is being re-purposed and will be included in a future edition of Digging History Magazine. Please check out our new site:  www.digginghistorymag.com.  Samples are available by clicking magazine image.  Regular monthly issues currently available for only $1.99. – Updated 1/20/18.