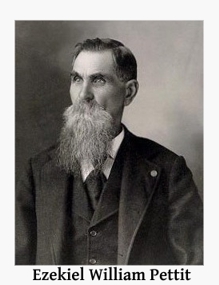 Ezekiel William Pettit was born in 1837 to parents Samuel and Polly Pettit in the province of Ontario, Canada, not far from the United States border in the township of Townsend.  One source indicates that his parents were actually United States citizens, but there are some conflicting records that seem to indicate otherwise.  Through the years, some census records indicated that Ezekiel's parents were both born in Canada and some indicate they were born in New York.
In 1851 the Pettit family was enumerated in Norfolk County, Ontario and both parents were listed as being born in "Upper Canada" (there was a "ditto" notation for an entry above theirs). The family moved to Rockford, Illinois sometime after that census, perhaps 1852 according to one source, although a later record (the 1900 census) indicated that Ezekiel had immigrated in 1847 (probably a miscalculation since the family was clearly living in Canada for the 1851 census).
There is an 1860 census record for Ezekiel Pettit in Grand Rapids, Michigan, a laborer living in the Barnard House (a boarding house or hotel). So, at the age of twenty-three (the census taker perhaps mistakenly recorded "33″) Ezekiel had struck out on his own. However, in 1862 he had returned to Illinois and on August 11 enlisted in the Illinois 92nd Volunteer Infantry, Company H as a corporal. The 92nd was mustered into service on September 4 and on October 11 the regiment left Rockford, Illinois with orders to report to General Wright in Cincinnati.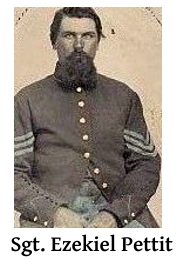 Just a few days before leaving, on October 2, 1862, Ezekiel married Ella Elvira Kendall in Winnebago County, Illinois. After his regiment reached Cincinnati they were assigned to General Baird's division (Kentucky) and marched directly into Kentucky, a key border state that Abraham Lincoln had declared essential to the Union cause ("I hope to have God on my side, but I must have Kentucky"). Lincoln believed that if Kentucky was lost, "[W]e would as well consent to separation at once, including the surrender of this capitol."
On January 26, 1863 the regiment was ordered to move with General Baird's division to join the Army of the Cumberland at Nashville before moving to Franklin, Tennessee to engage General Van Dorn's rebels. On July 22, the regiment became a mounted infantry and armed with Spencer repeating (seven-shot) rifles. Thereafter, the 92nd was part of Brigadier General John Thomas Wilder's Lightning Brigade.
Wilder's "Lightning Brigade" was so called because of the speed with which they had mounted and advanced to battle during the Tullahoma Campaign, part of "the most splendid piece of strategy I know of," wrote Abraham Lincoln. By April of 1864 the troops had advanced to Georgia and on May 7 the regiment entered the Atlanta campaign.
Years later, Ezekiel would boast of being one of General William Tecumseh Sherman's "Bummers", and meeting the General in person as well. The origin of the term "bummers" is unclear although it appears to have been in common usage during the war. Whatever it's origin or meaning, it was a term to be loathed and feared by Southerners.
Sherman had a goal to "make Georgia howl" and then proceed to South Carolina, the "hellhole of secession." Foraging details (the "bummers") were sent out to find provisions for Sherman's troops, empowered to take livestock, wagons and other provisions, although not officially allowed to trespass on private property or use threatening language. The bummers were supposed to leave a reasonable amount of provision for the family, but some disregarded the rules and instead became marauders, pillaging and taking what they wanted. Whether Ezekiel broke those rules is unknown.
Ezekiel was slightly wounded during the Atlanta campaign and at some point had been promoted to Sergeant. On June 21, 1865 he was mustered out in Greensboro, North Carolina. He returned to Illinois to continue his life together with Ella. The Find-A-Grave entry for Ezekiel, posted by a friend of Ezekiel's grandson, indicates that they had five children and only three survived to adulthood.
If census records are to be believed (and they certainly weren't always accurate), their son William was born in Missouri in 1867 according to the 1870 census. By 1870 the family was living in Swan City, Saline County, Nebraska and Ezekiel was a farmer. Three years later Ezekiel received a tract of land (just over 90 acres) obtained under the Homestead Act of 1862 and in December of 1876 was granted another eighty acres.
The family was enumerated in Beatrice, Gage County, Nebraska in 1880 and two more children, a son named Sidney age 9 and a daughter named Lottie (Charlotte) age 3, had been added to their family, along with Willie age 13 (who was recorded as being born in Illinois – see what I mean about the census!). Sidney would have been born around 1871 or so if the age is correct.
There's a bit of puzzlement, however, regarding Sidney because the Find-A-Grave entry posted by the same person indicates that Sidney was born in 1886 in Boulder, Colorado – all of which begs the question, "who do you believe?" The census record is clear, that is unless the Sidney enumerated in 1880 died and another son was born in 1886 and given his deceased brother's name. For now, I will set aside the "Sidney puzzlement" for next week's Tombstone Tuesday article.
The 1900 census record for the Pettit family further muddles the family tree because there is no record of a fourteen year-old son named Sidney living with the family in Everett, Snohomish County, Washington (this family certainly did get around!), but again that will be cleared up in next week's article … tease, tease, tease!
According to the Find-A-Grave entry Ezekiel was the Commander of a G.A.R. post (Grand Army of the Republic) post in Mountain View, California between the years 1906 and 1912. I wonder if they were there at the time of the April 18, 1906 San Francisco earthquake? In 1910, at the age of seventy-three, Ezekiel was a carpenter, a profession he had perhaps taken up after filing for his Civil War pension (as an invalid, while living in Colorado) in 1893.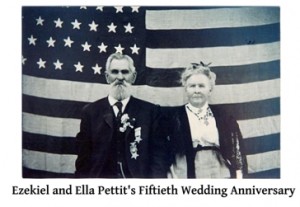 On October 2, 1912, Ezekiel and Ella celebrated their fiftieth wedding anniversary and on November 12, 1915, Ella passed away and was buried in Alta Mesa Memorial Park in Palo Alto. In 1921, at the age of eighty-four, Ezekiel was admitted to the Pacific Branch veterans home in Los Angeles (Sawtelle, now considered West Los Angeles). His health issues were many, including hearing and vision problems, cardiac hypertrophy, arteriosclerosis and arthritis.
Following his discharge on April 19, 1921 he was transferred to the Napa veterans home where he died the following year on April 26, 1922. Ezekiel was buried next to his beloved wife Ella, whose gravestone also included Sidney's name (Sidney Ezekial), his birth date of September __ 1886 and death date of January 9, 1906 (again, somewhat incorrect and I can prove it next week…. more teasing!).
One more thing about Ezekiel which caught my eye was a reference to his religion as recorded at the veterans home in Los Angeles. Ezekiel was a "spiritualist" … hmmm. And, you know what, there's another story there … for another day (stay tuned!).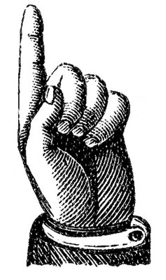 Did you enjoy this article?  Yes? Check out Digging History Magazine.  Since January 2018 new articles are published in a digital magazine (PDF) available by individual issue purchase or subscription (with three options).  Most issues run between 70-85 pages, filled with articles of interest to history-lovers and genealogists — it's all history, right? 🙂  No ads — just carefully-researched, well-written stories, complete with footnotes and sources.
Want to know more or try out a free issue? You can download either (or both) of the January-February 2019 and March-April 2019 issues here:  https://digging-history.com/free-samples/
Thanks for stopping by!