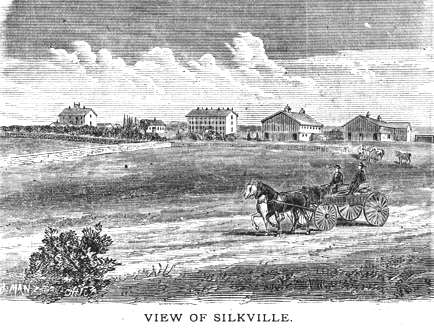 It would be more appropriate to call today's ghost town a "ghost commune", established by Ernest Valeton de Boissère in 1869.  He was a wealthy Frenchman, born into a Bordeaux aristocratic family in 1810.  When Napoleon III came into power after the Third French Revolution, de Boissère departed France in 1852 for political reasons and immigrated to America.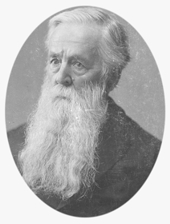 He was a disciple of Voltaire, a believer in freedom of religion and expression, as well as socialism.  He landed in New Orleans and attempted to establish a school and orphanage for Negro children, much to the disdain of his wealthy neighbors who apparently didn't share his idealism.  Then his long-time interest in the silk industry brought him to Kansas.
Through the influence of William Scofield, the financial agent of Baker University, de Boissère decided that Franklin County, Kansas would be the ideal location to not only produce silk, sell it and make money, but to put into practice his political and social views. Thus, his idea was a mixture of capitalism and socialism, or as Daniel Fitzgerald wrote in Ghost Towns of Kansas, " a curious combination of autocratic and socialistic rule, actually a scheme backed by capitalism yet dedicated to communal ownership."
His intent was to develop "a system of industrial and social life far in advance of either now prevailing in the world". He purchased three thousand acres of land and in early 1870 planted his orchards of walnut and mulberry trees. de Boissère also brought forty families from France, experts in silk production, to supervise his "plantation".
SilkvilleScenesBy the end of 1870 the property included the silk factory, an ice house, an apartment house and other stone buildings. In 1872, barns big enough to house three hundred hogs, fifty horses and four hundred head of cattle, a cheese factory, a blacksmith shop, and Masonic and Odd Fellows lodge halls were built. That same year de Boissère had reported to the State Board of Agriculture that his orchard of ten thousand mulberry trees was providing foliage for silk production.
de Boissère was obviously pouring huge amounts of money into his enterprise, but all along his plan was for the community to be self-sustaining. He issued a prospectus in 1873, wooing fellow socialists would become "associates" and be remunerated based on their productivity. To be invited was one thing, but each person who came was required to pay a $100 deposit, agree to meet their own needs and pay rent two months in advance.
The factory was a large stone building where the silkworms were kept, with three looms capable of producing over two hundred yards of silk ribbon each day. In 1874 a sprawling sixty-room house was built, capable of accommodating between fifty to one hundred persons. There were parlors, offices, family rooms, several dining rooms, and a library of twenty-five hundred volumes of classic literature in several languages.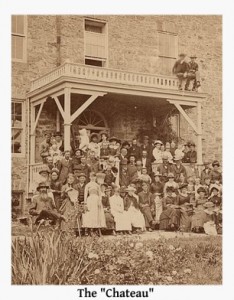 The house, the biggest mansion in Kansas at the time, was often referred to by area residents as a "chateau". A school was established, the first one in Kansas at that time to teach the literature of the day or what were called the "great books".
During the early years, outside visitors to Silkville were few, but after a time area residents became curious. People were beginning to express an interest in the silk industry and wanted to know more, although when de Boissère had first arrived folks were skeptical of both his intentions and his lofty plans. In the summer of 1874 trains ran out to Silkville so that anyone interested could come and see for themselves how silk was made.
The response was positive, as the Osage County Chronicle (Burlingame, Kansas) wrote: "[T]he extraordinary success which we have obtained in the raising of the silk worm, provides to us without any doubt, that there is no country in the world so well adapted for that industry as this, and there is no country which is so gifted of God as this." Congressman John J. Ingalls declared that Silkville was "the most prosperous community on the continent."
A sample of de Boissère's silk, "from the only silk-velvet manufactory in the United States", took first prize at the 1876 Centennial Exposition in Philadelphia. At the time, at least, everything seemed to be paying off for de Boissère's substantial investment – business (the capitalist idea) was booming and he had become an American citizen in 1874. However, the socialist side wasn't working so well.
When those who had originally come from France to work began to mingle with the local residents, they realized they could make better wages elsewhere. It was becoming increasingly difficult to attract laborers to participate in his socialist experiment. In 1881 operations began to decline and by the following year competition for Oriental silk products was increasing – amazingly, it was cheaper to import silk.
He would travel back and forth to France and once remarked, "When I am in Bordeaux, I'm rich, but when I am in Kansas I eat bread and milk out of a tin can." By 1886 de Boissère decided that his experiment, at least the silk production part, had failed. The cheese and wine-making part continued to flourish, however, at least for a time.
When he returned to Kansas from France in 1892, de Boissère realized his Utopian idea had failed. He had also recovered his fortunes in France and wished to return there. Still, he wanted his land in Kansas to be used for the greater good. Many charitable organizations expressed an interest, including the Independent Order of Odd Fellows who wanted to establish an orphanage.
The land was deeded to the Odd Fellow's Grand Lodge of Kansas via a trust in the amount of almost $150,000, its express purpose being the founding of an orphanage. Everything, including the buildings and the orchards were transferred. On June 7, 1894 the Odd Fellows Orphans' Home was officially dedicated.
After de Boissère died on January 12, 1874 a legal battle had ensued over ownership of the property. Even though the orphanage had been officially established, the Grand Lodge had passed resolutions withdrawing its support. Ultimately, the question of ownership was taken to the courts.
Troutman and Stone, a Topeka law firm representing de Boissère's sister Madame Corrine Martinelli, argued that she was the rightful heir. As it turned out, however, the law firm convinced her, for the sum of forty-five hundred dollars, to sign a quitclaim deed over to them. The Odd Fellows continued to claim that de Boissère intended the property to be used for beneficent purposes and had given them the property to fulfill his intentions. They also believed that the law firm had coerced Madame Martinelli to sign the deed.
The battle went on for years until in January of 1903 the Kansas Supreme Court declared the original Odd Fellows deed null and void. The law firm finally sold the property on September 1, 1910 for $130,000. In 1916 the mansion was partially destroyed by fire but later rebuilt, smaller than the original, and used as a farmhouse. In the 1960's the Netherland family purchased Silkville Ranch and owned it until 2003 when it was sold to a resident of Kansas City.
According to Ghost Towns of America, the only structures remaining are a couple of barns, some of the original trees and the one-room schoolhouse, along with a rusted-out Silkville Ranch sign. Just a faint memory of the past, its history unknown to most, but an interesting history nonetheless — and proof that socialism never has and never will work.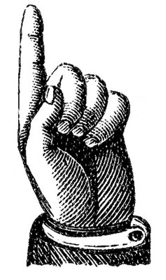 Did you enjoy this article?  Yes? Check out Digging History Magazine.  Since January 2018 new articles are published in a digital magazine (PDF) available by individual issue purchase or subscription (with three options).  Most issues run between 70-85 pages, filled with articles of interest to history-lovers and genealogists — it's all history, right? 🙂  No ads — just carefully-researched, well-written stories, complete with footnotes and sources.
Want to know more or try out a free issue?  That's easy if you have a minute or two.  Here are the options (choose one):
Scroll up to the upper right-hand corner of this page, provide your email to subscribe to the blog and a free issue will soon be on its way to your inbox.
A free article index of issues is available in the magazine store, providing a brief synopsis of every article published in 2018.  Note:  You will have to create an account to obtain the free index (don't worry — it's easy!).
Contact me directly and request either a free issue and/or the free article index.  Happy to provide!
Thanks for stopping by!