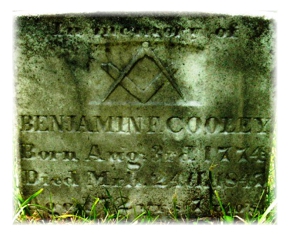 I came across an interesting story while researching my sister-in-law's ancestors.  Benjamin F. Cooley is her great-great-great grandfather, one of the early settlers of Grayson County, Virginia, and at the time one of the finest clock makers in the country.  Here is his story.
Most family researchers believe he was the son of Abraham and Sarah (Reeder or Reader) Cooley, and if so, was probably born in Orange County, New York on August 3, 1774.  He was their firstborn child after their marriage in 1773.  Of course, this time in American history was volatile and records indicate that Abraham Cooley was a staunch patriot.
On April 29, 1774 New York committee members drew up a pledge and sent it around to all counties and towns:
NOTE: This article is being re-purposed and will be included in a future edition of Digging History Magazine. Please check out our new site:  www.digginghistorymag.com.  Samples are available by clicking magazine image.  Regular monthly issues currently available for only $1.99. – Updated 1/20/18.