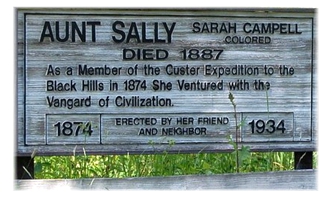 I ran across an article published in the January 13, 1878 issue of the Chicago Tribune entitled "The Women of the Hills" and written by a correspondent for the St. Paul Pioneer-Press. The correspondent wrote his thoughts on some of the more "colorful" women of the wild and woolly South Dakota Black Hills.  He was particularly enamored with Martha Canary, a.k.a. Calamity Jane, calling her "an original in herself" and someone who despised hypocrisy, imitated no one and was "easily melted to tears."
His list included Belle Siddons, a.k.a. Monte Verde, Kitty LeRoy, known as the queen of just about everything and a young woman known only as Nellie of Central City.  His list of colorful characters ended with a paragraph on a "large negro woman, almost as broad as she is long" by the name of "Aunt Sally".
This article is no longer available at this site.  However, it will be enhanced and published later in a future issue of Digging History Magazine, our new monthly digital publication available by individual purchase or subscription.  To see what the magazine is all about you can preview issues at our YouTube Channel.  Subscriptions are affordable, safe and easy to purchase and the best deal for getting your "history fix" every month.