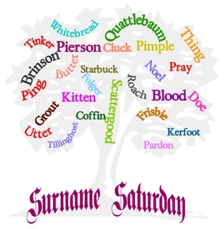 A couple of weeks ago the Cakebread surname was featured with an interesting story – this week it's Whitebread.  These two surnames appear to share similar origins dating back to pre-seventh century Olde English.  The Old English word "hwit" meant white, "hwaete" meant wheat, and as the Internet Surname Database points out, "bread" is one of a few words that has retained its original spelling for at least fifteen centuries.
Like Cakebread, the Whitebread surname was an occupational name for a baker of bread.  One name seen in medieval times, Whytbredson, could have been someone who was the son of a baker, or who perhaps was a baker like his father.  A 1221 record, one of the oldest, shows William Witbred on the Suffolk Subsidy Tax Rolls, in 1254 Roger Wythbred was listed in Huntingdonshire church records and Robert Whetbred appeared on the Subsidy Tax Rolls of Sussex in 1327.  Spelling variations include Witbread, Whytebread, Whatebread, Wyteberd, Witberd, Whitberd, Whiteberd and more.
This article is no longer available at this site.  However, it will be enhanced and published later in a future issue of Digging History Magazine, our new monthly digital publication available by individual purchase or subscription.  To see what the magazine is all about you can preview issues at our YouTube Channel.  Subscriptions are affordable, safe and easy to purchase and the best deal for getting your "history fix" every month.