Ambrose Hill and Callie Donia Fickling Bradshaw were married on March 6, 1918.  For both it was a second marriage – Ambrose was a widower and Callie Donia divorced with five children.  A few things intrigued me about this couple:  their names, their large blended family and their faith.
Ambrose Hill Bradshaw
Ambrose Hill Bradshaw was born on January 29, 1867 in Alexander County, North Carolina to parents John Sloan and Mary Louise (Barker) Bradshaw.  John was a Confederate who volunteered on November 2, 1861 and was mustered in on December 31.  He was wounded on August 29, 1862 at Manassas and later at Chancellorsville the following year.   John and Mary remained in North Carolina but Ambrose migrated to Tennessee sometime after the 1880 census, although the date is unclear with no 1890 census records available.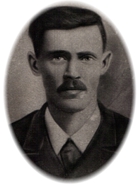 NOTE: This article is being re-purposed and will be included in a future edition of Digging History Magazine. Please check out our new site:  www.digginghistorymag.com.  Samples are available by clicking magazine image.  Regular monthly issues currently available for only $1.99. – Updated 1/20/18.