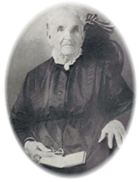 I can't remember how I happened to stumble across the story of Elizabeth Mosby Woodson Allison – perhaps the tragic way she died caught my eye in a 1924 newspaper headline.  By all accounts, she lived a full and long life, yet one of the most interesting aspects of Elizabeth's life was her impressive family heritage.
Elizabeth Mosby Woodson was born on December 30, 1824 in Franklin County, Virginia to parents Benjamin and Martha "Patsey" LeSueur Woodson.  According to History of Monroe and Shelby Counties, Missouri, Benjamin "was a prominent teacher in the south-western part of Virginia."  Thus, his children received a good education.  The family had connections to the well-known Virginia families of Woodson, LeSueur, Bacon and Randolph.
NOTE: This article is being re-purposed and will be included in a future edition of Digging History Magazine. Please check out our new site:  www.digginghistorymag.com.  Samples are available by clicking magazine image.  Regular monthly issues currently available for only $1.99. – Updated 1/20/18.