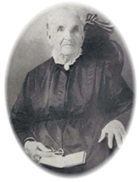 I can't remember how I happened to stumble across the story of Elizabeth Mosby Woodson Allison – perhaps the tragic way she died caught my eye in a 1924 newspaper headline.  By all accounts, she lived a full and long life, yet one of the most interesting aspects of Elizabeth's life was her impressive family heritage.
Elizabeth Mosby Woodson was born on December 30, 1824 in Franklin County, Virginia to parents Benjamin and Martha "Patsey" LeSueur Woodson. According to History of Monroe and Shelby Counties, Missouri, Benjamin "was a prominent teacher in the south-western part of Virginia." Thus, his children received a good education. The family had connections to the well-known Virginia families of Woodson, LeSueur, Bacon and Randolph.
The LeSueurs were of French origin and traced their heritage back to Eustace LeSueur, a great French painter born in 1617 and referred to as the French Raphael. Other prominent LeSueur family members included Thomas LeSueur, a famous mathematician, and Peter LeSueur a wood engraver. The family's immigrant ancestor in America, a French Huguenot named David LeSueur, came with Lafayette "to assist the colonies in their struggle for independence."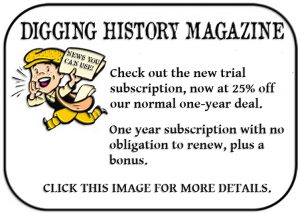 The family's most impressive heritage came through the Randolph family and connected Elizabeth, a first cousin twice removed, to the third President of the United States, Thomas Jefferson. Elizabeth's grandmother Nancy Anna "Nannie" Woodson (who apparently married her cousin John Stephens Woodson) was the first cousin of Jefferson through his mother's Randolph line.
That connection alone was impressive enough for the life-long member of the Daughters of the American Revolution, but through the Randolph line Elizabeth was also a direct descendant of Pocohantas through her son Thomas Rolfe. If there was a "royal lineage" in America, this might come close to qualifying as such.
In 1840 Elizabeth and her family migrated to Monroe County, Missouri and were enumerated in Jackson for the 1840 census. In 1844 Benjamin purchased land to farm, but passed away in 1848 before Elizabeth married John Benjamin Allison on November 14, 1850. John was a farmer, and like his father-in-law Benjamin, a teacher.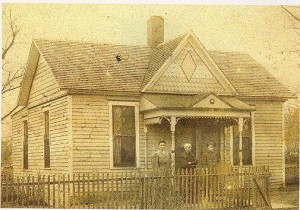 To their marriage were born nine children: George Wilkerson, Benjamin Alexander, Dorothy Ann ("Dollie"), Arabella Jane, Martha Elizabeth, John Stephen, Emma Jemima (John and Emma were twins), William Mosby and Mary Edith – all living to adulthood with the exception of Martha who died in 1861.
In August of 1861, residents of Monroe County were alerted to the news that the "Federals were coming". Governor Claiborne Fox Jackson had refused Abraham Lincoln's request to send Missourians to fight for the Union, calling it an illegal action. In 1861 approximately one-fourth of the county's population was slaves, so during the Civil War Monroe County was generally on the side of the Confederacy, although there were likely to have been Union sympathizers as well.
From the tone of Chronicles of the Civil War in Monroe County by B.C.M. Farthing, in general the county's sympathies were more aligned with the South. Where the Allisons and Woodsons placed their loyalties is unclear, although one newspaper account in 1923 indicated that Elizabeth had "interesting experiences connecting her with the Civil War."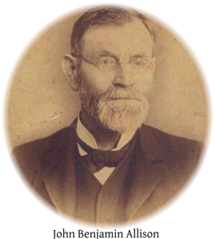 According to accounts provided by family historians and in newspaper clippings, Elizabeth was a member of the Methodist Church who loved to sing hymns and recite poetry. After John passed away in 1904, she lived with her children at various times. In 1910 she was living with Mary and her family in Comanche County, Oklahoma; in 1920 Elizabeth was living with her daughter Arabella and her husband George Fischer in Dallas, Texas.
On the occasion of her ninety-eighth birthday, a Dallas newspaper reported that Elizabeth was at that time the oldest living descendant of Pocohantas. She was in good health:
Despite the worries and cares which she has undergone during her many years, Mrs. Allison is still active and reads without the aid of glasses. She also recites poems and sings songs which she learned in her schooldays.
After all Elizabeth had lived through during her lifetime, her life ended tragically, apparently the result of her habit of smoking a corn-cob pipe. On the evening of February 19, 1924 she accidentally set herself on fire while smoking in bed, and by the time her son-in-law George Fischer reached her most of the clothing on her body had been burned away. George suffered severe burns trying to rescue her.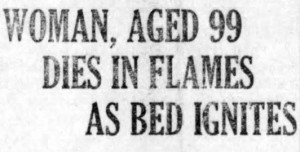 She was taken back to Missouri to be buried next to John in Audrain County. At the time of her death she was the oldest living descendant of Pocohantas, a fact included in accounts of her death in newspapers across the country.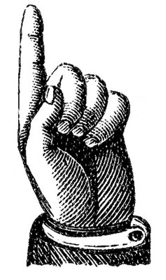 Did you enjoy this article?  Yes? Check out Digging History Magazine.  Since January 2018 new articles are published in a digital magazine (PDF) available by individual issue purchase or subscription (with three options).  Most issues run between 70-85 pages, filled with articles of interest to history-lovers and genealogists — it's all history, right? 🙂  No ads — just carefully-researched, well-written stories, complete with footnotes and sources.
Want to know more or try out a free issue? You can download either (or both) of the January-February 2019 and March-April 2019 issues here:  https://digging-history.com/free-samples/
Thanks for stopping by!