In the early days of American history, it was common for families to set aside a small plot of land on their farm for the family cemetery.  As time marched on, however, farm land gave way to more industrialization and large cities, or later what came to be called the "suburbs".  In some cases, no doubt, old cemeteries were moved elsewhere, but that wasn't always the case.
Some cemeteries have managed to remain exactly where they were established, while cities, roadways, shopping malls and outlet centers were built nearby, all without disturbing the burial grounds.  These old cemeteries are now situated in the oddest places, some in the middle of parking lots.
Awhile back I was researching possible Tombstone Tuesday articles and came across a cemetery referred to, somewhat tongue-in-cheek, as "Ye Old Coffey Grounds".  This cemetery is a perfect example of a small family cemetery left undisturbed while cities, shopping centers and roadways are built around it.
Also just known as the Coffey Cemetery, this one is on the grounds of a huge outlet shopping  center, Woodbury Common, located in Orange County, New York near the Hudson River.  It was once land owned by John Coffey, Sr. and his wife Experience.  I still plan to do an entire Tombstone Tuesday article on this interesting cemetery – stay tuned.
A one-plot cemetery can be found in New Brunswick, New Jersey, near Rutgers University.  It is located in the parking lot of an AMC Loews 18-screen theater.  According to Weird NJ Stories, Mary Ellis purchased the small plot in the early nineteenth century and faithfully kept an eye on the nearby river, hoping for the return of her seafaring husband-to-be.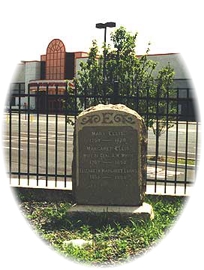 According to legend, Mary Ellis, born in 1750, came to New Brunswick sometime in the 1790's to live with her younger sister Margaret.  She fell in love with a sea captain and Revolutionary War veteran.  One day he sailed down the Raritan River to head out to sea, promising that upon his return he would marry her.  He left his horse for her to tend in his absence.
Mary was said to have ridden his horse every day from her sister's house down to the river hoping to see him return.  She eventually purchased a small plot of land overlooking the river where she could continue her vigil in 1813.  Mary died in 1828 and it is believed that later her sister and perhaps a few other family members were also buried on the property.
Mary's plot was originally surrounded by a wrought iron fence in a rural wooded area.  Inevitably, over the years ownership of the land changed hands several times.  At some point her farm was paved over (reminds me of "they paved paradise and put up a parking lot").  For several years the grave was in the parking lot of the Route 1 Flea Market.
The plot was situated above the parking lot, sort of an island all its own.  After the flea market was demolished, the land was redeveloped and is now home to the Loews Cineplex theater.  After the parking lot was leveled, Mary's grave is now situated even higher, still amazingly undisturbed.  As Weird NJ Stories put it, "Mary has really just been monopolizing a prime parking space for the better part of the twentieth century".
In Fort Worth, Texas the Pioneer Ayres Graveyard is located on the grounds of a hotel.  As the Tarrant County Historical Journal humorously put it, the cemetery is "probably the only hotel in the world with its own cemetery on its grounds."  In 1970 John Hickman of Fort Worth and Judge Robert Hall of Dallas wanted to build a hotel overlooking the Fort Worth-Dallas Turnpike.
There were two issues of concern – a nearby pig farm would be an obvious offense to potential guests (eventually resolved); the other was the two-acre private cemetery established by Benjamin Ayres where he and his wife Emily and four of their six sons are buried, along with other relatives.

Ayres came to Tarrant County from Tennessee in 1848.  He was believed to have been rather wealthy since he sold his plantation in Tennessee before migrating to Texas.  Benjamin owned three hundred and twenty acres of land, helped establish the First Christian Church in Fort Worth in 1851 and also served as County Clerk from 1852 to 1856.  He died in 1862 and a street in Fort Worth is named after him.
We expect to see old cemeteries in remote areas of the prairies and deserts across America, but I can't say that I've ever seen a cemetery in a parking lot or other unusual places.  Have you?  I know I'll be on the lookout for them now – there is sure to be a story!
Everyone have a great day — someday it will be history!
© Sharon Hall (History Depot), 2015.