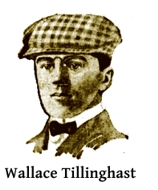 Orville and Wilbur Wright had made headlines six years earlier at Kitty Hawk, North Carolina with their "flying machine."  However, from mid December of 1909 to late January 1910, newspapers across the country perpetrated, and later renounced, a farcical tale which came to be called The Great Airship Hoax.
Since the Wright brothers' dramatic twelve second flight in 1903, the world knew that engine-powered flight was possible.  In that six-year time period, great progress by several aviation pioneers like Glenn Curtis, one of the Wright brothers' chief rivals, had been made.  Also, in November of 1909 the Wright Company was incorporated.
In 1907 there had been fourteen powered flights recorded; the following year there were forty-seven.  Each of those early flights was newsworthy as well, so the public had already developed a heightened interest in the technology and primed to expect even more technological advances as 1909 drew to a close.
It all started with an interview of Wallace E. Tillinghast which was published in The Boston Herald on December 13, 1909.  The article was picked up by newspapers across the country on that same day with headlines like "SAYS HE FLEW OVER 300 MILES".  Tillinghast, vice president of the Sure Seal Manufacturing Company in Worcester, Massachusetts, claimed to have invented, built and tested an aeroplane capable of carrying three passengers with a six hundred pound weight limit on a three hundred mile flight without refueling – at the rate of one hundred and twenty miles per hour.
He claimed to have taken the three hundred mile spin in his aeroplane, a trip from Boston to New York and around the Statue of Liberty and back to Massachusetts, on September 8, 1909.  That was a fantastic enough claim in itself, but Tillinghast went on to report that in mid-flight one of the engine's cylinders had caused the motor to stop when he and his mechanics were about four thousand feet in the air.
They reportedly sailed forty-six minutes at that altitude while the two mechanics repaired it in midair.  Purportedly, a coast guard crew on the ground in Long Island had observed the whole thing.  Newspapers were reporting that Tillinghast was planning to bring the plane to Worcester in February and prepare it to enter international races later that year.  Where the plane had been built and tested remained a secret, however.
Only Tillinghast and his mechanics supposedly knew all the details.  Even his wife wasn't privy to his "project", but declared her husband knew his business.  Their work had been done in secret and Tillinghast wanted it to remain that way until he had perfected his flying machine, which he described as:
It is of the monoplane type, with a spread of 72 feet, weights 1,550 pounds and furnished with a 128-horsepower gasoline engine made under my own direction and specifications.  It differs from others in the spread of the canvas and in stability features.  Special attention is given in making it adaptable for high speed.  All of the important parts are covered by patents.
Other distinguishing features are that it cannot be capsized, is easily controlled and the occupants ride on the body of the machine instead of with the body of the machine behind them.  The headlight is made by the use of acetylene gas generated on the machine.  (The Alexandria Times-Tribune 13 Dec 1909)
Another source reported that the propellers were seventy-three feet in length.  It seemed each newspaper had a slightly different slant on the story.  The Indiana Gazette reported that Tillinghast claimed the plane had dropped about two thousand feet while the repairs were being made.  When the repairs were completed they continued to Boston, circling the city at an altitude of sixty-one hundred feet.  The flight had been conducted at night under cover of darkness; the three men returned just before daylight.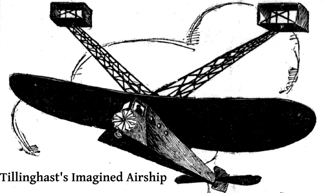 Tillinghast also claimed to have made more than one hundred successful trips, eighteen in this "perfected machine" – he had built four machines, each one successful.  In the book Hoaxes, Myths, and Manias: Why We Need Critical Thinking by Robert E. Bartholomew and Benjamin Radford, they believe it was possible that Tillinghast was propagating the hoax based on a story that had appeared a few days earlier in Boston papers.
A life guard on Fire Island in New York had reportedly heard an airplane engine one evening in early December – that was part of Tillinghast's story given to The Boston Herald.  The Herald, and indeed the general public, could certainly have strongly believed his claims were plausible given the speed at which technology was advancing in the field of flight technology and aeronautics.
After headlines were blasted around the country and the world, a few days later some began to question his claims.  Wilbur Wright scoffed at Tillinghast's claims.  The Washington Times seemed somewhat nonplused at the news – although it wasn't impossible to have taken place, they would take "with a grain of salt wherever the subject of flying finds an interested and well informed public . . . flights made in secret, though they may be wonderful, count for little when it comes to listing records."
Bartholomew and Radford wrote that "many residents of the area, believing in the likelihood of the claims, began to redefine various past and contemporary events to coincide with their collective wish fulfillment."  People began to connect their own "unexplained experiences" to the controversy at hand, essentially becoming "participants in a great new technical achievement, and add[ing] fuel to the hoax."
The first "believer" lending credibility to the hoax was Mr. E. B. Hanna of Willimantic, Connecticut, who reported that on the night that Tillinghast had claimed to have encircled the Statue of Liberty he himself had seen a "bright light" crossing the sky for about an hour.  After reading Tillinghast describe his trip, Mr. Hanna concluded he must have seen the flying machine.
On December 21, newspapers reported that Arthur Hoe, a reputable Boston lawyer, had seen a "great airship flying across Boston Harbor" the previous morning.  The next day The Boston Herald printed the explanation, reporting that Hoe "mistook the lights and masts of a ship in the harbor for the mysterious airship."  The Boston Globe, however, continued to publish Hoe's original account, again fueling more stories of unusual experiences being linked to Tillinghast's claims.
People were backtracking and remembering their own stories like one published in the December 23 edition of The Boston Globe.  Cyril Herrick had written a letter to the editors describing a "Double Meteor" he had seen in August which he now believed to have been the airship.  Connecticut residents told the Hartford Daily Times that one night in early September they had seen an unusual object in the sky – it must have been the airship!
The situation was truly getting out of hand with not only individual "reinterpretations" of past events, but on December 22, over two thousand people in Boston reported an airship circling Boston.  As The Marion Star reported on December 23:
Firmly convinced that their townsman, Wallace E. Tillinghast, is the foremost aviator of the age, 2,000 Worcester people who last night saw a mysterious airship circle and hover over this city are today awaiting his return from his nocturnal flight, eager to atone for their jeers when he recently declared he had flown to New York and return.
About 5:40 p.m. police officers had observed a light in the sky and around 6:30 p.m. Christmas shoppers also saw the light which was believed to be about one thousand feet high in the air.  At times the light flared like an automobile headlight; at other times it gave the appearance of "a strong light with a reflector back of it, casting a glare into the space beyond."  Hundreds of shoppers and those out and about that night began to forget about their errands and shopping – business was almost at a standstill.  Several policeman "forgot to travel their beats and to send in their duty calls at regular intervals."
One man in Revere, Massachusetts believed he was able to see "the frame quite plainly" – another man claimed he could see two men in the airship as it passed over.  Other Willimantic residents were "seeing the light" too, leading the town's mayor to declare, "there was no doubt but that it was an airship."
On Christmas Eve the "great airship story" peaked when several "sightings" along the eastern seaboard from Maine to Connecticut were reported.  These people absolutely believed they were viewing this phenomenon they had been reading about for the past ten days.
Wallace Tillinghast was keeping quiet, as The Marion Star reported on December 24, he would only say:
If I feel inclined to fly about in the air with my invention, I will do so and thank the Lord I am not molested up there in the air with newspaper men or uninterested parties. Where I have my machine is a personal matter, and you men of the press will have one fine time finding it.
The headline accompanying the Star's story that day was: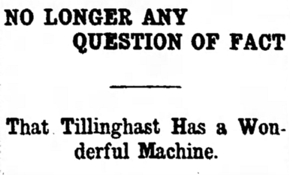 This, even as the next column over was reporting on Albert A. Gouldhart, the inventor of a new machine that would take flight about May 30, crossing the Atlantic in two days and carrying more than a dozen people.
Something happened on Christmas Day, however, when suddenly newspapers began to question Tillinghast and his mysterious airship.  He was referred to as the "reputed inventor" and proof was demanded to show "that the wonderful machine in which he says he flew to New York and returned is not a myth."  Apparently residents of Worcester were beginning to realize they were being placed in a "ridiculous light" because Tillinghast was being so secretive, refusing to let anyone see the airship.
Plans were made by the local board of trade to call on Mr. Tillinghast.  Point blank he would be asked if the story of his alleged night flight to New York was indeed true.  If he continued to claim the story was true, he would be asked to allow the committee and several newspapermen to see the airship.  If Tillinghast proved his claims, the committee and the newspapers would help him keep the secrets of his invention from the public for the time being.
Reporters were already combing the area trying to find the supposed secret location where the airship was housed.  There were six additional sightings on December 27, but after the Christmas Day editions had begun to cast serious doubt on Tillinghast's claims.  Newspapers then began to spout various psychological theories to explain the phenomenon.
French psychologist Gustav LeBon attributed it to "individual primitive impulses activated within emotional situations, producing a form of temporary irrationality or madness."  The Boston Globe said it best, reporting the public was "airship crazy".  One newspaper reported that on Christmas Day, instead of greeting one another with "Merry Christmas" people were saying "Did you see it?"
Slowly but surely Tillinghast's fantastic claims were unraveling.  The press was finally realizing they had been perpetrating a hoax.  One editor admitted that his paper had reported mysterious light sightings on three consecutive nights, which in fact turned out to be nights that Venus was visible.  The citizens of Willimantic took it in stride as one newspaper declared "Willimantic Laughs at the Airship Faking."
Meanwhile, Wallace Tillinghast had absolutely nothing to say – even his close friends didn't dare say the word "airship".  Into January, however, reports continued to circulate of people "seeing things".  This time those reports were met with derision, and eventually the whole affair faded away.
What caused such a story to gain such rapid and widespread interest and believability, albeit briefly?  Bartholomew and Radford cited three factors: Wallace Tillinghast, the press and the public.  Yes, Tillinghast was the perpetrator, but the "scope and speed of the incident depended on the media and the public's wish-fulfillment."
The general public had been primed for such a hoax, in particular, with the so-called "yellow journalism" of the late nineteenth century.  Newspaper editors discovered that the more shocking the headlines, the more papers they sold.
Early twentieth century technological advances were mind-boggling to the average person on the street and of great interest.  Several years later something quite similar would occur with Orson Welle's War of the Worlds broadcast in 1938 – listeners believed the United States was under attack by aliens.  And don't forget the Roswell "alien" sightings in 1947 — that story still has a life (and an entire industry) all its own.
In concluding their chapter on New England's Great Airship Hoax, Bartholomew and Radford (with Dr. Stephen Whalen) concluded that at the top of their list for assigning guilt, in regards to perpetuating the hoax, was the editor of The Boston Herald who strategically placed Tillinghast's interview on the front page of the newspaper.  Wallace Tillinghast in fact had no "hard facts" to back up his claims, but their headlines struck the match and later fanned the flames, all more than likely, for the purpose of selling newspapers.
Yellow journalism has a fascinating history – look for an article series or a new article category one of these days.
Ev
Have a GREAT day . . . someday it will be HISTORY!

© Sharon Hall (Digging History), 2015.