I ran across this unique surname while researching ancestors in Pulaski County, Kentucky.  If you regularly read Tombstone Tuesday articles, you'll know that I've written a few of late highlighting some residents of that county, who as far as I know are not related to me – but you never know.  That also led me to another interesting surname which I will be writing about soon – Outhouse – so stay tuned for that one.
I found four men buried in Greene County, Tennessee with the name "Christian Bible" and it appears that they were all descended from Johann Adam Bible, the immigrant who arrived in Philadelphia on a ship named Sandwich on November 30, 1750.  As I wrote in Saturday's surname article (read it here), it is believed that Johann was part of the great Palatine migration to America in the mid-eighteenth century.  Briefly, here are his descendants' stories.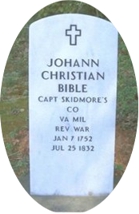 NOTE: This article is being re-purposed and will be included in a future edition of Digging History Magazine. Please check out our new site:  www.digginghistorymag.com.  Samples are available by clicking magazine image.  Regular monthly issues currently available for only $1.99. – Updated 1/20/18.