I ran across this unique surname while researching ancestors in Pulaski County, Kentucky.  If you regularly read Tombstone Tuesday articles, you'll know that I've written a few of late highlighting some residents of that county, who as far as I know are not related to me – but you never know.  That also led me to another interesting surname which I will be writing about soon – Outhouse – so stay tuned for that one.
I found four men buried in Greene County, Tennessee with the name "Christian Bible" and it appears that they were all descended from Johann Adam Bible, the immigrant who arrived in Philadelphia on a ship named Sandwich on November 30, 1750. As I wrote in Saturday's surname article (read it here), it is believed that Johann was part of the great Palatine migration to America in the mid-eighteenth century. Briefly, here are his descendants' stories.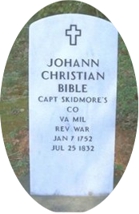 Christian Bible (1752-1832)
Christian Bible was born on January 7, 1752 in Montgomery County, Pennsylvania to parents Johann Adam and Maria Eva Margaretha (Muller) Bible. It's possible his full name was Johann Christian Bible, since some family researches refer to him that way, and a tombstone erected in his honor displays his full name and honors his service in the Revolutionary War.
According to family historians, Christian first married Catherine Vollman (or Folman) in 1775 and following her death in 1787 or 1788, he married Margareth Speagle. As noted in his will, his children were: John, George, Adam, Lewis, Jacob, Abraham, Isaac, Christian, Elizabeth, Catherine, Sarah, and Mary.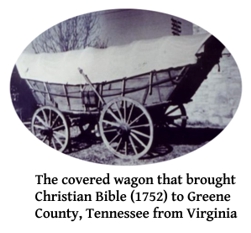 At the time of his death on October 22, 1833, it appears all of his children, except Christian who had pre-deceased him, and his second wife Margaretha were all still living and beneficiaries of his estate. To his sons he bequeathed tracts of land and each of his daughters, except Mary, would receive fifty pounds a year after his death. The daughters of his son Christian were to receive five dollars each.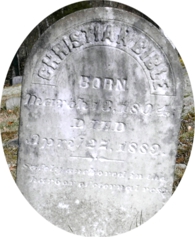 Christian Bible was born on March 13, 1804 in Greene County, Tennessee to parents John and Elizabeth (Pickle) Bible, and was the grandson of Christian Bible (1752-1832). On November 2, 1826, Christian married Mary Bower "according to the rules of the Lutheran Church". In 1850 the following were enumerated as his children: Reuben, David, Lucretia, Levina, Martha and Thomas.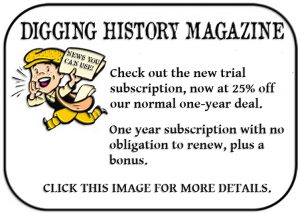 It appears that this Christian Bible probably didn't serve during the Civil War, but possibly listed as a Southern Loyalist as recorded by the Southern Claims Commission following the war. That is interesting, because it appears yet another Christian Bible of Greene County, Tennessee was a Union soldier (his story follows this one).
Mary passed away on June 8, 1869 and in 1880 he was married to Elizabeth. Christian died on April 27, 1889 and is buried in the Gum Springs Cemetery in Greene County.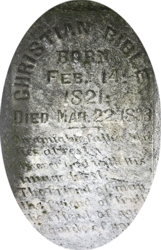 Christian Bible was born on February 14, 1821 in Greene County, the son of Adam and Elizabeth (Neas or Nehs) Bible, and grandson of Christian Bible (1752). On February 6, 1842 he married Louisa Marie Tucker and to their marriage were born the following children: Mary Elizabeth, Noah Luther, Martha Ellen, Lydia Ann, Louisa Jane Laura, Surena Emily and Nathan Hankins. All their children lived to adulthood except Louisa who died at the age of five in 1859.
This Christian Bible has an interesting history in regards to his Civil War service. Records indicate that Christian joined the Union Army (as opposed to his 1804 cousin also named Christian who was a Southern loyalist) on January 30, 1863 at Greeneville, Tennessee. He joined as a private and was mustered in on June 15, 1863, a member of Company F, 4th Regiment East Tennessee Infantry.
Family historians have discovered some interesting stories about Christian, including the fact he actively recruited men of Greene County and helped them get to the Union lines. It appears this may have occurred before his own enlistment in 1863, as according to the family records, the Confederates discovered what he was doing, forcing Christian to leave his home and join the Union Army. In a piece called "Christian's Escapades", family historians continued:
Somewhere near McMinnville he and most of his regiment were captured by Confederates and after being "robbed and stripped of belongings by the Rebels" were sent to Loudon, Tennessee. For there Christian took the train to Bulls Gap. Christian rejoined his reorganized regiment in December of 1863, but because of recurring sickness was unable to be an effective element of the unit.
Furthermore, military records indicate that on May 30, 1864 Christian deserted but returned to duty on September 13, 1864. He was mustered out of the military in Nashville on August 2, 1865, and on January 17, 1873, the charges of desertion were expunged from his military records. He later donated land on which the Mount Pleasant Methodist Church still stands today. Louisa died on March 30, 1890 and three years later Christian died on March 22, 1893.
And now for the last Christian Bible of Greene County, Tennessee!
Christian W. Bible (1847-1911)
Christian W. Bible was born on June 7, 1847 in Greene County, the son of Philip Henry and Barbara Ann Smith Bible, the grandson of Adam Bible and the great-grandson of Christian Bible (1752). Following his service during the Civil War in the 3rd Regiment of the Tennessee Volunteer Mounted Infantry (Union), he married Mary Carter on October 30, 1870.
In 1880 two children, James and Foie (sons), were enumerated. Following Mary's death in 1885, Christian remarried Martha Elizabeth Brown in 1888. To their marriage were born at least four children: Lula, Flora, Carrie and Serena. Christian W. Bible died on January 31, 1911 and was buried in the Shiloh Cumberland Presbyterian Church Cemetery.
That's a lot of "Christian Bibles" in Greene County, Tennessee (and a challenge to research!). I'm sure there were even more Christian Bibles born during that time (and since) – one family historian noted that at least one remained behind in Virginia rather than migrate with other Bible family members to Tennessee. It was an obviously well-regarded family name, and a quick survey of the Bible family name in Greene County at Find-A-Grave reveals that this family played an important role in the county's history.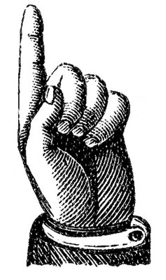 Did you enjoy this article?  Yes? Check out Digging History Magazine.  Since January 2018 new articles are published in a digital magazine (PDF) available by individual issue purchase or subscription (with three options).  Most issues run between 70-85 pages, filled with articles of interest to history-lovers and genealogists — it's all history, right? 🙂  No ads — just carefully-researched, well-written stories, complete with footnotes and sources.
Want to know more or try out a free issue? You can download either (or both) of the January-February 2019 and March-April 2019 issues here:  https://digging-history.com/free-samples/
Thanks for stopping by!