According to Southern Arizona Guide, this is one of the best preserved ghost towns in Arizona.  Off the beaten track and twelve miles south of Arivaca, visitors are warned to NOT rely on their GPS to find Ruby.  The Spaniards discovered minerals there in the 1700's but only mined a short time before moving on.
Mining was revived when Charles Poston and Henry Ehrenberg found the old Spanish mines, started digging and found rich veins of gold and silver.  Gold and silvers finds like that always brought more miners seeking their fortune, but it took until the 1870's before prospectors came en masse to the area due to the strong Apache presence.  When they finally came, "Montana Camp" was setup, so-called because it lay at the foot of Montana Peak.
The discovery of lead, cooper and zinc veins brought even more miners and in the late 1880's a mercantile was opened by George Cheney.  In 1891 an even richer vein of silver was discovered and the flood gates opened once again as more miners came to stake their claim to what was being called a "bonanza".
In 1897 the mercantile was purchased by Julias Andrews and in 1912 he applied for a post office to be run out of his store.  The camp became a town named Ruby when Andrews named the post office after his wife Lillie B. Ruby Andrews.  Miners had brought their families, and although there wasn't much to the town except the mercantile, a school was later opened and at its peak served approximately one hundred and fifty students.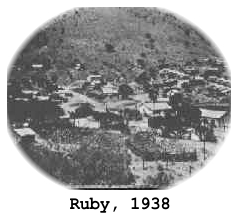 The population of Ruby peaked sometime in the mid-1930's at around twelve hundred residents.  The best years for Ruby were from the late 1920's to the late 1930's when the nearby Montana mine led the state in lead and zinc production.  When the mine closed in 1940 it didn't take long before the town was abandoned and the post office closed in 1941.
Today the town site is on private property and an admission fee is charged.  According to Ghost Towns.com the price of admission is helping with the restoration, hour for hour (not sure how up-to-date that information is, however).
Ruby had been known, like so many other western mining camps and towns, for its lawlessness.  The level of violence and criminality was multiplied, however, because of Ruby's proximity to the Mexican border.  Attacks from their Mexican neighbors, cattle rustling, and other criminal elements were all too common, unfortunately.  More about that later in next week's Wild West Wednesday article.
Have a GREAT day . . . someday it will be HISTORY!

© Sharon Hall (Digging History), 2015.