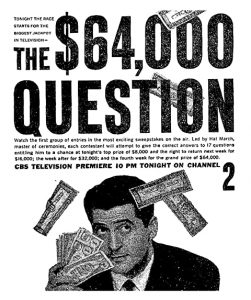 This may seem like an odd topic, but I couldn't help but wonder after a YouTube video popped up in my feed, entitled "Wyatt Earp's Nephew, Virgil Earp (Born in 1879), Talks About the Wild West".  There are two reasons why this is of interest to me.  I just finished a two-part magazine series on the 1950s (in honor of the 1950 census release in April of this year).  In the last issue I wrote extensively about one particular aspect of that far-reaching (and "fabulous") decade:  "Prime Time & Misdemeanors: The Rise and Fall of Television's First Golden Age".
The late 1940s through the late 1950s have been referred to as the first "Golden Age of Television", a time when the airwaves were awash in a sea of game and quiz shows which aired morning, noon and night. Unlike radio, which had long provided audio entertainment to the masses, television was an audiovisual format – a way to not only hear, but see live events. Some shows, like College Bowl, Who Said That, Truth of Consequences and Queen for a Day, had been radio shows which later moved to television (or for a time aired on both formats).
The height of quiz show-mania occurred between 1955 and 1958, dominating the airwaves with shows like The $64,000 Question, The $64,000 Challenge, Dotto and Twenty-One, all of which offered the chance to win hundreds of dollars by answering "general knowledge" questions. However, the main purpose of these "get-rich-quick" shows was to enrich the network and show sponsors like Geritol, Colgate-Palmolive and Revlon.  Revlon made a boat-load sponsoring The $64,000 Question — to the tune of a $64 million increase in sales — by the time the show (and others with similar formats) were cancelled by late 1958.
However, in early 1958 Virgil Edwin Earp, the son of Newton Jasper Earp (Wyatt's half-brother), appeared on The $64,000 Question and his category was (surprise, surprise!) the Wild West.  The episode which popped up on YouTube was the chance to double his previous winnings of $16,000 (to $32,000).  Virgil was asked three multi-part questions related to the "Wild West" and he answered every one correctly and scheduled to appear again the following week where he would have the chance to win $64,000.  It appears, however, that Virgil Earp, a self-proclaimed gambler, decided not to proceed to the next level, ending his streak at $32,000 in winnings.
In 1958 Virgil Earp was 79 years old and the last Earp of any fame.  His father Newton and all his half-siblings (James, Virgil, Wyatt, Morgan, Warren and Adelia) had all passed on.  It just so happens this particular Earp is related to me through my maternal grandmother (Okle Emma (Erp) Young).  Even though my grandmother's family (and a generation or two before her) changed the spelling of their name to "Erp" vs. "Earp", we are related.  According to Marc McDermott's "Cousin Calculator" I (and all my first cousins on the Young side of the family) are related to Wyatt and his siblings, including Newton, as fourth cousins, three times removed.  That would make Virgil Edwin Earp a fifth cousin, twice removed, and the ancestor we all share is Joshua Joseph Earp (1706-1771).
Not only did Virgil win $32,000, but he made a name for himself by regaling viewers and the studio audience with tales from the Old West.  Mind you, the Earp family was still making headlines in the 1950s. Newspapers around the nation would, from time to time, feature articles about their legendary (factual and fictitious) escapades as lawmen and gunslingers.  Before exploring answers to the two questions – did Virgil get the answers ahead of the show and was he really born in Tombstone – some Earp history is in order. . . .
The rest of what will be an extensive article on the Earps and the answer to these two questions will appear in the next issue of Digging History Magazine in "The Dash" column.  Some of the stories will be familiar, but at least one incident involving Wyatt Earp is one which very few biographers mention.  If you'd like to read the article (and the entire issue — see what's brewing here), email me and I'll send you a special link to purchase the upcoming issue for $3.99 ($2 off regular price) — seh@digging-history.com.