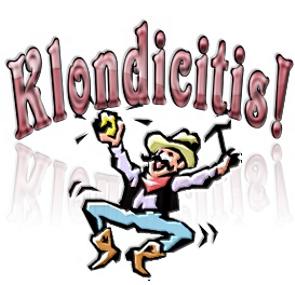 the Klondike Gold Rush was off and running as George Carmack, brother-in-law Skookum Jim and his nephew Dawson Charlie filed the Discovery Claim on Bonanza Creek in the Canadian Yukon on August 16, 1896.  Men (and women) began flocking to the Yukon as newspapers dubbed the gold fever "Klondicitis".  A Honolulu newspaper just knew it was a fever and it was catching:
IT'S KLONDICITIS!
The Disease That Threatens the Country
In California five victims of the new disease known as "Klondicitis" were being committed to the state asylum.  A preacher turned his back for good on the pulpit and headed for the North, a sure case of Klondicitis!
This month's feature article in Digging History Magazine, "Dreamers and Drifters, Gunslingers and Grifters (Simply a Great Mad Rush)", includes not only a poignant story about a couple of young dreamers who just knew they could strike it rich, but stories about drifters like George Carmack and grifter-extraordinaire Jefferson "Soapy" Smith.  My third cousin, thrice-removed, Wyatt Earp, caught the Alaskan gold fever a bit later — he and Josephine had a grand time (while it lasted).
And, it was good while it lasted as some came out rich beyond their wildest imaginations ("Klondike Christmas: A True Rags-to-Riches Story") and more than a few went home discouraged and empty-handed (or, unfortunately, died trying).
This month's issue is on sale here, or consider purchasing a three-month, six-month or one-year subscription here.  Easy and safe to purchase or subscribe and subscription payments are recurring until you tell me you want to cancel.  Buy a one-year subscription and apply the discount code "2OFFSPGS"  at checkout for an additional $2 off.
Sharon Hall, Publisher and Editor, Digging History Magazine