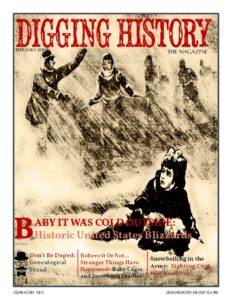 The word "blizzard", at least in terms of a violent snowstorm, hasn't been around as long as one might think. "Blizzard" or "Blizard" are ancient family names, although speculation abounds as to its origin as a surname. One source proposes it may have been a variant of the word "blessed", perhaps even a nickname.
Two instances in Olde English ("blieths") and Middle English ("blisse") mean joy and gladness, and by adding the French suffix "-ard" a term emerges which means a person with those particular qualities. It is only a theory, however.
The word "blizzard" came into usage in America, perhaps in the early nineteenth century, but not as a reference to a snow storm. Colonel David "Davy" Crockett used the term in a memoir of his tour to the "North and Down East".  At Delaware City he boarded a steamboat to Philadelphia and at dinner with his fellow passengers was called upon to offer a toast. Not knowing the sort of people he was dining with, nor what they thought of him personally, he wrote:
. . . . .
The Washington and Jefferson Snow Storm of 1772
This historic storm, called the Washington and Jefferson Snow Storm of 1772, was one of the largest snow storms to ever hit the northern Virginia and Washington, D.C. area . At the time, George Washington and Thomas Jefferson were prominent landowners and both were interested in the weather and how it affected their agricultural interests. We know this because both future presidents recorded weather details in their personal diaries.
. . . . .
The School Children's Blizzard
This epic storm is reminiscent of an episode of Little House On The Prairie, entitled "Blizzard". It may well have been based on the 1888 storm which came to be called "The School Children's Blizzard" or the "School House Blizzard."
On January 12, 1888 the weather had cleared after a late December-early January storm system dropped massive amounts of snow across the northern and central plains, which was then followed by a four-day cold blast of extremely low temperatures. Between January 11 and the early morning of January 12, many places saw temperatures rise dramatically, twenty to forty degrees.
The temperatures had risen in advance of a significant Arctic cold front being fed by Gulf of Mexico moisture. Many had been home-bound for days because of the snow, ice and brutally cold temperatures. The "balminess" of January 12 lured people out of their homes – little did they realize how quickly the weather was about to change.
, , , , , ,
1913: The Year of Epic Weather Disasters
From beginning to end, the year 1913 was a meteorologically-challenging year. In 1912 the Mississippi River had flooded, killing two hundred people and causing $45 million in damages.
1913 would bring even more catastrophic weather events with extremes from epic blizzards to rain in near "biblical proportions" to scorching summer heat. On July 10, 1913 the highest temperature ever recorded in the United States occurred in Death Valley (134 degrees!).
. . . . . These are but a few snippets of the feature article on historic United States Blizzards.  To read the entire article (complete with footnotes and sources), purchase the February issue of Digging History Magazine ($3.99).  A few sample pages are available for download at this link if you'd like to see the entire table of contents.  This issue features several articles, most related to snow in some way — amazing how much history one can find about snow, blizzards and such — baby cages and snowbank cradles, the ghost town of Snowball, Arkansas, Civil War snowball fights and more.  An information-packed 52-page issue which includes a bibliography and a special supplement relating to an article about genealogical fraud.
Keywords:  The Big Die-Up, The Great White Hurricane, Children's Blizzard, Washington and Jefferson Snow Storm of 1772, Great Blizzard of 1888, Knickerbocker Theater Disaster, Great Appalachian Storm of 1950, Washed Way by Geoff Williams, David Laskin, School Children's Blizzard, Davy Crockett, blizzard, historic blizzards, Blizzard surname, Snowball Arkansas, Ghost Towns, baby cages, snowbank cradles, genealogical fraud, Gustave Anjou, Fighting Civil War Boredom, Civil War snowball fights, 1913 weather events