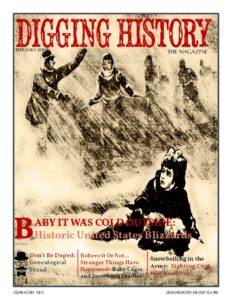 The February issue of Digging History Magazine has been posted and is available for purchase here:  February 2018
It's winter and it's all (mostly) about snow.  Who knew snow had so much history — 52 pages packed with lots of history, footnotes and sources and a special supplement!
Baby, It Was Cold Outside:  Historic United States Blizzards
Believe it or not . . . strangers things have happened:  Baby Cages and Snowbank Cradles
Don't be Duped:  Genealogical Fraud
What's in a (Sur)name? . . . "Snowy Surnames" and Snow Ships
Ghost Towns:  Snowball, Arkansas
The Dash:  Isaac Lafayette and Arabazena Ottalee Castleberry . . . and more!
The Early American Faith special edition is available for $5.99.