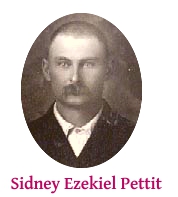 In case you missed last week's Tombstone Tuesday article, you might want to read it first since I promised to clear up the mystery of what really happened to the son of Ezekiel and Ella Pettit.  The story posted by a family friend at Find-A-Grave left me with more questions than answers, and this compelled me to do a little digging to discover what really happened to Sidney Ezekiel Pettit.
The following information for Sidney was posted at Find-A-Grave:
Birth:    Sep. 2, 1886
Boulder
Boulder County
Colorado, USA
Death:   Jan. 9, 1906
Carbondale
Garfield County
Colorado, USA
Sidney E. Pettit was the youngest son of Ezekiel & Ella Pettit. Born Sept. 2nd 1886, he was killed on Jan. 9th 1906 near Carbunkle Colorado. His body was never recovered and lies today in that now abandoned silver mine. Since he had no grave his name was added to his mother's grave stone upon her death in Nov. 1915.
As I pointed out last week, the story posted and the historical records didn't add up, since clearly nine year-old Sidney was enumerated with his parents in Beatrice, Gage County, Nebraska. That would indicate Sidney was born in approximately 1871. The thought crossed my mind that Sidney had died after the 1880 census and another child was born in 1886 and given the same name (not that uncommon).
Furthermore, the Pettit family was in Colorado in 1885, enumerated for the Colorado State Census in Gunnison and Sidney was 15. In addition, there was no fourteen year-old child named Sidney or otherwise living with Ezekiel and Emma Pettit in Everett, Snohomish County, Washington (oh, how they did get around!) for the 1900 census. Thus, I believe, based on the 1880 U.S. Census and the 1885 Colorado State Census, that the approximate birth date of 1871 is correct.
In 1900 a single man named Sidney Pettit, matching the description of Ezekiel and Ella's son, was living as a boarder in Curlew, Ferry County, Washington in 1900 where he was employed as a "quartz miner". One important aspect of the 1900 census was the record of a more precise birth date. The date recorded was "Sept 1873″ with his age listed as "26″, but even with the slight date and age difference, this is clearly Ezekiel and Ella's son.
The next question for which I needed an answer was the location of Sidney's death and the circumstances surrounding it. Because the posted story indicated a mining accident in Carbondale, Colorado on January 9, 1906, I did a quick search and found no such incident in Colorado on that day.
A little more digging at two newspaper archive web sites indicated, however, that Sidney Pettit did indeed die on January 9, 1906 – at a gold mine near Julian, California. The first article I came across was published in the January 10 issue of the Leavenworth Times (Kansas), stating that Sidney died by "a fall of rock at the 160 foot level of the High Peak mine". Another man was injured but not fatally. The entry at Find-A-Grave indicates that his body was at the bottom of a silver mine (in Colorado) and never recovered, but the newspaper record not only clearly states the date of his death but the location in California.
Another search at Genealogy Bank, generated more specific and detailed information about the mining accident as reported by California newspapers, most notably the San Diego Evening Tribune. The headline that evening was prominently displayed:
MEN BURIED IN MOUNTAIN MINE
Fatal Accident at High Peak Mine Near Julian
This Morning–Sidney Pettit Killed and
Supt. W.W. Boswell Probably
Fatally Injured
Just before eight o'clock that morning a fatal cave-in had occurred at the old High Peak gold mine near Julian. It was reported that Sidney Pettit was probably killed instantly and the accident may have fatally injured the mining operation's superintendent W.W. Boswell. Sidney and Mr. Boswell, along with two other men, were inspecting the mine following an incident on the afternoon of the 8th. One man had been badly injured while everyone else managed to escape.
The following morning Boswell took a group of men, including Sidney, back into the mine to assess the damage. To access the location they had to enter at the 160-foot level near an older part of the mine. Sidney accompanied Boswell down into the mine and while crossing over to the area of new workings, the ceiling suddenly caved without warning. It was initially reported that Boswell was standing between two upright timbers (which possibly saved him from instantaneous death), while Sidney was standing in the middle of the stupe and therefore took the full force of the cave-in. There was hardly a doubt that Sidney had been instantly killed.
Word spread and within a short time one hundred rescuers were on scene to attempt an extraction of the two victims. The rescue effort was impeded by the narrow stupe which allowed only two or three men to work at a time. Mrs. Boswell came and was anxious to help, offering to go down in the mine and assist with the rescue efforts. After being advised to remain above ground she sat near the mine entrance while awaiting word of her husband's fate.
What little was known about Sidney Pettit at the time of that evening's edition of the Tribune included the fact he had been in Julian for about five months after living in San Diego and being employed by the Pioneer Truck Company. His employer stated that "Pettit was a first class workman who was well liked by his fellow workers." Furthermore, the newspaper reported "he was 37 years of age and was the sole support of his father and mother. Pettit was unmarried."
By the following morning, W.W. Boswell had died from his injuries after being extracted around four o'clock in the afternoon by placing him in a rocking chair and hoisting him to the mouth of the mine shaft. His injuries were initially thought to have been severe but not necessarily fatal. He died early on the morning of the 10th.
Sidney's remains were taken to San Diego on the 10th to the undertaking parlor of Davis & Anderson. It was reported that Sidney and Mr. Boswell were both members of the Knights of Pythias and their funerals would probably be held under the auspices of the San Diego chapter. Clearer details of the accident were also reported.
According to the two men, Robert Walker and Clarence King, who escaped just a moment before the cave-in occurred, Sidney and Boswell had been holding up a large timber. Walker and King started toward the mouth of the tunnel to get some caps for the timbers. Although Walker had one foot caught by falling rock, he managed to extricate himself and King escaped without a scratch.
Sidney's body was found badly mangled with clear indication that death had been instantaneous. The back of his skull and his chest had been crushed; his left hip, both legs and right arm were also broken. The newspaper reported that his father and mother and other family members lived in Mountain View, Santa Clara County (verified by census records to indeed be Ezekiel and Ella Pettit).
Word had been immediately sent to his parents who were expected to come and claim their son's body. On January 11, the final details confirming Sidney as the son of Ezekiel Pettit were provided in the Tribune: the remains of Sidney Pettit, killed in the accident were to be forwarded to Mountain View in charge of his father, E.W. Pettit.
However, this newspaper-verified story still leaves the question of why incorrect information was added to Ella's gravestone: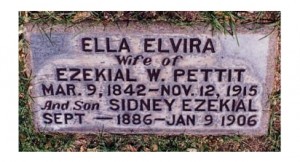 No more information regarding the ultimate disposition and transfer of Sidney Pettit's remains to his family could be found. Clearly, his body had been extricated and wasn't lying at the bottom of a mine in Colorado (or California, for that matter). Had his family been unable to afford the transportation costs, since after all Sidney had provided the sole support for his parents? Is it possible he was instead buried in San Diego County?
Questions, questions, questions…. the mystery isn't quite solved, but this is further proof that not everything you find on the internet is true, and that includes instances of "speculative research" one might find on the various ancestry research web sites. It is especially important to research Find-A-Grave postings, or at the very least find corroborating evidence – family researchers, consider yourself admonished!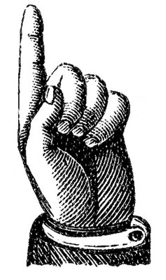 Did you enjoy this article?  Yes? Check out Digging History Magazine.  Since January 2018 new articles are published in a digital magazine (PDF) available by individual issue purchase or subscription (with three options).  Most issues run between 70-85 pages, filled with articles of interest to history-lovers and genealogists — it's all history, right? 🙂  No ads — just carefully-researched, well-written stories, complete with footnotes and sources.
Want to know more or try out a free issue? You can download either (or both) of the January-February 2019 and March-April 2019 issues here:  https://digging-history.com/free-samples/
Thanks for stopping by!