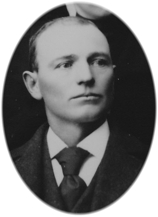 Charles H. Cheese was born on February 22, 1856 in Illinois to parents George and Elizabeth Cheese.  George, born in England around 1823, arrived in America on April 27, 1830 with his parents Edmund and Ann Cheese.  The Cheese family were farmers in Cook County, Illinois and in 1850 George and Elizabeth were living with his parents with a two-year old child named Ann.
Edmund died in 1855 and George and Elizabeth's growing family was living in Chicago in 1860 with his mother Ann. After George passed away in 1866 and was buried in Cook County, his family moved to Will County. However, sometime between the 1870 and 1880 census, some members of the Cheese family decided to head west.
By 1880 Elizabeth had established herself in Colorado Springs, Colorado and married R.W. Mason. Historical records indicate that she was one of the first Episcopalians in that area of Colorado and later worked as a cook at the historic Antlers Hotel. The hotel, built in 1883 twelve years after the founding of Colorado Springs, was one of the most elegant hotels in the West at the time.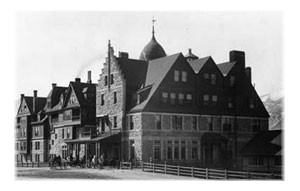 The seventy-five room hotel was furnished with gas lights, steam heat, hot and cold water and a hydraulic elevator, according to the hotel's web site. Amenities such as a music room, playrooms, barber shop and a Turkish bath were also featured. Built and financed by William Jackson Palmer, the hotel was named Antlers for the large racks of elk and deer antlers displayed throughout the facility.
Following its opening in June of 1883, newspapers around the country described it as "mammoth", situated "on the rise of the plateau a few hundred yards from the depot" in Colorado Springs, "one of the most tidy and pleasant towns to be found in Colorado." President Benjamin Harrison visited in 1891 and the hotel, a favorite destination for English tourists was nicknamed "Little London". The hotel, destroyed by fire during an eight-block-long, wind-driven fire on October 1, 1898, was rebuilt in 1901.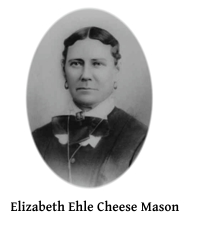 Elizabeth, one of the early pioneers of Colorado Springs, passed away on December 30, 1894, three weeks following the death of her grandson, Everette, son of Charles and Clara Cheese.
Charles had migrated to Colorado and settled in the Colorado Springs area as well. He married Clara Belle Bristow around 1882 or 1883 and their first child George Willard, born on September 26, 1884, was named after his grandfather. Records indicate that Charles and Clara had at least ten children: George (1884), Everette (1886), Maria (1887), Charles (1889), Clarence (1891), Naomi (1893), Marjorie (1895), Harlan (1897), Gladys 1899) and Alberta (1904).
Everette died on December 7, 1894 at the age of eight. While it's unclear the circumstances surrounding his death, it's possible he died of either diphtheria or smallpox since both diseases had risen to epidemics that year.
George Willard Cheese died on June 26, 1902 at St. Francis Hospital in Colorado Springs, a victim of diphtheria according to his obituary. Willard a "model son with a bright future" was three months short of his eighteenth birthday.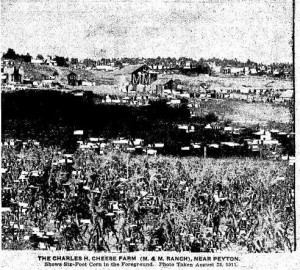 Charles was a farmer and a successful cattle rancher, but following the death of his oldest child George, decided lease his large and valuable ranch and move his family to Eastonville so that his children could have the advantage of the high school at that place, according to The Weekly Gazette (22 Oct 1903).
In the spring of 1903, Charles purchased fifty-four head of cattle. The Weekly Gazette noted that he was "one of the oldest ranchmen in this county and he says that this is the most forward spring we have had in years. He has over 100 acres ready to sow in oats, and he says that the grass is starting rapidly." By the end of 1903 Charles was about to build a saw mill on his ranch and "saw about 200,000 feet of lumber."
Eastonville was about six miles way from Peyton where the family ranch was located. Charles was elected president of the Peyton French Coach Horse Society in 1904 and his family visited the ranch while their children were on school vacation. His family relocated to Colorado Springs by at least 1907 and most likely derived income from lease of the ranch land and saw mill operations, because it appears the family continued to reside in the city.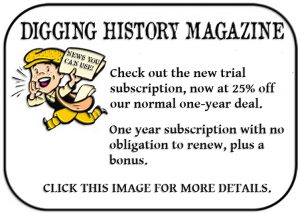 Some of their children later migrated to California – Myrtle (Maria), Marjorie and Harlan were living in Alameda in 1920 and Alberta married James Dodds there in 1933.
In 1914 Colorado Springs residents apparently believed Charles had died, but like Mark Twain, reports of his death had been greatly exaggerated. Word had spread that his son Charles, a college athlete, had dropped out of school due to the death of his father. Charles Senior, however, was in the best of health – Charles Junior had just decided to follow in his father's footsteps and take up farming.
Clara died on November 6, 1923 at the age of sixty-three and was laid to rest in the Peyton Cemetery. On the day following his seventy-fourth birthday, February 23, 1930, Charles passed away and was also buried in the Peyton Cemetery.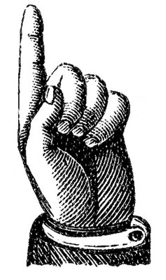 Did you enjoy this article?  Yes? Check out Digging History Magazine.  Since January 2018 new articles are published in a digital magazine (PDF) available by individual issue purchase or subscription (with three options).  Most issues run between 70-85 pages, filled with articles of interest to history-lovers and genealogists — it's all history, right? 🙂  No ads — just carefully-researched, well-written stories, complete with footnotes and sources.
Want to know more or try out a free issue? You can download either (or both) of the January-February 2019 and March-April 2019 issues here:  https://digging-history.com/free-samples/
Thanks for stopping by!