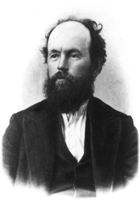 Euphronius Daniel "Frone" George was born in April of 1840 in Lunenburg County, Virginia to parents James and Ermine (or Armine) George.  Frone was their second son and the 1850 census enumerated six children for James and Ermine, ranging in age from ten to one.
In 1852, James died and it appears that his oldest son William and youngest daughter Mary may have also died sometime between the 1850 and 1860 censuses. In 1860 Ermine was a widow living "North of the Court House" in Raleigh County, Virginia (soon to be West Virginia) with her children Frone, Henry and Harriet, who was listed as a spinster at the age of seventeen.
Ermine moved to the county in 1857 with sons Frone, Henry and James who all served the Confederacy during the Civil War. According to Raleigh County history, Frone was "a noted fiddler in his younger days and was often the whole orchestra at the dances held in the neighborhood of the [Army] camp."
Frone was an early enlistee, signing up on June 3, 1861. Henry, only seventeen, signed up the same day and records indicate he was later captured and served as a nurse at Camp Douglas, Illinois near Chicago. James enlisted in April of 1862, joining his brothers in Company C of the 36th Regiment of the Virginia Infantry.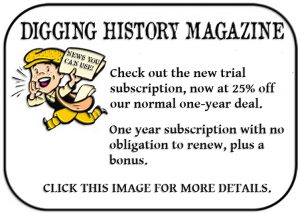 Frone was wounded twice and Civil War records indicate that one incidence occurred on September 8, 1864. A Raleigh County history book included the following story about one of those incidences:
Frone George, a soldier of the Confederacy for four years was wounded twice. Says he saw himself "shot ON the breast – looked at the minie ball as it hit him – did not penetrate, but made a very sore, black spot and hurt worse than if it had gone inside" says he could have stayed under cover but did not think the dam Yankee could shoot straight enough to hit him.
On May 24, 1865 at the headquarters of the First Separate Brigade in Charleston, West Virginia, Frone (E.D.) George signed his parole papers, promising to conduct himself "as a good and peaceable citizen" and never again take up arms against the United States Government.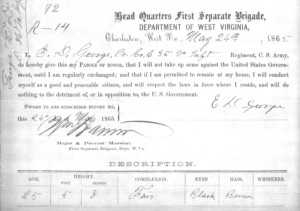 Frone returned home and on January 21, 1868 he married Mary Keffer in Raleigh County. In 1870 he moved to Beckley and opened a blacksmith shop which he operated for over forty years. Mary's father Samuel may have worked with Frone since they are enumerated as next door neighbors and both listed as blacksmiths in the 1870 census.
Their first son William was born in 1869, likely in honor of Frone's older brother William. Their only daughter Leona was born in 1872, second son Frederick Clyde was born in 1874 and their last child Charles Edward was born in 1876. William was tragically killed by lightning on August 20, 1900 while working as a carpenter. The architect of the project, J. Price Beckley, grandson of the town's founder General Alfred Beckley, was also killed.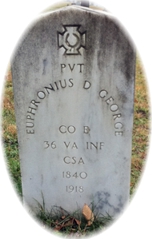 Frone continued to work as a blacksmith, known by his friends and neighbors as a "man of many abilities . . . about whom volumes could have been written without great effort." He died on October 17, 1918 and is buried in the Wildwood Cemetery in Beckley, alongside Mary who died in 1926.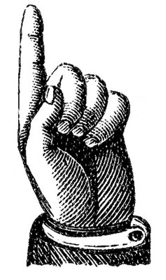 Did you enjoy this article?  Yes? Check out Digging History Magazine.  Since January 2018 new articles are published in a digital magazine (PDF) available by individual issue purchase or subscription (with three options).  Most issues run between 70-85 pages, filled with articles of interest to history-lovers and genealogists — it's all history, right? 🙂  No ads — just carefully-researched, well-written stories, complete with footnotes and sources.
Want to know more or try out a free issue? You can download either (or both) of the January-February 2019 and March-April 2019 issues here:  https://digging-history.com/free-samples/
Thanks for stopping by!