Remember Elijah Soper was born on May 4, 1794 in Milton, Chittenden County, Vermont to parents Mordecai and Naomi (Owen) Soper.  According to The New Soper Compendium by Earl Soper, Mordecai's place of birth is disputed – some believe he was born in England while others believe he was born in Connecticut in 1746.
Mordecai married Naomi on April 4, 1770 in Salisbury, Connecticut. His residence was recorded later as "Nine Partners" in Dutchess County, New York, where Mordecai and Naomi lived a short time before settling in Poultney, Vermont in 1771. He served in the Revolutionary War and returned to Poultney then later moved to Milton. There he took the Freedman's Oath on May 3, 1787 and raised his large family. Remember was the ninth child of thirteen.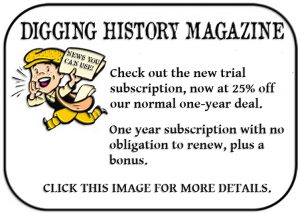 Remember served in the War of 1812 as a Captain, and according to the Portrait and Biographical Album of Champaign County, Illinois (PBACC), was present at the battle of Plattsburg, "being in one of the volunteer corps, he was the means of saving the regular troops from defeat. His coolness and bravery inspired his men with courage to rush upon the enemy and put them to flight."
His service was lauded in PBACC, stating that during the battle of Plattsburg "the movements of the volunteer troops commanded by Capt. Soper were so regular and precise that the British mistook them for reinforcements from the regular service, and withdrew from their position, abandoning the attack of the fort." Captain Remember Elijah Soper, "although at the front with his men, escaped without a wound."
Remember received a pension and a bounty of one hundred sixty acres of land. He returned home to Vermont and married Permelia McNall in 1819. Their first child Harriet died at the age of one month in 1820, followed by Adeline (1821), Julia; Amasa (1826-1827); Orange Phelps (1828); Eveline (1830); Rachel (1833); and Milton Hubble (1836).
An "R.E. Soper" was enumerated in Franklin County, Vermont in 1840 and in 1847 the family had migrated to Benton, Lake County, Illinois. The county was just south of Wisconsin's border and near the shoreline of Lake Michigan. His son Orange married Jerusha Abels in Michigan, but returned to Vermont around 1863 with Remember and Permelia.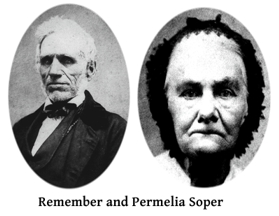 Jerusha died in 1865 and Orange married Laura Harrington in 1867, then returned to Illinois in 1868. His brother Milton had accompanied the family back to Vermont in 1863, but like Orange moved back to Illinois in 1868. Their daughters married and one migrated west to Wisconsin. Orange migrated the farthest west to South Dakota where he died in Watertown (date unknown).
A little more history on the brothers was found in the Portrait and Biographical Album of Champaign County, Illinois. Milton was remembered as a "gentleman of education and refined tastes who has made the most of his opportunities in life." He was a highly respected member of the Harwood Township farming community. At the age of sixteen he had entered Waukegan Academy and then attended Lawrence University in Appleton, Wisconsin. Thereafter he matriculated at the University of Michigan, graduated with honors and returned home to find Remember in ill health.
Milton had been hired to superintend the public schools in Memphis, Tennessee, but cancelled his plans and returned to Vermont with Remember and Permelia. The timing was fortuitous since the Civil War was still being fought in that part of the South. Even though Milton had desired at one time to pursue the field of medicine, or perhaps a military career, he put aside those dreams and accompanied his parents home to Vermont.
Instead, he purchased a farm in Franklin County and worked with his father for four years. He and Orange made plans to establish a sheep ranch in southwest Missouri and began the search for land. Apparently it was a little too far south for their tastes: "They looked over the country and found a suitable location, but also found that an ultra Yankee had very little to encourage him in settling there." Perhaps the deep-seated wounds of war were yet too fresh.
Milton instead returned to Illinois, first purchasing over five hundred acres of speculative land from the Illinois Central Railroad Company. After selling the majority of it he established his own "beautiful farm of 240 acres, with a handsome modern residence, a good barn and all other buildings necessary for the shelter of stock and the storage of grain." The farm was one of the finest and Milton one of the most esteemed members of the community.
After returning to Vermont in 1863 due to ill health, Remember spent the remainder of his life there. He passed away on November 4, 1872 in Fairfax, Franklin County. Permelia passed away on May 1, 1878. Both are buried in the Miltonboro Cemetery in Chittenden County.
What caught my attention about this story was the name "Remember Elijah" where did that come from? I had seen a list of the children of Mordecai and Naomi and noticed they had a son named Elijah born in 1773 and then in 1794 Remember Elijah was born. Why two sons named Elijah? According to family historians, the first Elijah drowned when his canoe overturned in the Lamoille River. To remember Elijah, they named their next son "Remember Elijah".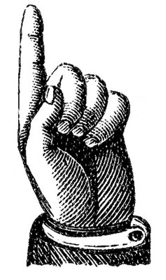 Did you enjoy this article?  Yes? Check out Digging History Magazine.  Since January 2018 new articles are published in a digital magazine (PDF) available by individual issue purchase or subscription (with three options).  Most issues run between 70-85 pages, filled with articles of interest to history-lovers and genealogists — it's all history, right? 🙂  No ads — just carefully-researched, well-written stories, complete with footnotes and sources.
Want to know more or try out a free issue? You can download either (or both) of the January-February 2019 and March-April 2019 issues here:  https://digging-history.com/free-samples/
Thanks for stopping by!