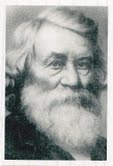 Jesse Lovask Green was born on February 1, 1802 to parents Amos and Elizabeth (Searcy) Green in Rutherford County, North Carolina.  Amos and Elizabeth were the parents of several children, possibly as many as twelve or thirteen.  In 1810 there were eight household members enumerated in Amos Green's household and in 1820 there were thirteen.
Although no slaves had been enumerated in the two previous censuses, in 1830 the Amos Green family possessed three slaves – two females between 10 and 23 and one male under 10. However, by that time Jesse and his wife Mary Ann had migrated to Cherokee County, Georgia, arriving there in 1824. There Jesse purchased land along the Etowah River and settled among the Cherokee Indians.
The area where Jesse and Mary Green settled was home to several tribes at various times in history and place names in that region reflect that culture. However, by the end of the 1830's Cherokee Indians were expelled from their native lands and removed to Indian Territory, later to be called Oklahoma. According to the Georgia Encyclopedia, the removal "was a product of the demand for arable land during the rampant growth of cotton agriculture in the Southeast, the discovery of gold on Cherokee land, and the racial prejudice that many white southerners harbored toward American Indians."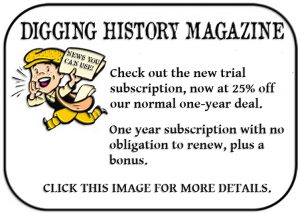 It's presumed that Jesse had a friendly relationship with his Cherokee neighbors, since according to family historians he used herbs and remedies imparted to him by the Indians. Some family researchers believe, although they have no solid proof, that Jesse may have been married first to an Indian woman, presumably in North Carolina before he migrated to Georgia. While Jesse was enumerated in 1850 and 1860 as a "physician" it is unclear whether he had received conventional medical training or had merely observed the practices of his Cherokee neighbors.
Jesse and Mary Green are believed to have had eleven or twelve children before Mary passed away on March 23, 1850 in Ball Ground, Cherokee, Georgia. The 1850 census, recorded five months following Mary's death, indicates that Jesse was a widower with nine children living in his home: Lewis (25); Louisa (18); Lucinda (16); William (13); Juliann (11); Mary Ann (9); Joseph Hanson (7); Jasper (5); and Elizabeth (3). Their daughter Sarah (b. 1827) had married Edward Bagby in 1848.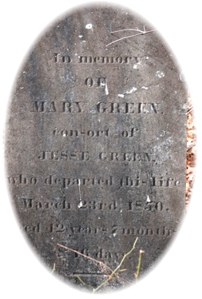 Following Mary's death, Jesse married Louisa Johnston in 1851 and she bore him several more children: Sophronia (1852); Emeline (1853); Henry (1855); Margaret (1856); Louvenia (1858); Virgil (1860); Jesse (1863); Lisena (1864); Martha Ellen (1865); Amanda (1869) and Delia (1875). There may have been a contagious illness in the family, years after Jesse's death, when Delia and Virgil both died in May of 1889.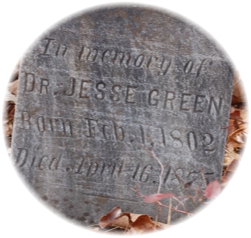 In fact, Jesse died on April 16, 1875 just a few months before Delia was born on July 1, and he was buried in the same cemetery as Mary Ann, and later, several of his children. Louisa was enumerated in 1880 as a widow and the head of her household. In 1900 she was living with her son Jesse B. Green and his family before they moved to Grayson County, Texas between 1900 and 1910. Louisa died there on September 3, 1905 and is buried in the Christian Chapel Cemetery. Inscribed on her tombstone she is noted as the wife of Dr. Jesse Green, late of Georgia.
While researching Jesse Green and his family, I stumbled on a bit of history which provides insight on how the less fortunate, especially mentally handicapped individuals, were regarded by some in those days. Amos and Elizabeth Green had migrated to Cherokee County between 1830 and 1840. In 1850, two individuals, presumably two of their children, were residing in the same household: Oliver P. (30) and Nancy (27).
Oliver and Nancy apparently had a mental handicap as they were both noted in column 13 of the census form as "idiot". When Nancy died is unclear, however, because there doesn't appear that a date was ever inscribed on her tombstone – merely the notation "IDIOT". How sad is that?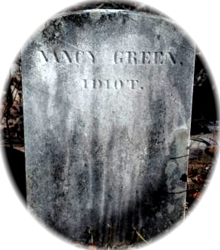 The 1850 census was the first one that all members of the household were enumerated separately and the census taker was required to inquire as to the full health of each occupant. In 1850 the choices in column 13 of the form were "dumb", "blind" or "idiotic" (left blank if "normal" it appears).
In 1860 and 1870 the questions were the same, but in 1880 there were separate schedules for: Insane (Schedule 2); Idiots (Schedule 3); Deaf-Mutes (Schedule 4); Blind (Schedule 5); Homeless Children (Schedule 6); Prisoners (Schedule 7); and Pauper and Indigent (Schedule 7a).
If, for instance, a person was enumerated in 1880 as an "idiot", you can find additional information about them on Defective Schedule 3. For "idiot", information such as date of onset, supposed cause and size of head is provided. Interesting, huh?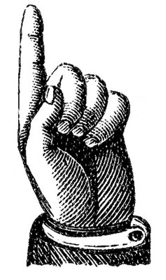 Did you enjoy this article?  Yes? Check out Digging History Magazine.  Since January 2018 new articles are published in a digital magazine (PDF) available by individual issue purchase or subscription (with three options).  Most issues run between 70-85 pages, filled with articles of interest to history-lovers and genealogists — it's all history, right? 🙂  No ads — just carefully-researched, well-written stories, complete with footnotes and sources.
Want to know more or try out a free issue? You can download either (or both) of the January-February 2019 and March-April 2019 issues here:  https://digging-history.com/free-samples/
Thanks for stopping by!