I was trolling through Vermont cemeteries looking for a subject for today's article when I came across four graves in the Alburgh Tongue Cemetery in Grand Isle County, all children of "B.S. (or Benajah S.) and Asenath Phelps" … hmm.  The children were:  Belinda, Cynthia, Horace and Ruth.  The grave stone pictures are hard to distinguish as far as dates but it appears that at least three of their children were very young when they died.  Their parents Benajah Spelman and Asenath (Fletcher) Phelps are buried, however, in Fond du Lac, Wisconsin… double-hmm.
I found that Benajah lived a very long life, dying at age one hundred and three in Colorado Springs, Colorado – again with the "hmm".  Talk about an intriguing history to investigate — so off I went on the search for more about Benajah.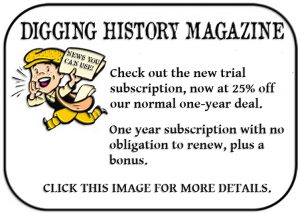 Benajah Spelman Phelps was born on March 24, 1800 on South Island, Grand Isle County, Vermont to parents Abel and Mary (Pelton) Phelps, their second son. His fourth great-grandfather, William the immigrant, was born in 1599 and Benajah's great-grandfather Captain Abel Phelps was a Revolutionary War veteran. Benajah's father was a veteran of the War of 1812. In fact, the island where the family lived was in the middle of Lake Champlain, scene of significant battles which occurred in both the Revolutionary War and the War of 1812.
In 1901 a New York magazine called The Outlook provided the details of the September 11, 1814 battle through the eyes of Benajah, just fourteen years old on that day. Eighty-seven years later Benajah well-remembered the day, "just the same as if it was yesterday." His father, a farmer was an "orderly sergeant in the milishy". Abel knew the British had intentions to attack Plattsburgh, New York just across the bay, so knowing he must go and serve with his company he left Benajah in charge of the farm.
On the morning of the September 11, the family arose early, and seeing the British ships in the distance, hastened to leave their home and proceed to a hill about two miles away where they could have a better view of the action. Benajah gave a colorful account in his interview for The Outlook – you can read it here.
One of the things he remembered most was the blood – blood everywhere. After the fighting had ended, he took his family home so he could perform his evening chores. The family was, of course, concerned about Abel and his safety, but he eventually returned to his family and the British had retreated something during the night following the battle. In 1901, Benajah surmised that the British had intended to take Plattsburgh and keep on marching all the way to Washington. Eighty-seven years later he was still elated with the American defeat of the British:
You know General Prevost started from Montreal with thirty thousand soldiers. He calc'lated to go straight to Washington and burn every town and city he came to. That's what he was calc'latin'; but – here Mr. Phelps indulged in a chuckle of intense satisfaction – he didn't even git through the first county! No sir! He didn't. Lost five hundred men, too, and all his shippin'. The British wanted the lake the worst kind. If they could git control of it, it would be very handy for transportin' men and supplies. But they didn't git it.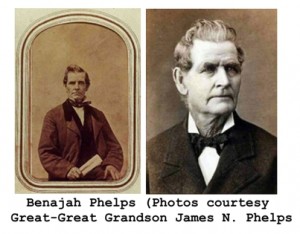 On November 7, 1824, Benajah married Asenath Fletcher, daughter of Calvin and Lydia (Dixon) Fletcher in South Hero, Grand Isle County. The first census record (1850) listing all family members enumerated their children as: Abel (21); Sarah (16); Frederick (14); Charles (12); George (10); Marietta (7) and Lydia (5). Their oldest child, Calvin, was married in 1850 and living in Clinton County, New York (same county as Benajah) with his wife and young family.
I'm guessing that there were two or three children born between Calvin and Abel, and those may have been some of those listed at Find-A-Grave as the infant children of Benajah and Asenath. Benajah was likely a farmer, among other things. A Vermont geology report indicates that in 1834 Benajah and a business associate named Horace Wadsworth built a hotel called the "Mansion House" in Alburgh. The reason the hotel would be mentioned in a geology report, I presume, is because Alburgh was known for its "medicinal waters".
In 1836, records of the Vermont legislature indicate that Benajah was "inspector of hops" for Grand Isle County. I presume that had something to do with the business of brewing spirits. According to early New England history, hops was an important crop during colonial days and became more commercially important in the late eighteenth century. This may have been a trade or skill passed down in Benajah's family because hops had been a major crop in the Tewksbury area of England where his ancestors lived.
The next public record I found for Benajah was a notice in the Burlington Weekly Free Press on December 2, 1842 – apparently Benajah had declared bankruptcy, so perhaps he had over-extended himself with the hotel. By 1850, he had moved his family across the bay and into New York's Clinton County where oldest son Calvin also resided.
In son George's obituary years later it was noted that George and his family moved to Fond du Lac, Wisconsin when he was a young boy, so perhaps Benajah moved his family west not long after the 1850 census. In 1860 he was a farmer in Fond du Lac and five of his children were still residing at home: Frederick, Charles, George, Mariette and Lydia.
On June 1, 1865, Asenath died at the age of sixty-two and was buried in Fond du Lac's Empire Cemetery. After her death, it appears that Benajah lived with his children at various times until his death. No record could be found of him in 1870, but it's likely he was still in Fond du Lac because his children and their families were enumerated there (his name was often misspelled on census records).
In 1880, Benajah was living with George and his family in Taylor County, Wisconsin, eighty years old and a gardener. Sometime between 1880 and 1900, George moved west to Colorado Springs, Colorado and was the proprietor of Phelps Hotel in 1900. His one hundred year-old father Benajah was living with him and his family. The following year, Benajah would become somewhat of a celebrity as articles began to be published about his amazing longevity.
The Outlook article published in 1901 began by introducing Benajah to its readers:
On a typical New England March day, seven months more than one hundred and one years ago, in an island on Lake Champlain, Benajah Phelps first opened his eyes on scenes of earth. It seems as if there entered his physical constitution that day something of the ruggedness of the New England winter and of the strength of his native hills, for still he abides among us. Perhaps when in accord with the pious custom of New England, he was named Benajah, after him of Kabzeel, the captain of David's guard, there came upon him something of the superb physical endowment of this son of Jehoiada, who slew a lion in the pit in time of snow and laid low "an Egyptian, a man of great stature, five cubits high; and in the Egyptian's hand was a spear like a weaver's beam; and he went down to him with a staff, and plucked the spare of the Egyptian's hand, and slew him with his own spear." However this may be, Mr. Phelps is not only living but very much alive.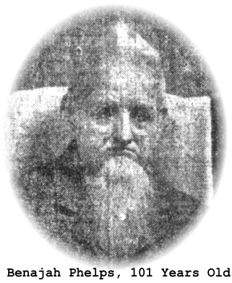 He was interviewed on his one hundred and first birthday, and when asked about his health, declared that it was "toler'ble, toler'ble. I don't eat much meat. I'm gettin' old. My teeth ain't as good as they was." He was described as an observant and intelligent man and was proud to have voted in the last presidential election in the "woman-suffrage State of Colorado".
On November 21, 1903, Benajah Phelps "passed away very quietly, the lamp of his life merely flickered out", according to his obituary in the Colorado Springs Weekly Gazette. By that point in his life, he had "no property to dispose of, but in his dreams and fancies he often imagined that he was on the farm and that he must sell portions of it for one purpose or another." He was taken back to Fond du Lac and buried next to Asenath.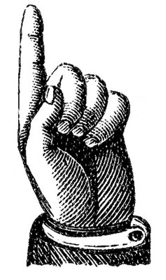 Did you enjoy this article?  Yes? Check out Digging History Magazine.  Since January 2018 new articles are published in a digital magazine (PDF) available by individual issue purchase or subscription (with three options).  Most issues run between 70-85 pages, filled with articles of interest to history-lovers and genealogists — it's all history, right? 🙂  No ads — just carefully-researched, well-written stories, complete with footnotes and sources.
Want to know more or try out a free issue? You can download either (or both) of the January-February 2019 and March-April 2019 issues here:  https://digging-history.com/free-samples/
Thanks for stopping by!