I was looking for an interesting ghost town to feature this week, preferably short and sweet since I'm under the weather this week with some nasty upper respiratory thing-y.  I opened up one of my trusty ghost town books, Ghost Towns of Kansas by Daniel Fitzgerald.  It fell open to "Old" Ulysses – what's that about "Old"?
I soon found that there was an "Old" and a "New" Ulysses in western Kansas in Grant County.  Get ready for it – it was named for who else but Ulysses S. Grant!  Okay – I thought this might make an interesting article.  Little did I know . . . read on.
In 1885 a town company had been formed and the town platted. On July 16, A.J. Hoisington, president of the company, signed on the dotted line. I was surprised to discover, however, that one of my Earp cousins, George Washington Earp, surveyed the town site. George was Wyatt's first cousin and Wyatt is my third cousin, three times removed (see article here), so I suppose that would make George and I the same relation.
George Washington Earp was born on December 13, 1864 in Montgomery County, Missouri to parents Jonathan Douglas and Dorcas (Cox) Earp. He would have heard the stories about Wyatt, and at the age of eighteen he had a "burning ambition to be a cowboy", according to Legends of America. He headed to Dodge City about the time Wyatt and his brothers were moving on to Tombstone, Arizona (and we all know what happened there). Wyatt refused to help his cousin, believing the town too rough-and-tumble, so he instead sent George to Garden City.
George found work as a cowboy and in 1883 he married Anna Maxwell. In the spring of 1885 George was surveying a town site that would come to be called Ulysses. As the movie line goes, "if you build it they will come". A little over a year later the town was already booming with a population of almost fifteen hundred people. Business were open, including an opera house, a hotel and six saloons.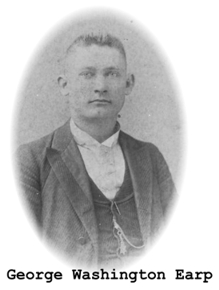 Not only was George on hand to lay the very foundations of Ulysses, he was afforded the opportunity to become one of its leading citizens. At the age of twenty-one he took the job as Ulysses' first postmaster. Two years later he was elected mayor and constable – Legends of America reports that "according to legend" George "was just as 'free with his gun' as Wyatt and his bunch."
In 1886 the town held a bond election to fund public projects. City bonds in the amount of thirty-six thousand dollars were issued, having been sold to Eastern investors. In 1888 a controversy arose over the county seat location. If you've read this column for awhile, you probably think you know what happened next (I mean we are talking about ghost towns — but this one has a twist).
Ulysses had been given the honor, at least temporarily, when the county was established in 1887. On October 16, 1888 an election was held to determine the permanent seat, coming down to a fierce competition between Ulysses and Tilden (also known as Cincinnati or Appomatox). As happened in those days, there was plenty of wheeling and dealing and shenanigans – maybe even some "pay to play" as we call it today.
According to Legends of America, George would later say the town company brought in some "hired guns" to "protect the security of the ballot" – an impressive roster which included Bat Masterson. Ulysses won the election and most residents of the rival town moved there.
In 1889, crop failures and a severe drought caused many to leave, however. The money that was being passed around for the county seat election had apparently been from the bonds raised in 1886. With the town's constituency leaving, Ulysses had even less revenue and the town dwindled down to about forty residents. Amazingly though, the town managed to hang on through the 1890's and early 1900's.
In 1908, however, the day of reckoning was upon them and the bonds were due to be paid. The Eastern investors were anxious to get at least their principal back, and when unsuccessful attempts were made to collect, they sent E.F. Foote, a Hutchinson, Kansas attorney to file a legal action against Ulysses. A town meeting was called and it was determined that raising taxes, the only way to raise the bond funds, would also bankrupt the town. What to do, what to do — vacate the town?
In order to pay the investors, Ulysses' residents decided to vacate the town and move just outside the city limits of "Old Ulysses" and start over (the investors would be offered the land). The men of the area teamed together and moved buildings and houses as quickly as possible. Smaller houses were pulled by wagon, but the hotel was cut in half and the opera house had to be divided into three parts. The only building remaining at the old town site was the school house.

In late 1909 the town of New Ulysses was in place and had about ninety residents. In November of that year another election was held and New Ulysses won the county seat honor again. The investors had been forced to take what was left – basically the town site – and deal with their losses. Not long after the county seat election, "New" was dropped and the name has been just plain "Ulysses" since then.
According to Ghost Towns of Kansas, published in 1988, Ulysses was the "cleanest, neatest, most sanitary town in Kansas". All that remained of Old Ulysses was the school's foundation in the middle of a wheat field on private property.
And what happened to George Washington Earp? In 1893 he received an appointment as U.S. Deputy Marshal in Wichita, Kansas and then later worked for the U.S. Revenue Service. He moved to Joplin, Missouri in 1933 and worked as an income tax consultant, retiring at the age of ninety-one. He died of a stroke on December 21, 1960 at age ninety-six.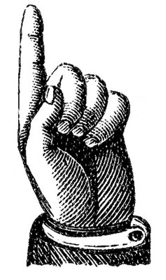 Did you enjoy this article?  Yes? Check out Digging History Magazine.  Since January 2018 new articles are published in a digital magazine (PDF) available by individual issue purchase or subscription (with three options).  Most issues run between 70-85 pages, filled with articles of interest to history-lovers and genealogists — it's all history, right? 🙂  No ads — just carefully-researched, well-written stories, complete with footnotes and sources.
Want to know more or try out a free issue?  That's easy if you have a minute or two.  Here are the options (choose one):
Scroll up to the upper right-hand corner of this page, provide your email to subscribe to the blog and a free issue will soon be on its way to your inbox.
A free article index of issues is available in the magazine store, providing a brief synopsis of every article published in 2018.  Note:  You will have to create an account to obtain the free index (don't worry — it's easy!).
Contact me directly and request either a free issue and/or the free article index.  Happy to provide!
Thanks for stopping by!