Today's Military History article continues the story of the Quattelbaum (Quattlebaum) family whose American progenitor, Petter Quattelbaum, arrived in America in October of 1736 (see this past week's Surname Saturday article here).
Johannes Quattelbaum, son of Petter, had seen action in the Revolutionary War, serving under Brigadier General Francis Marion, a.k.a. the "Swamp Fox".  His son John was born on December 1, 1774 in the Saxe Gotha Township, two miles north of present day Leesville, South Carolina.   After the war Johannes moved his family to a Dutch settlement on Sleepy Creek, but John returned to his birthplace and married Sarah Weaver on August 5, 1798.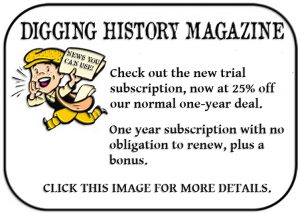 John and Sarah Quattelbaum had five children together before Sarah died on January 6, 1809. John was left with five young children to raise and the following year he married Metee Burkett, daughter of a fellow soldier who had fought alongside his father Johannes. He and Metee had four sons.
Sometime in 1809 John moved his family to a place on Lightwood Creek, about four miles south of Leesville, where he would establish mill operations: a flour mill, grist mill and lumber mill. There he gained a reputation as an industrialist who also manufactured cotton gins and rifles. The development of the last two industries were especially well-timed and profitable – demand for the cotton gin was high and the Quattelbaum rifle was well-known and sold throughout the country.
After receiving a commission as captain of his local militia company, John served during the War of 1812 with Lieutenant Colonel Rowe and the South Carolina Militia in defense of Charleston.
According to family history (Quattlebaum: A Palatine Family in South Carolina), "Captain Quattelbaum was a man of forceful character. He had positive opinions and expressed them readily. His integrity and devotion to duty gained him the respect of all who knew him." John had been educated entirely in the German language, but would later acquire the English language.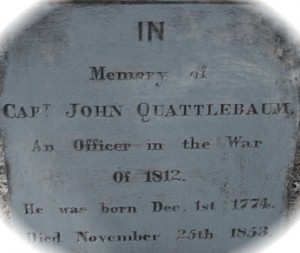 On December 9, 1840, Metee died and near the end of his life John lost his eyesight and lived with his son, General Paul Quattlebaum, until he died there on November 25, 1853.
Brigadier General Paul Quattlebaum
Paul Quattlebaum was born on July 8, 1812 and at the age of three the family moved to the location where the mill operations were established. Perhaps a reflection of his father's integrity and influence, Paul distinguished himself early in both military and public service. At the age of eighteen he was elected captain of his militia company. On September 3, 1835 he married Sarah Caroline Jones, widow of Samuel Prothro, and the daughter of Colonel Mathias Jones.
Just a short time after his marriage, the governor requested that Paul raise a company of volunteers to fight the Seminole Indians in Florida; he was again elected captain of the company. The following year his company was mustered into federal service in Georgia as part of the First Regiment, Infantry, South Carolina Volunteers. Their campaign in Florida was successful and upon his return home, Captain Quattlebaum was promoted to Colonel of the 15th Regiment, 3rd Brigade, South Carolina Militia in 1839.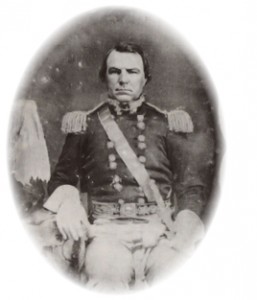 When his boyhood friend, Brigadier General James H. Hammond, ascended to the governorship of South Carolina, Colonel Quattlebaum replaced him and was promoted to Brigadier General in 1843 and served in that position for ten years. Paul Quattlebaum was a busy man – not only serving in the military but in public service to his state and community.
Paul was many things it seems, including industrialist, following in John's footsteps. He established a successful lumber mill operation – installing perhaps the first water-turbine wheel and the first circular saw to be used in the state. He improved upon John's flour mill and Quattlebaum flour was marketed throughout South Carolina. The mill would also later furnish flour for the Confederate Army.
The Quattlebaum rifle continued to be manufactured as well, its reputation maintained by Paul's leadership and oversight. It is believed that General Quattlebaum introduced the first percussion-cap locks in the state, mounted by on gun barrels made in his factory. Flint and steel locks were made obsolete by this innovation and the rifles were used by the Confederate Army.
From 1840 to 1843 he served as a state representative and from 1848 to 1851 as a state senator. In the 1830's he had been a member of the short-lived Nullifier Party which supported states rights to the extent they believed that federal laws could be ignored (nullified). In line with advocating states rights, Paul later became a secessionist – as both a member of the Secession Convention and signing the Ordinance of Secession.
Paul Quattlebaum, however, would be precluded from field service during the Civil War due to a back injury and his advanced age. He did provide counsel to the Confederate Army and took a small part in defending the area around Columbia during the war. His home, as a signer of the Ordinance of Secession, was targeted for destruction by fire. The major in charge of carrying out the attack, personally set fire throughout the house while his men ransacked. However, the family's slaves were able to help the family save the house.
Paul Quattlebaum died at the age of seventy-eight years in 1890. Two of his sons, Paul Jones and Theodore Adolphus served during the Civil War, both noted for distinguished and historic service.
Theodore Adolphus Quattlebaum
Theodore was born on May 11, 1842 and on January 1, 1860 entered the Arsenal Academy in Columbia to begin his military career. By the following January, it appears he had transferred to the Citadel in Charleston because he was on hand for what came to be considered the first shots of the Civil War (although it didn't officially start for another three months).
South Carolina had just seceded a few weeks before and on January 9, 1861 Citadel cadets fired upon the Star of the West, a civilian steamship which had been hired by the federal government to deliver supplies to Fort Sumter. While the ship didn't suffer serious damage, the captain decided it best to abandon the mission.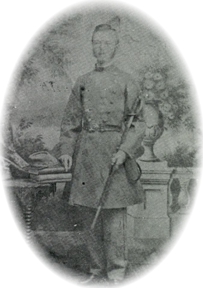 Theodore left the Citadel and enlisted as a private in Company K, 20th Regiment, Infantry under the command of Captain W.D.M. Harmon on December 31, 1861. By April of 1862 he had been promoted to second sergeant and steadily moved up the ranks until his promotion to lieutenant in 1864. Company K was engaged in fighting around Averysborough, North Carolina in 1865 at the Battle of Smith's Farm.
Although the battle ended as a draw, Lieutenant Theodore Adolphus Quattlebaum was mortally wounded on March 16, 1865 and died the following day. He had been fighting a rear guard action and covering the retreat of General Joseph E. Johnson when he was felled. His body was buried in a marked grave by his body servant and later his remains were transferred to the family cemetery in Lexington County, South Carolina.
Several other members of the Quattlebaum family served during the Civil War. In fact, according to Ancestry.com, there were forty-seven Quattlebaums who served the Confederacy – none in the Union Army, however. This family, with German roots, was Southern to the core.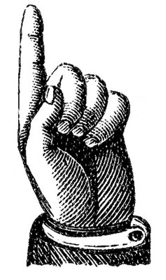 Did you enjoy this article?  Yes? Check out Digging History Magazine.  Since January 2018 new articles are published in a digital magazine (PDF) available by individual issue purchase or subscription (with three options).  Most issues run between 70-85 pages, filled with articles of interest to history-lovers and genealogists — it's all history, right? 🙂  No ads — just carefully-researched, well-written stories, complete with footnotes and sources.
Want to know more or try out a free issue? You can download either (or both) of the January-February 2019 and March-April 2019 issues here:  https://digging-history.com/free-samples/
Thanks for stopping by!