"It isn't likely that a tourist will ever see the old Reagan County Courthouse at Stiles unless he is looking for it, or just flat lost."  That's what a contributor on the Ghost Towns web site had to say about Stiles, Texas.  It's a bit off the beaten track these days.
Stiles had a storied history dating back to the mid-seventeenth century when Captains Diego del Castillo and Hernán Martin were sent out to explore an area which would later be Texas.  Castillo and Martin passed through the area and camped a night or two near where Stiles was eventually located near the Centralia Draw.  A short-cut to the Santa Fe Trail would later be carved out nearby as well.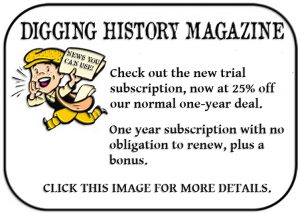 Around 1890 Gordon Stiles and Gerome W. Shields came to the area and were later joined by P.H. Coates, a rancher who had already begun building a sheep ranch in the 1880's. In 1894, Stiles submitted an application for a post office which was accepted. By the early 1900's the area had increased enough in population to warrant a split from Tom Green County.
In 1903, by a vote of 40-1, Reagan County was formed. Since no other village or town of any size existed, Stiles was the natural choice as county seat and the location of the county courthouse. An amusing story about the county's founding was related in a 1964 article by Joe Mosby in the Big Springs Daily Herald:
The move for forming the new county had a brush with disaster, though. Texas statutes required that a petition for a new county had to be submitted bearing names of a percentage of residents of the area. Promoters of the petition for Reagan's formation fell two names short, and there was despair for a moment. But at the last minute the signatures reading "John Donohu" and "Bill Donohu" were added. No one said much, but John and Bill were the names of a pair of outstanding mules that had labored hard in the early days at Stiles. "Donohu" had a mighty similar sound to "Do Know Who" so the settlers later chuckled.
Before a permanent courthouse was built, Sheriff Henry Japson would chain prisoners to a hitchrack. As Mosby related in his article, "[O]ne later prominent citizen of the area vows that the end of his drinking days came right there at that hitchrack." When the bond election to fund the courthouse and jail was held in August of 1903, the results were the same as the election to form the county – 40-1.
A frame building replaced the temporary structure, but by 1911 an even more substantial two-story structure was built. Gordon Stiles owned the general store where the many of the town's activities were centered, so the town was named after him. The land where the permanent courthouse was built had been donated by Stiles and Shields.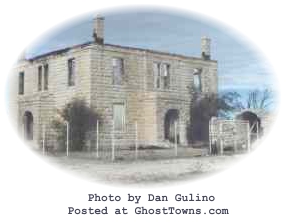 The new courthouse, constructed of stone quarried from the Centralia Draw, was said to have been the nicest in West Texas at the time, perhaps valued as much as $25,000. By this time, there were also around one hundred homes in Stiles, along with a newspaper and telephone service. All Stiles needed to prosper and survive long-term would have been railway access.
In 1910 the Kansas City, Mexico and Orient Railroad wanted to run their line from San Angelo through Stiles to Fort Stockton and Toyahville. However, one of the largest landowners in Reagan County refused to grant access across his land. The rail line instead was located about twenty miles south near a big lake (said to be full of huge catfish and alligators). The result? The town of Big Lake was established in 1912 and by 1919 was approximately the same size as Stiles.
But, of course, Big Lake had a railroad and Stiles had lost out. For several years, Big Lake fought to become the new county seat. Their fate and that of Stiles seemed to have been sealed, however, when in 1923 the Santa Rita oil well just west of Big Lake brought more people to the area and a booming economy. The oil strike also greatly benefited the University of Texas – quite a bit of the land in Reagan county was owned by the school.
In 1925 the vote finally swung in favor of Big Lake (292-94) and Stiles began to decline. The abandoned courthouse served as a school, and a sometimes community center and dance hall for a time. Mosby reported in 1964 that the building served as storage for the county road department and residence for a county worker. It's only governmental function at that time was its use as a voting precinct.
One tragic event marred the history of Stiles, however. Henry Japson had served as the county sheriff for years – in fact the only sheriff the county had ever employed – and was said to have been quite wealthy. He was a long-time friend of James Belcher, an English immigrant who had built a prosperous ranching operation in the area and was himself quite wealthy.
In 1964, in a retraction of sorts to Mosby's January 26 article, James Belcher's daughters stated that they believed a disagreement had arisen over the recent appointment of their father to represent the Drover Cattle Loan Company of Kansas City, a post which Henry Japson had previously held. According to the daughters, the two men had encountered one another in the county clerk's office on February 19, 1918.
As Belcher stepped out into the hallway, shots were fired by Japson and Belcher fell dead. Sheriff Japson was said to have gone to his car, returned to his office, shut the door and then killed himself, or as one newspaper related it – he blew his brains out.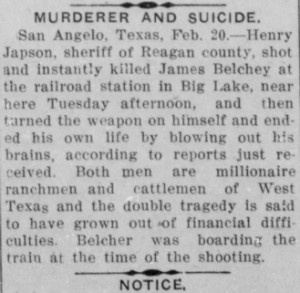 According to the Texas Escapes web site, someone tried to set the courthouse on fire in 1999. The building is now gutted and appears to be surrounded by a security fence. Historical markers have been placed near the courthouse and at the Stiles Cemetery. To reach the abandoned town site, head north on Highway 37 out of Big Lake and at 12.5 miles make a hard left turn. The courthouse will be on the south side of the highway.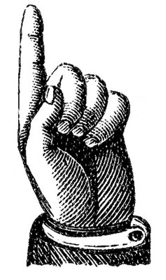 Did you enjoy this article?  Yes? Check out Digging History Magazine.  Since January 2018 new articles are published in a digital magazine (PDF) available by individual issue purchase or subscription (with three options).  Most issues run between 70-85 pages, filled with articles of interest to history-lovers and genealogists — it's all history, right? 🙂  No ads — just carefully-researched, well-written stories, complete with footnotes and sources.
Want to know more or try out a free issue? You can download either (or both) of the January-February 2019 and March-April 2019 issues here:  https://digging-history.com/free-samples/
Thanks for stopping by!