Some historians credit Joseph S. "Buckskin Joe" Works, a Texas land promoter, with the founding of today's ghost town around 1887.  Another historian, Dr. Edward Everett Dale who was a research professor of history at the University of Oklahoma, wrote in 1946 that the town had its origins in 1886 when two brothers-in-law, W.H. Acers and H.P. Dale, built a general store in hopes of trading with the Indians and garnering business from cattle herders heading north to Kansas.  At the time the men came to the area, it was actually part of Greer County, Texas.
Acers and Dale applied for the establishment of a post office under the name of "Navajo", presumably named after the nearby Navajo Mountains.  They got their post office which opened for business on September 1, 1887 under the name "Navajoe" – the extra "e" would differentiate it from the post office in Navajo, Arizona (this long before the days of postal zip codes).
A general store and a post office doesn't necessarily a town make, but after Buckskin Joe arrived on July 4, 1887 he immediately launched efforts to formally lay out an eighty-acre town site. In return for his agreement to promote the town he was granted half of the lots. For those efforts, even though Acers and Dale had been there first, Works was considered the town's "father". Before the year was over a Baptist Church, the first Protestant church to be established in what would eventually become Oklahoma Indian Territory, was established. The following year the Navajoe School was opened.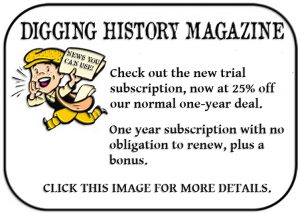 On February 8, 1860, Governor Sam Houston had established Greer County, carved out of a portion of Young County, and named after John Alexander Greer, a veteran of the Texas War for Independence. The Civil War interrupted the formal establishment proceedings, however, but by July of 1886 the county had been organized with a government in place – this despite the fact that for years the United States government and the State of Texas had been embroiled in a dispute over boundaries.
A brief was submitted to the United States Supreme Court and on March 16, 1896 the Court ruled in favor of the United States government, concluding:
The territory east of the 100th meridian of longitude, west and south of the north fork of Red river, and north of a line following westward, as prescribed by the treaty of 1819 between the United States and Spain, along the south bank both of Red river and of the Prairie Down Town fork or south fork of Red river until such line meets the 100th meridian of longitude, which territory is sometimes called Greer county, constitutes no part of Texas, but is subject to the exclusive jurisdiction of the United States.
Translation: the border dispute was over whether the south fork or the north fork of the Red River was the natural boundary. Navajoe lay within the area bounded by the two forks.
Buckskin Joe had big plans for Navajoe. Upon arrival he built a home for his family, a half-dugout type which he claimed cost only thirty-five dollars to build. His next venture was a hotel for those coming to the territory in search of land. He also established a publication called "The Emigrant's Guide" to circulate throughout Texas to attract settlers to "his" town. Despite his obvious enthusiasm in settling the area, Works remained there for only a year or two. By 1891 he was promoting the town of Comanche near Chickasaw territory.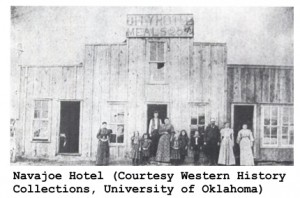 Still, his efforts continued to pay off and others benefited from it. Acers and Dale prospered with their general store and settlers came despite the border dispute. The establishment of a post office had helped as well since before that time mail service came sporadically from Vernon, Texas. Afterwards the mail carrier rode down to the Red River and met the carrier from Vernon. The post office was located in a corner of the general store and was the meeting place every evening as the men gathered to await the posting of that day's mail around eight o'clock. Dr. Edward Dale described the nightly ritual:
Here they sat on the counter, smoked cigarettes, chewed tobacco, and told yarns or indulged in practical jokes while waiting for "the mail to be put up". Once this was accomplished and the window opened each and every one walked up to it and solemnly inquired: "Anything for me?" Few of them ever got any mail; most of them would have been utterly astonished if they ever had got any mail but asking for it was a part of a regular ritual and missing the experience was a near tragedy.
Other business establishments followed, including another general store just north of Acers and Dale's store – not nearly as successful as theirs, however. Ed Clark opened a saloon down the street with a room for poker, seven-up and dominoes. It was, of course, a popular place for cowboys and "the town's loafers" as Dr. Dale called them. However, the church-going folks objected (their house of worship was across the street) and eventually voted the town dry, with the exception of certain patent medicines.
W.H.H. Cranford was the town "druggist" who sold those patent medicines especially to the local Indians because under federal laws they were not to be sold liquor (so-called patent medicines were notoriously constituted of significant amounts of alcohol). Other stores were built, some busy and some not. Most had a porch where the men could sit around and "shoot the breeze". The town's doctor, H.C. Redding, had his office across the street from Cranford's establishment. Redding disliked Cranford intensely since his "medicine" often deprived the doctor of patients and a fee.
Some cattle ranchers leased Indian lands to graze their cattle and had money to pay their hands fairly well, but most settlers in the area were very poor. The occasional odd job and perhaps a small crop of wheat yielded very little income. Some would spend their winters poisoning and skinning wolves or killing prairie chickens and quail.
The general population of the area may have been impoverished but that didn't prevent them from enjoying what life they had – "characterized by abundant leisure" as Dr. Dale put it. Merchants were seldom too busy to gossip and "chew the fat" with their customers or whoever wandered into their stores. The town had its share of colorful characters as well.
One such character was Uncle Billy Warren, described by Dr. Dale as "a small, dried up old fellow who had been a scout for the United States Army in earlier days." Warren received a pension of thirty dollars a month, which likely made him one of the most "wealthy" men in town. A gambler known as "eat 'em up Jake" got his nickname allegedly following a hand of cards containing five aces. His opponent, of course, had something to say about that, but Jake crumpled the fifth card and ate it to avoid a confrontation.
Interestingly, another man by the last name of Harlan lived at the hotel. He appeared to be an educated man and when he had been drinking would use legal terms and refer to himself as "Judge". As it turns out, he was the brother of Supreme Court Justice John Marshall Harlan who would deliver the Court's opinion regarding the border dispute. A letter from Justice Harlan had arrived addressed to the postmaster inquiring about his brother's welfare. The postmaster promptly replied that his brother "as highly respected when sober and well cared for when drunk so it was not necessary to feel any uneasiness about him."
Despite its relaxed atmosphere the town had its share of excitement in the way of gunfights and a nearby battle with Kiowa Indians in 1891. Acers and Dale eventually sold out and left the area. The post office was moved to Cranford's store and he increased his inventory, adding dry goods, clothing, notions – and a stock of coffins in an attic above the store.
Following the Court's decision in 1896 the town went through a series of changes as people moved on and others came into the area then known as Oklahoma Territory. Some of the more "colorful" characters may have departed, but after new settlers came to farm the area acquired a little more sophistication, according to Dr. Dale. In the late 1890's a brief mining boom occurred – for years it had been speculated that the Navajo Mountains held treasures of gold.
The boom turned out to be more of a bust but another wave of settlers would come in 1901 following the opening of Kiowa-Comanche lands to white settlement. One would think that would have improved the long-term viability of the town of Navajoe. However, it effected just the opposite. Many citizens of Navajoe secured some of that land and left the town. The new settlement areas would have railroad access.
As was the case many times over during that era, towns without a nearby railroad slowly died away. Navajoe was never a big town but had plenty of character as evidenced by its array of colorful and interesting citizens. As Dr. Dale phrased it, "[I]n the full vigor of youth it simply vanished from the earth."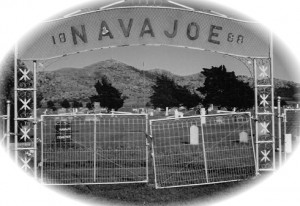 The area is now situated in Jackson County, Oklahoma. The Navajoe Cemetery remains, and according to Find-A-Grave has over seven hundred interments, some very recent. Dr. Dale lived in Navajoe for a time and remembered it this way (in reference to the cemetery):
Here lies the bodies of more than one may who died with his boots on before the blazing six gun of an opponent and others who died peacefully in bed. Here also lie all that is mortal of little children, and of the tired pioneer women who came west with their husbands seeking a home on the prairie only to find in its bosom that rest which they had so seldom known in life.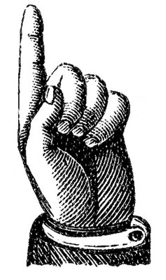 Did you enjoy this article?  Yes? Check out Digging History Magazine.  Since January 2018 new articles are published in a digital magazine (PDF) available by individual issue purchase or subscription (with three options).  Most issues run between 70-85 pages, filled with articles of interest to history-lovers and genealogists — it's all history, right? 🙂  No ads — just carefully-researched, well-written stories, complete with footnotes and sources.
Want to know more or try out a free issue? You can download either (or both) of the January-February 2019 and March-April 2019 issues here:  https://digging-history.com/free-samples/
Thanks for stopping by!