Parents around the world can thank today's "mother of invention" every time they pick up a Pampers®, Huggies® or Luvs® to change their little one's diaper.  Although her ideas were considered impractical at the time, they eventually led to the first truly disposable diaper coming to market in 1961.
Marion O'Brien Donovan was born October 15, 1917 to parents Miles and Ann (O'Connor) O'Brien in Fort Wayne, Indiana.  Her career later as an inventor must have come naturally since she was born into a family of inventors.  Her father and uncle John (they were twins) ran a manufacturing plant in South Bend and had invented an industrial lathe which ground automotive gears and gun barrels.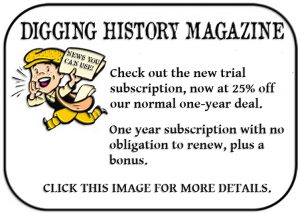 Apparently, her father, the son of Irish immigrants, was quite successful at his trade – in the 1920 and 1930 censuses the family employed two servants. Ann O'Brien, however, had died in 1925, leaving Miles with two daughters to raise – Frances and Marion. Marion spent quite a bit of time during her childhood observing operations at her father's business, perhaps because her mother had died. Miles helped Marion with her first childhood invention – tooth powder (she would later invent a new type of dental floss).
In 1939 Marion earned a Bachelor's Degree in English from Pennsylvania's Rosemont College and afterwards worked briefly for Vogue magazine as an assistant beauty editor. In 1942 she married James F. Donovan and together they had three children: Christine, Sharon and James.
For years, several individuals had attempted to invent and market a disposable diaper. Robinsons and Sons of Chesterfield (England) had marketed wholesale "Destroyable Babies Napkins" in the 1930's to hospitals, but apparently didn't envision a market for the general public. In 1946 a Swedish company suggested the use of cellulose "wadding" inside a cloth diaper covered with rubber pants. That didn't work very well as the wadding tended to crumble when moist and also caused skin discomfort.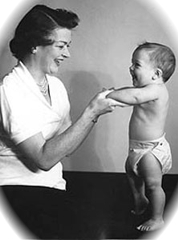 In 1946 Marion crafted her own version of rubber pants out of shower curtain, using her own sewing machine. As Dr. Andrew Boyd, a faculty member in the Industrial Engineering Department at the University of Houston, put it: "motherhood proved to be the necessity of invention." The rubber pants on the market at the time had drawbacks because they also caused skin discomfort and diaper rash. Hers were crafted to avoid discomfort and replaced pins with snaps. Because her invention looked like a boat, she called them "Boaters".
Undeterred by manufacturers who had no interest in her invention, she conducted her own marketing campaign and successfully placed her product in Saks Fifth Avenue in 1949. In 1951 she received a patent and sold the rights to the Keko Corporation, a clothing manufacturer, for one million dollars. However, her efforts to invent a truly disposable diaper continued.
The diaper had to be made of a fully absorbent and strong paper that would repel moisture away from the baby's skin. After perfecting her invention she again set out to present her idea to manufacturers, only to be rebuffed yet again for her "impractical idea". However, in the 1950's companies like Johnson & Johnson, Playtex and others were looking to develop such a product of their own. In 1961, Proctor & Gamble brought disposable diapers, marketed as Pampers®, after being perfected by a team headed by Victor Mills.
Marion continued to invent, receiving twenty patents between 1951 and 1996 for such products as dental hygiene products, hosiery clamp, combined envelope and writing sheet, and others which were geared to women as a matter of convenience. The DentaLoop, which eliminated the need to wrap floss around one's fingers to use, was invented in 1985.
In one 1950's article about housewives who had struck it rich, Marion's accomplishments were downplayed, claiming she had no knowledge of science and any mechanism more complex than an egg beater would be baffling to her. Her life experience and education, however, stood in direct contradiction to that insulting insinuation.
In the mid- to late-1950's she pursued an architecture degree at Yale University, graduating in 1958 as one of three women in her class that year. Her hometown newspaper lauded her accomplishments with the following headline:

The Bridgeport Post reported:
Determination plus talent multiplied by hard work equals realization of one's dream. That seems to be the living equation worked out and practiced by Mrs. James F. Donovan of Harbor Road, Southport. A busy wife and mother and a successful designer for many years, Mrs. Donovan received her bachelor's degree in architecture from Yale University this month and hopes to launch a career in that field soon.
She was described as a "tall, slim woman with classic Gaelic beauty", succeeding "in more fields than most women would dream of attempting." Indeed, she was always interested in educating herself and pursuing lofty goals of success. Her daughter remembered Marion setting up a reel-to-reel tape recorder in her car so she could learn French and dictate letters during her commutes back and forth to Yale.
Marion and James divorced in 1971 and she later married John Butler. In 1981 she designed her own home in Greenwich, Connecticut, later revealing in a 1994 interview that she had always been fascinated by structure. She continued to market her products, including DentaLoop, to retailers. But by 1995 she was ready to sell the rights to DentaLoop after her husband suffered a stroke in 1995.
John died in July of 1998 and Marion died four months later on November 4, 1998. Her daughter Christine later recalled her mother's work ethic: "One thing that was fantastic about her: running into an obstacle made her approach the idea in a new way. Her philosophy was keep thinking and working to improve."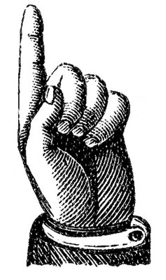 Did you enjoy this article?  Yes? Check out Digging History Magazine.  Since January 2018 new articles are published in a digital magazine (PDF) available by individual issue purchase or subscription (with three options).  Most issues run between 70-85 pages, filled with articles of interest to history-lovers and genealogists — it's all history, right? 🙂  No ads — just carefully-researched, well-written stories, complete with footnotes and sources.
Want to know more or try out a free issue? You can download either (or both) of the January-February 2019 and March-April 2019 issues here:  https://digging-history.com/free-samples/
Thanks for stopping by!