Way back when, long before settlers began making their treks west, this area of Utah was along a route used by Native Americans as they made their seasonal migrations in the spring and fall.  The first recorded European expedition was made in 1776 by Francisco Atanasio Domínguez and Silvestre Vélez de Escalante, two Franciscan monks who set out with cartographer Don Bernardo Miera y Pacheco to map a route from Santa Fe to the missions in California.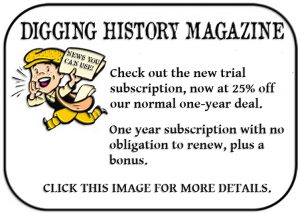 In the 1840's migrants from areas previously considered "the west" began making their way into territory opened by massive land acquisitions in the early nineteenth century.  The Mormons from Nauvoo, Illinois began to migrate to the area, the first group being the Pace family who arrived in 1848.  Other Mormons would join them later to homestead, primarily ranching and farming until the railroads arrived in the late 1870's.
The Utah and Pleasant Valley Railway, a narrow-gauge spur line, was the first railroad built to service nearby coal mines. When the railway went bankrupt in 1882, the Denver and Rio Grande Western acquired it and laid standard gauge track, joining it with track previously laid out to western Colorado, completing a direct route from Denver to Salt Lake City.
The railroad had facilities in Thistle to service trains and to also prepare them for a steep grade change over Soldier Summit. Before on-board dining, trains would stop in Thistle for meal service. Other rail lines were built in the area, further boosting Thistle's economy. Another economic boost occurred between 1892 and 1914 when asphaltum was discovered nearby.
By 1920 the town had just over four hundred residents, according to census records, although in 1917 there had been around six hundred. In addition to railroad services, the town had other businesses such as a barber shop, saloon, general stores, restaurants and a two-story schoolhouse built in 1911. Technology, specifically the introduction of diesel train engines, led to a population decline for Thistle beginning in the 1950's. The depot was demolished in 1972 and the post office closed two years later.
By the early 1980's very few residents remained in Thistle. The fall-winter season of 1982-1983 had brought record rain and snowfall. The snow pack was extremely deep and when temperatures began to rise, the snow melted rapidly. Although trains still came through Thistle, maintenance had fallen behind and officials were meeting in Denver on April 13 to discuss the problems. That same day a portion of US-6 buckled and maintenance crews had their hands full trying to keep the highway open, but trains continued to pass through, although speed was limited to only ten miles per hour.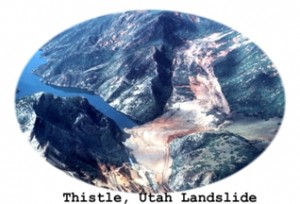 After the Rio Grande Zephyr passed through on the evening of the 14th around 8:30 p.m., the railroad track and US-6 were closed after midnight when the rising waters of the Spanish Forks River inundated both. By the 16th, the tracks were completely buried in mud and residents were given orders to evacuate. Residents only had a couple of hours to gather their belongings. One resident, an elderly woman, refused to evacuate and was later forcibly removed. Two days later the entire town was under water.

Even after attempts to stem the advance of the landslide (advancing at the rate of three feet per hour), the nearby canyon was filled with mud, creating a natural dam which was six hundred feet wide and about fifty feet deep. As the dam area grew, the water depth behind it increased to over eighty feet. Damages exceeded $220 million, which made this disaster the costliest landslide to date in United States history. Thistle the town was no more – now it was "Thistle Lake". Even today, after the "lake" was drained, the town site and remaining structures have a "subterranean feel" with partially submerged homes and stores still visible.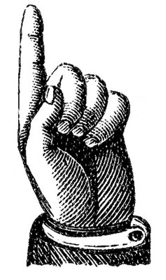 Did you enjoy this article?  Yes? Check out Digging History Magazine.  Since January 2018 new articles are published in a digital magazine (PDF) available by individual issue purchase or subscription (with three options).  Most issues run between 70-85 pages, filled with articles of interest to history-lovers and genealogists — it's all history, right? 🙂  No ads — just carefully-researched, well-written stories, complete with footnotes and sources.
Want to know more or try out a free issue? You can download either (or both) of the January-February 2019 and March-April 2019 issues here:  https://digging-history.com/free-samples/
Thanks for stopping by!