Early Greathouse was born on October 4, 1810 in Clarke County, Georgia to parents Abraham and Sarah Curley Greathouse.  The family later migrated down to Newton in Baker County, Georgia where Early married Susan Elizabeth Talley on June 11, 1831.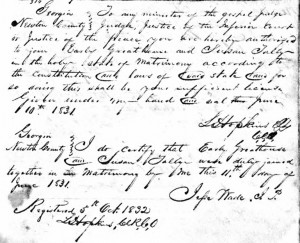 Early and Susan made their home in Newton County for a time following their marriage, later migrating to Troup County in western Georgia. Early converted to the Baptist faith in 1838 and he and his family attended Troup County Line Baptist Church. In 1846 he was ordained as a minister of the gospel and later served as pastor at various churches. Early was also a farmer and slave owner; in 1840 he owned five. In 1856 Early and his family migrated to Tallapoosa County, Alabama, settling on a thousand acre farm near present day Lake Martin.
Early and Susan had several children. Their first, Sarah Elizabeth ("Sallie") was born on March 19, 1832 in Newton County, followed by:
John Alexander – March 9, 1834
Seaborn J. – March 16, 1836
William Early – September 6, 1839
Augustus Delaware – March 17, 1841
Mary Frances ("Fannie") – September 6, 1843
Thomas D. – April 15, 1846
Robert W. – June 5, 1848
Cary J. – December 15, 1851
James Littleton – April 13, 1854
Early Barham – July 13, 1857
Some family historians speculate that there were more children, but these are the only ones enumerated in census years 1850, 1860 and 1870. Cary died at the age of eleven on May 9, 1863, and was buried in the Greathouse family cemetery in Tallapoosa County.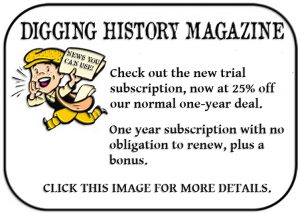 Not only was Early a successful farmer and minister, he was a statesman as well. He served four terms as a representative in the Alabama legislature. He and his family were staunchly pro-slavery and sons Augustus, Seaborn, Thomas, John and William joined the Confederate army. Augustus was wounded twice but survived the war, as did Thomas and John.
Seaborn enlisted in Company A of the 1st Alabama Infantry ("Tallapoosa Rifles") as a private on March 19, 1862. His tombstone indicates that he fought at the Battle of Shiloh less than a month later. He was captured at Port Hudson, Louisiana on July 9, 1862 and paroled on July 11, 1863. He died on August 21, 1863 (less than four months after Cary died) and is buried in the Greathouse family cemetery in Tallapoosa County. I couldn't find any records for the cause of his death, whether war-related, disease or natural causes.
William enlisted in Company K of the 29th Alabama Infantry and was also at the Battle of Shiloh where he was mortally wounded, dying at Holly Springs, Mississippi on June 18, 1862. He is buried in the same cemetery (or at least there is a tombstone there) as Cary and Seaborn. The years 1862 and 1863 were tragic for the Greathouse family.
Mary Francis ("Fannie") had married George Witter in 1859 and lived in Atlanta during the war. A family legend claims that Fannie yelled at General Sherman as he was passing by: "You want to burn my house, then you have to burn me and the children." Whether true or not, it has been passed down through the generations.
After the Civil War concluded, Alabama called a convention to draft a new constitution. Early was one of the delegates representing Tallapoosa County and said to have been a "leading spirit of that assembly." The Greathouse family (including, it appears, all of the remaining sons and daughters and their families) began migrating to Texas in the late 1860's, many of them settling in Bell County. The Reconstruction period following the war was a turbulent and volatile time in the county. Federal troops were stationed in Belton – feuds and political vigilantism were rampant.
Early and Sarah arrived in 1870 and founded two churches, Knob Creek and Mount Vernon Baptist. According to Bell County history, Early was "a Christian gentleman of more than ordinary ability." In addition to founding two churches and serving as pastor at Mount Vernon, Early also built the first cotton gin in Bell County.
In 1871 he set aside land for a Greathouse family cemetery. His granddaughter, Mattie Lee Clopton, was the first to be buried there. She was twelve years old and the daughter of Sarah. Early's mother Sarah had been living with his family for quite some time. She died on May 4, 1878 at the age of 90 and was buried in the family cemetery.
Early served as pastor at Mount Vernon until his health began to deteriorate. He died on August 10, 1885 at the age of seventy-four, and Susan died on April 25, 1886. Both are buried in the family cemetery, along with several other members of their family, extended family and members of the local community. The cemetery is now an official Texas historical landmark.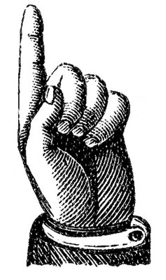 Did you enjoy this article?  Yes? Check out Digging History Magazine.  Since January 2018 new articles are published in a digital magazine (PDF) available by individual issue purchase or subscription (with three options).  Most issues run between 70-85 pages, filled with articles of interest to history-lovers and genealogists — it's all history, right? 🙂  No ads — just carefully-researched, well-written stories, complete with footnotes and sources.
Want to know more or try out a free issue? You can download either (or both) of the January-February 2019 and March-April 2019 issues here:  https://digging-history.com/free-samples/
Thanks for stopping by!