The Pillsbury surname is believed to have been emanated from an area in either Oxfordshire or Derbyshire, England.  It is possibly a derivation of the Old English word "Pilsburg."  Broken down into its component parts: "pile" or "peel", followed by "burgh" or "borough".  "Pile" or "peel" referred to a fortified farmhouse and "burgh" which often meant a place of security.  One source indicates that the surname was possibly derived from the locational name Spelsbury, a village in Oxfordshire.  The Old English word "speol" meant "watchful" and the Old English word "burh" meant "town" or "fortress."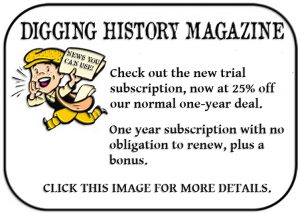 The 1086 Domesday Book lists a tenant by the name of "Pilesberie". In the thirteenth century, mention was made of "Richard Pillsbury" in Derbyshire and in 1379 "Edward Pilsbury" is listed on the Yorkshire Poll Tax records. Besides "Pillsbury" and "Pilsbury", other spelling variations of this surname include "Peelsbury", "Pillsberry", "Spelsbury" and "Spilsbury", among others.
We are, of course, aware that the Pillsbury family made a name for themselves, for today the name is found in the baking section and dairy cases of practically every grocery store. One of the first Pillsbury immigrants, William, arrived in Dorchester, Massachusetts in 1640 or 1641. William is considered the common ancestor of all Pillsburys in America. His story follows, as well as that of Charles Alfred Pillsbury who co-founded the Pillsbury Company with his uncle John Sargent Pillsbury, and Parker Pillsbury, a minister and staunch defender of both abolition and women's rights.
William Pillsbury
It is believed that William Pillsbury was born around 1605 in Staffordshire, England. While William Pillsbury immigrated to New England along with hundreds of other immigrants who were fleeing the tyranny of Charles I (1629-1640), it isn't clear exactly what compelled him to make his voyage across the Atlantic. As the family history book, The Pillsbury family: being a history of William and Dorothy Pillsbury, records it:
He did not come with his Bible under his arm and his mouth full of phrases as to liberty of conscience, although he showed the true democratic spirit in after years, but he came "as the flying come, in silence and in fear." The substance of the accounts is to the same effect, namely, that the young man felt obliged to flee is native land to escape the consequences of a misdemeanor, and on his arrival in Boston let himself as a servant to pay the expense of his passage.
Not long after his arrival it appears he began courting Dorothy Crosbey and that he and Dorothy were sanctioned for some unseemly behavior on June 1, 1641 (click to enlarge):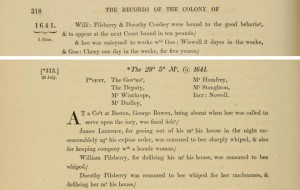 It may or may not have been anything more than a trivial offense. As the Pillsbury family historian noted, "we must remember that this was about the time when it was said a Connecticut mother was punished for kissing her child on Sunday." Sometime between the reprimand and July 29, 1641, when they were both censured to "bee whiped", William Pillsbury and Dorothy Crosbey were married.
They likely remained in Dorchester for at least ten years since three (possibly four) of their children were born there. William and Dorothy had ten children who all lived to adulthood except their last child, Joshua, who died on his third birthday in 1674:
Deborah – 16 Apr 1642
Job – 16 Oct 1643
Moses – 1645
Abel – ?
Caleb – 28 Jan 1653
William – 27 Jul 1656
Experience – 10 Apr 1658
Increase – 10 Oct 1660
Thankful – 22 Apr 1662
Joshua – 20 Jun 1671 (died 20 Jun 1674)
Their son Increase died in 1690 along with three others who were on an expedition to Cape Breton, Nova Scotia.
Sometime in 1651 the Pillsbury family removed to Newbury, Massachusetts, where William purchased forty acres (including a house) for one hundred pounds. In the original deed, William Peelsbury, a yeoman of Dorchester, paid a down payment of fifteen pounds and the remainder in securities, probably from his holdings in Dorchester.
The remainder of their children were born in Newbury and the family attended the First Church in Newbury. On April 29, 1668, William Pillsbury was made a freeman. William is presumed to have been a man of wealth who increased his landholdings over the years, and also possessed at least one slave. On April 29, 1686, William "being sensible of my own morality & being of disposing mind & willing to set my House in order," composed and signed his will in the presence of Tristram Coffin, less than two months before his death on June 19, 1686.
Parker Pillsbury
Parker Pillsbury was born in Hamilton, Essex County, Massachusetts on September 22, 1809 to parents Deacon Oliver and Anna (Smith) Pillsbury. He was their eldest child of eleven and Parker was named after his grandfather. Parker was a family name which likely appeared when William Pillsbury's great-grandson Moses Pillsbury III married Mary Parker, parents of Parker Pillsbury the first.
Oliver Pillsbury, a deacon in his church, was an advocate of both temperance and abolition of slavery. The fervor he possessed was no doubt passed down to his son Parker, described in Men of Progress: Biographical Sketches and Portraits of Leaders in Business and Professional Life in and of the State of New Hampshire as:
. . . one of the heroes of New England's famous "Abolition Trinity" (Garrison, Phillips, Pillsbury) and its last survivor, who for nearly half a century, in perils and hardships, devoted himself heart and soul to pleading the cause of the oppressed, denouncing iniquitous, superstitious, bigoted laws and practices, and demanding the removal of the yoke that held the colored race in cruel bondage . . .
Parker was educated in the local schools of Henniker, Massachusetts where his family had a farm, and, as would be the case in that day, he not only attended school but was expected to work on the family farm. Around the age of twenty he drove an express wagon from Lynn to Boston, but eventually returned to Henniker to farm. After becoming devoutly religious he was urged to pursue an education to prepare for ministry. He took the advice and pursued studies at the Andover Theological Seminary. In less than four years he was licensed to preach and took a pastorate in Loudon, New Hampshire. This, despite the fact that members of the seminary faculty had threatened to prevent him from leading a parish because of his anti-slavery beliefs.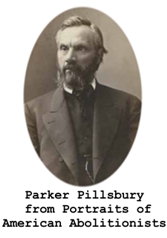 He soon found, however, that his strong anti-slavery beliefs would not mesh well with the Christian Church, which at that time was known as "the bulwark of American slavery." When he preached he denounced the practice in scathing terms – he called it the "sum of all villainies." Since abolitionists weren't popular he was forced to abandon his pulpit ministry in 1840. Instead he would become a "working apostle," as Men of Progress described him.
He began lecturing and also took over the editorship of "Herald of Freedom" for a period of time. He later remarked that he entered "the lecture field with the full resolve to see the overthrow of the Southern slave system or perish in the conflict." (Men of Progress, p. 220). On January 1, 1840 he had married Sarah H. Sargent, who not only supported his anti-slavery work but worked alongside him in his endeavors. The two were ostracized as evidenced by his decision to abandon pulpit ministry. They had only one child, Helen Buffum, born on June 14, 1843.
Parker and Sarah made their home in Concord, New Hampshire and worked tirelessly to abolish slavery. Although the Civil War was a tragic time, they must have been gratified by the outcome, and while they obtained heroic status among former slaves, they didn't rest on their laurels. Following the Civil War, they both became involved in the Woman's Suffrage movement, working alongside Mrs. Elizabeth Cady Stanton.
Still, their work in the anti-slavery movement is most remembered to this day. Parker chronicled the anti-slavery movement in his 1883 book, Acts of the Anti-Slavery Apostles. On July 7, 1898, "this reformer, hero, and honest man, left this world, which is the better for his having lived in it." (Men of Progress, p. 222)
Charles Alfred Pillsbury
Charles Alfred Pillsbury was born on December 3, 1842 in Warner, New Hampshire, the oldest child of George Alfred and Margaret Sprague Carleton Pillsbury. A sister died in infancy and his brother Frederick Carelton was born in 1852. His father George had been modestly educated and was determined to be a successful businessman. His business interests steadily increased and he became well-respected for his integrity and business acumen, so much so he became one of the leading men of New Hampshire whose advice would be sought regarding important matters, according to Encyclopedia of Biography of Minnesota.
Charles was raised in a modest home and attended public school. He graduated from Dartmouth in 1863 and moved to Montreal to clerk for Buck, Robinson and Co., a produce commission company. During this time, he met Mary Ann Stinson, marrying her on September 12, 1866. Their first two children, George Alfred (1871-1872) and Margaret Carleton (1876-1881) died at young ages. On December 8, 1878 twin sons, Charles Stinson and John Sargent II, were born.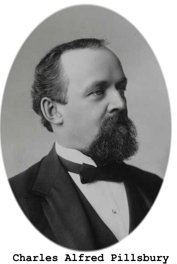 After three years Charles bought into the company and remained there until 1869 when he sold out to join his uncle, John Sargent Pillsbury, in a Minneapolis business venture. The two men pooled their money and purchased a struggling flour mill. The purchase was generally viewed as a mistake since flour milling was not a particularly lucrative business at that time, and neither of the Pillsburys knew anything about the flour milling business.
Nevertheless, Charles skillfully guided the company and three years later it began to show a profit, prompting a name change: Charles A. Pillsbury and Co. With Charles at the helm, the company flourished. He had an eye for technology and brought in the latest equipment available at the time. For instance, mill operations were powered by water from the nearby Falls of St. Anthony, producing two hundred barrels of flour a day. Purifiers were installed to produce fine white flour and his mill was the first in America to use steam rollers rather than burr stones to crush the grain.
By 1872 his father George and brother Frederick had joined him. In 1876 Uncle John became the governor of Minnesota. The family business continued to grow after acquiring four more mills. In 1881 they built the largest flour mill in the world. Innovation was always on Charles' mind. His travels throughout Europe had brought the steam roller and purifier technology to his mills.
Disaster struck in 1881, however, when three of their mills were destroyed by fire. They rebuilt the mills and by 1889 the mills were producing over ten thousand barrels of flour every day. Charles paid his workers well and shared the company's profits at year's end with his employees.
During the 1880's wheat and flour prices were depressed and competition increased. In a decision influenced by their desire to expand into the British market, and ultimately worldwide, the Pillsburys allowed a British consortium to purchase a controlling interest in the company. The new company name would be Pillsbury-Washburn Company, Ltd., the largest flour milling company in the world. The Pillsbury family still retained significant stock in the company and Charles was the managing director. With a means to market his products internationally, he was instrumental in making "Pillsbury's Best" a recognizable, worldwide trade name. The rest, as they say, is history.
Charles Alfred Pillsbury died on September 17, 1899 at the age of fifty-six. The Pillsbury family re-acquired the company in 1923, selling it again in 1989. The brand is now owned by General Mills.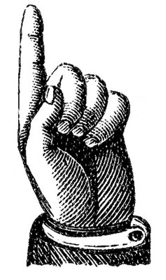 Did you enjoy this article?  Yes? Check out Digging History Magazine.  Since January 2018 new articles are published in a digital magazine (PDF) available by individual issue purchase or subscription (with three options).  Most issues run between 70-85 pages, filled with articles of interest to history-lovers and genealogists — it's all history, right? 🙂  No ads — just carefully-researched, well-written stories, complete with footnotes and sources.
Want to know more or try out a free issue? You can download either (or both) of the January-February 2019 and March-April 2019 issues here:  https://digging-history.com/free-samples/
Thanks for stopping by!