Zadoc Bliss was born on February 11, 1837 in Deersville, Harrison County, Ohio to parents Ralph L. and Sarah Sherrow Bliss.  Ralph and Sarah married in Guernsey County, Ohio on April 21, 1836 and Zadoc was their first child, named after his grandfather Zadoc Bliss.  Grandfather Zadoc and Grandmother Keziah Bliss were born in Connecticut and traveled as pioneers first to Columbiana County, Ohio and then on to Harrison County in 1824.  Zadoc was a direct descendant of Thomas Bliss who migrated to New England in 1635, featured in this Surname Saturday article.
Zadoc and Keziah both received land grants in Harrison County, settling in a wilderness area which they would have to clear and cultivate. At that time, Ohio was considered "far west." Zadoc was a Whig and a staunch abolitionist. He and Keziah were active members of the Christian (Disciples) Church. One family historian noted that they must have been lovers of music since some of their children conducted "singing schools" and sang in their church – something that would be passed down to their grandson.
Ralph Bliss was the first child and son of Zadoc and Keziah, born in Connecticut. In 1835 he purchased land which had originally been deeded to his father, one year before he married Sarah. Ralph died in Pike County, Illinois in 1863 and Sarah died possibly around 1845.
The first census record where Zadoc's name appeared was in 1850 at the age of thirteen. Ralph, a farmer, had remarried Mary (surname unknown) and they had one child together, Phebe, Zadoc's half-sister, along with siblings Eunice, James and Keziah.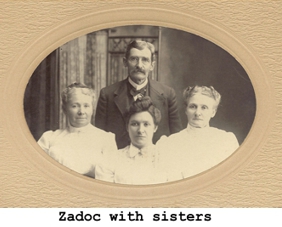 Ten years later Zadoc was enumerated in the household of Johnson Hitchcock of Harrison County. I believe he might have been working there that day as a carpenter because his personal estate is listed separately. It's possible he was related to Johnson Hitchcock since historical records indicate the Bliss and Hitchcock family had intermarried even back to eighteenth century Massachusetts.
In May 16, 1861, Zadoc married Virginia Conn Holmes in Harrison County. Zadoc was a carpenter and the family continued to live near Franklin in Harrison County. In 1864, both sides were having problems conscripting enough able-bodied men to serve in the Civil War. Ohio's governor, John Brough, offered up to 30,000 Ohio state militia to serve for one hundred days, also known as "Hundred Days Men" or "hundred-dazers."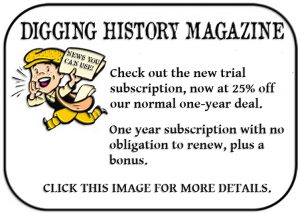 On May 2, 1864, Zadoc was mustered into service in Bellaire, Ohio as a private in Company B of the 170th Regiment Ohio Voluntary Infantry, under the command of Colonel Miles J. Saunders. Their first deployment was to Washington, D.C. where they were assigned to garrison duties at forts in the D.C. area. On July 4 they were tasked to Sandy Hook, Maryland to defend Maryland Heights until July 15.
Some companies served in operations in the Shenandoah Valley from July 15 until August 24, while some were sent to Snicker's Gap on July 17-18 and Rocky Ford on July 18. Parts of the regiment were engaged at the Battle of Kernstown on July 24 and some were tasked with guarding supply trains at Harper's Ferry until August 24. The 170th was mustered out on September 10, 1864. A total of twenty-four deaths were reported: five mortally wounded and nineteen from disease.
After returning from service, Zadoc and Virginia began their family. Their first child, Sarah Louise ("Lulu") was born in 1865. Four other children followed:
Mary Alice – 20 Nov 1867
George Thompson – 06 Apr 1872
Lucretia – 13 Jul 1883
Margaret Josephine – 25 Mar 1885
Between 1870 and 1880, the family migrated to Tuscarawas County (Harrison County had been carved from parts of Tuscarawas County). They settled in the town of Ulrichsville, which had been founded in 1804 and officially incorporated in 1866. They were charter members of the Ulrichsville Christian Church. According to one family historian, Zadoc was a "singing Bliss" who loved to sing and possessed a clear tenor voice. There is a clear history of Bliss family musical talents. Philip Paul Bliss, a cousin of Zadoc's, was a well-known hymn writer and bass-baritone singer, featured in this Hymspiration article.
Nearby was Dennison which was incorporated in 1873, a railroad town halfway between Columbus, Ohio and Pittsburgh, Pennsylvania. The Pennsylvania Railroad's offices and railroad shops were located in Dennison and Zadoc was employed there until he retired in 1906.
Virginia died on April 1, 1900 and at aged 63 Zadoc was enumerated as a widower in June of that year. Lucretia (16) and Margaret (15) were still living with their father. His daughters married and remained in Ohio. George was living in Oklahoma Territory in 1898 when he, much like his father years before, was called up for short-term service in the Spanish American War as part of the 1st Territorial Voluntary Infantry. The 1st consisted of volunteers from the territories of Arizona, Oklahoma (Indian Territory) and New Mexico. Less than a month after they mustered in the war ended with an armistice on August 13, 1898, although the unit continued to serve until December 10.
After his retirement, Zadoc lived with Mary Alice (married to Charles T. Johnson) in Dennison, until his death at the age of eighty-seven, on December 4, 1923 (some records indicate he died on December 24, 1924, but official Ohio death records reflect the 1923 date). He was buried in Union Cemetery in Ulrichsville.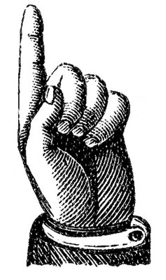 Did you enjoy this article?  Yes? Check out Digging History Magazine.  Since January 2018 new articles are published in a digital magazine (PDF) available by individual issue purchase or subscription (with three options).  Most issues run between 70-85 pages, filled with articles of interest to history-lovers and genealogists — it's all history, right? 🙂  No ads — just carefully-researched, well-written stories, complete with footnotes and sources.
Want to know more or try out a free issue? You can download either (or both) of the January-February 2019 and March-April 2019 issues here:  https://digging-history.com/free-samples/
Thanks for stopping by!