Henry Collis and Zipporah (Chandler) Rice were both born and raised, lived and died, in Madison County, North Carolina in the heart of Appalachia.  They are both buried in Rice Cove, a family cemetery.  Their ancestors came from England, perhaps some from Scotland.  Folklorist Bascom Lamar Lundsford called Madison County "the last stand of the natural people."  In 1917, ethnomusicologist Cecil Sharp described life in Madison County in his book English Folk Songs from the Southern Appalachians:
The region is from its inaccessibility a very secluded one. There are but few roads – most of them little better than mountain tracks – and practically no railroads.  Indeed, so remote and shut off from outside influence were, until quite recently, these sequestered mountain valleys that the inhabitants have for a hundred years or more been completely isolated and cut off from all traffic with the rest of the world.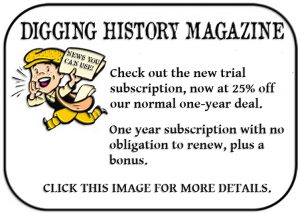 Sharp went on to describe their language as English, not American – in other words they utilized an old-fashioned manner of speaking. Each family grew enough food for their own subsistence, and with very little money, bartering was a common practice. He found residents to be "a leisurely, cheery people in their quiet way," dispensing "hospitality with an openhanded generosity and are extremely interested in and friendly toward strangers, communicative and unsuspicious." Cecil Sharp came to America at various times and during one visit he and his assistant Maud Karpeles ventured into Appalachia to observe and record the ballads of the region's residents.
In many ways the people of the region reminded him of English peasants, although freer in their manner and less inarticulate. He described their faith tradition:
They know their Bible intimately and subscribe to an austere creed, charged with Calvinism and the unrelenting doctrines of determinism or fatalism. The majority we met were Baptists, but we met Methodists also, a few Presbyterians, and some who are attached to what is known as the "Holiness" sect, with whom, however, we had but little truck, as their creed forbids the singing of secular songs.
A few were literate but the majority were illiterate, although he noted their abundant knowledge of nature and common sense. Their physical characteristics he described as:
Physically, they are strong and of good stature, though usually spare in figure. Their features are clean-cut and often handsome; while their complexions testify to wholesome, out-of-door habits. They carry themselves superbly, and it was a never-failing delight to note their swinging, easy gait and the sureness with which they would negotiate the foot-logs over the creeks, the crossing of which caused us many anxious moments. The children usually go about barefooted, and, on occasion their elders too, at any rate in the summer time. Like all primitive peoples, or those who live under primitive conditions, they attain to physical maturity at a very early age, especially the women, with whom marriage at thirteen, or even younger, is not unknown.
The community where Henry and Zipporah lived was first called Revere. An itinerant Baptist preacher came through during the Civil War and observed all kinds of sinning, notably violence and promiscuity, according to Zipporah's niece Dellie Chandler Norton. He likened it to biblical Sodom and the name stuck (although Presbyterian missionaries tried to change the name back to Revere later).
With that cultural background in mind, here are Henry and Zipporah's stories.
Henry Collis Rice

Henry was born on November 25, 1878 (or 1879 depending on which records are correct) to parents James Edmond and Nancy Matilda (Buckner) Rice. Henry was the youngest of their seven children which were enumerated for the 1880 census. The Chandler family lived close by and Zipporah was the youngest child in her family as well. Like his father Edmond, Henry became a farmer, having been educated through the seventh grade according to later census records.
Henry and Zipporah were married in 1899 (but possibly 1897) according to 1900 census records and had already started their family with Ella Ann, aged one, born on July 19, 1898, and Felix Onais, aged two months, born on March 10, 1900. Their births were followed by:
Gershom (September 5, 1902)
James Cornelius (May 6, 1903)
Hazel (April 5, 1906)
Lola Beatrice (May 23, 1909)
Verna (August 9, 1911)
Arnold Austin (March 15, 1914)
Edmond (March 3, 1916)
Sallie Irene (March 2, 1919)
Gershom died in 1903 and James Cornelius in 1911. By 1940, only their son Austin still resided with Henry and Zipporah, employed as a farmer.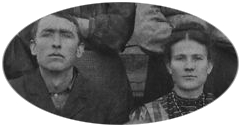 Henry passed away on July 4, 1946 at the age of sixty-seven in rural Madison County. His death certificate notes that there was no attending physician and he likely died of heart failure.
Zipporah Chandler Rice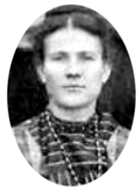 Zipporah was born on June 5, 1878 to parents Ezekiel and Hester Ann (Gunter) Chandler. She was their youngest of nine children when enumerated for the first time during the 1880 census. One family historian noted that according to DNA evidence, Ezekiel was descended from the first Chandler to come to America, John (1600-1658) who arrived in Jamestown at the age of nine in 1610.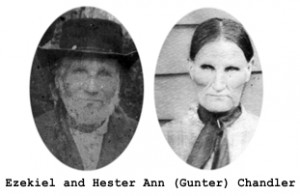 The historian also reports that Ezekiel served in the Civil War in the 13th North Carolina Light Artillery Battalion, as a Confederate, although Madison County was a Union stronghold. He and his brother John had no slaves and were reluctant to join the Confederates. John apparently deserted and joined a Union outfit while Ezekiel continued to serve the Confederacy. It is possible there might have been some "bad blood" between the brothers, as the historian noted, since the brothers are buried in different cemeteries.
The family was likely deeply spiritual since Ezekiel (a biblical name) and Hester gave biblical names to two of their children: Solomon and Zipporah (Moses' wife). She was variously called Zippa, Zippo and Zip by her family and friends. Zipporah was known for her mountain ballads. She was interviewed by Cecil Sharp and he included two of her ballads in his book (click to enlarge):

According to Zipporah's niece Berzilla, the people were frightened of Sharp, concerned that he was there to map the area for the water authority. Had it been true, their land would have been flooded to create a reservoir for the town of Marshall. After Sharp's true intentions were known, residents were more accommodating. Sharp observed that "singing was almost as common and universal a practice as speaking."
I could find no record of Zipporah singing her songs, just the words and musical notes depicted above as Cecil Sharp and Maud Karpeles recorded them. However, her niece Dellie Norton became well known enough to have her ballads archived in the Smithsonian. The Blue Ridge Heritage web site notes that Dellie was a member of an "independent and self-reliant society." She was also:
. . . an expert canner, spinner, weaver, quilter and herbal healer, who once accompanied her father, an herb doctor, on searches for ginseng, yellow root and other natural remedies. She remembered mornings when her father would come into the kitchen before daylight and sing and pick the banjo while bacon was frying on the cook stove.
It can be inferred that Zipporah most likely carried on the same traditions as her niece. I couldn't locate any more historical records for Zipporah after Henry died in 1946, and 1940 is the last census currently available to the general public. However, several of her children lived nearby as many of them are also buried in Rice Cove Cemetery.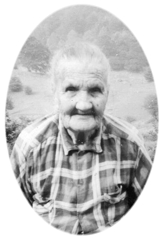 Zipporah passed away at the age of 103 on July 17, 1981 in a Tennessee hospital. She and Henry share a grave stone in Rice Cove.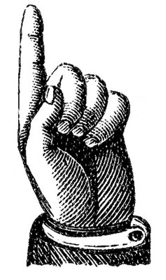 Did you enjoy this article?  Yes? Check out Digging History Magazine.  Since January 2018 new articles are published in a digital magazine (PDF) available by individual issue purchase or subscription (with three options).  Most issues run between 70-85 pages, filled with articles of interest to history-lovers and genealogists — it's all history, right? 🙂  No ads — just carefully-researched, well-written stories, complete with footnotes and sources.
Want to know more or try out a free issue? You can download either (or both) of the January-February 2019 and March-April 2019 issues here:  https://digging-history.com/free-samples/
Thanks for stopping by!