Enoch Holton was born on October 19, 1796 in North Carolina, and his wife Tabitha Pipkin was born on November 28, 1796.  Enoch and Tabitha married on April 2, 1822 and had a family of at least five children (my estimates):
Elvira (1823 or 1824)
Jesse Walker Pipkin (1826)
Tabitha (1830)
Isaac Pipkin (1833)
Alonzo Jerkins (1837)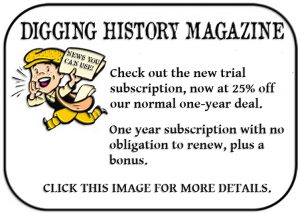 The Holtons were a deeply religious family and of the Free Will Baptist faith until they, along with others of the same faith became part of the Disciples of Christ, which at the time was attracting congregants from both the Free Will Baptists as well as the "Regular Baptists". The transition appears to have taken place for the Holton family in the late 1830's or early 1840's. The Broad Creek Church was established by Henry Smith on January 6, 1844 in Craven County (later Pamlico County), and Enoch Holton was the first Elder of the church.
The Disciples of Christ movement arose out of disagreements over leadership and perhaps the rigidness of other denominations in regards to such things as baptism and communion. According to North Carolina Disciples of Christ: A History of Their Rise and Progress, and of Their Contribution to Their General Brotherhood, their slogan was "Back to Christ". The establishment of the Disciples of Christ was an outgrowth of the so-called "Restoration Movement" with an emphasis on Christian education and an appeal to worship with both one's head and heart.
The Holton sons took their faith very seriously and became ordained ministers (and farmers) – in 1927 one son was the oldest living Disciples of Christ minister in North Carolina, another was known as the "walking preacher" and another known as a "singing master".
Jesse Walker Pipkin Holton
Jesse was born on April 28, 1826, the first son of Enoch and Tabitha. According to a biographical sketch written by George T. Tyson following Jesse's death, Jesse was born into a humble Christian home. He was uneducated but learned to read and write.
On July 1, 1849, Jesse confessed his sins and was baptized by Henry Smith. In 1850 Jesse was still single and enumerated for the 1850 Census as a laborer living in Craven County. On January 19, 1854, Jesse married Barbara Eleanor Bennett, daughter of William and Barbara Brinson Bennett.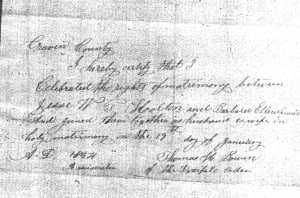 Jesse preached his first sermon (of many) on February 1, 1858 at his home church. On August 9, 1858 Jesse was "set apart to the ministry" and ordained by J.B. Respess. Jesse began his ministry and was listed as a "minister" on the 1860 census, along with Barbara and three children:
Jesse was likely both a farmer and a minister since in 1870 he is enumerated as a farmer and in 1880 as a preacher/farmer. In 1880 the children of Jesse and Barbara are listed as Sarah, Tabitha, Enoch, Jesse, Alexander and Barby, just one year old. The last census to enumerate Jesse Holton was in 1900 when he was still a farmer at the age of 74 years. He and Barbara had been married for 47 years.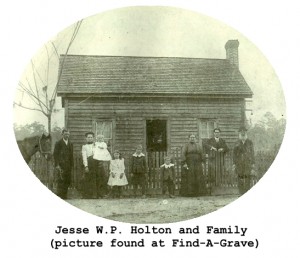 George Tyson wrote his tribute to "Uncle Jesse" in the October 7, 1904 issue of the Disciples of Christ Watch Tower publication:
Uncle Jesse was familiar with the Bible. He told me he had read the New Testament through as many times as the number of years he had been engaged in the ministry.
Through rain and sunshine, through summer's heat and winter's cold he has gone for forty-six years, more than four-fifths of this time on foot. For thirty-eight of those years he had no team. His longest pastorate was a Bay Creek Church, for which he preached eighteen years, and never missed a visit. There was not a year during his ministerial life but that he had the care of one or more churches. He was a good preacher; but, perhaps, his strongest characteristic was his daily walk, modest in manners, and chaste in conversation. For forty-six years he has preached, in church, in school-house, in barns, and in homes; of righteousness, temperance and the judgment to come, calling people to repentance. His life was an exemplification of the gospel which he preached. His Christian life was faithful to the end, his faith unwavering from his baptism to death. And for all of this his compensation fell far behind in affording sustenance. He told me just a short while before his death that he "preached the gospel for the love of the gospel." Not in state, but in church, his counsel was often sought.
Jesse's first sermon was in 1858 and his last sermon, a "funeral discourse," was preached about a month before he died on August 9, 1904. In January of that year, Jesse and Barbara had celebrated fifty years of marriage.
Isaac Pipkin Holton
Isaac was born on January 24, 1833, the second son of Enoch and Tabitha. Isaac became a Christian at the age of 22 and was baptized on July 4, 1855 by Gideon Allen. He was ordained as a minister of the Christian Church in 1861 by William Dunn, Japtha Holton (his uncle I believe) and J.W. Holton (Jesse).
Isaac volunteered to join the Confederate Army on January 24, 1862. At the time of the first muster he was listed as "absent – sick". On March 23, 1862, the records indicate that Isaac "deserted in Craven Co.".
Perhaps Isaac was not well-suited to Army life. On May 31, 1865, Isaac married Rebecca Ann Robinson in front of a Justice of the Peace in Craven County. Their first child, Enoch Tyson, was born in 1865 – perhaps this was a "shotgun wedding"(!?)
Isaac was enumerated as a farmer in 1870 and he and Rebecca then had three children: Enoch (5), Mary (3) and Tomlin (1). Curiously, in 1880 they have another daughter named "Mary F." (in addition to the Mary enumerated in 1870) and one named "Mecora B." Isaac continued to work as a farmer.
For the last census before his death in 1907, Isaac still worked as a farmer. He was a part-time minister and farmer following his conversion and ordination, according to George Tyson's biographical sketch:
Bro. Holton was deprived of school advantages, but he was endowed with more than average natural ability, loved literature and read much. He was familiar with the Bible from the beginning of Genesis to the end of Revelation. He read many books and was especially fond of poetry. A day or two before his death, prostrate on his bed, he repeated and sang one or two hymns and preached a short sermon, using for his text, "If a man die, shall he live again?" Bro. Isaac did not give his full time to the ministry, however he did a great deal of preaching and singing (he was a singing master) until the latter years of his life. Two years before his death he had the care of a church. He was called upon to preach a great many funerals. He delivered a funeral address only about a year before his death.
Bro. Holton was one of the most active and energetic of men; a good conversationalist; and his home "given to hospitality."
Isaac died on November 10, 1907 and was buried in Pamlico County. His wife Rebecca lived until 1916.
Alonzo Jerkins Holton
Alonzo was the youngest son of Enoch and Tabitha, born on July 20, 1837. It appears that Alonzo was perhaps named after either a family friend or relative. I found a reference to an Alonzo T. Jerkins of Cravens County who signed a bond for a negro boy in 1855.
Alonzo married Mary Frances Holton on July 21, 1860 with Jesse performing the ceremony. Whether Mary Frances was a cousin or had been married before to another Holton I do not know. Something, however, must have happened to Mary Frances because on September 19, 1867 he married Mary Jane Lewis – Isaac officiated that ceremony.
On January 1, 1866, the Broad Creek Church had been reorganized and Isaac was chosen as the pastor and Clerk; Alonzo was chosen assistant Clerk. On October 9, 1866, Alonzo was ordained to the ministry at Broad Creek. His father Enoch had died on June 9, 1865 and in 1870 Tabitha, aged 74, was living with Alonzo and Mary Jane, along with their two young children Alexander (2) and Augustus (1). Alonzo was a farmer.
In 1880 Alonzo and Mary Jane's family had grown, adding children Ella, Isaac, Minnie and Cally. Alonzo was then occupied as both a preacher and a farmer. He had apparently become more active in ministry as he had joined the North Carolina Christian Missionary Society in 1877. In 1871, he had preached at the Antioch Convention, and "Brother Holton acquitted himself well." In 1877 he again spoke at the annual convention and his ministry was chronicled:
On Friday night we had the pleasure of hearing Brother A.J. Holton, who preached an earnest, zealous and pathetic discourse. This is the first time I ever heard Brother Holton. I was pleased with his efforts. I have understood that much of his time is employed on his farm, which prevents him from doing what he might do under different circumstances.
Alonzo's family continued to grow. By 1900 he and Mary Jane had added three more children: Cornelia (19), Wilford H. (16) and Hattie E. (12). Alonzo continued to farm, but according to the Chalice News, a newsletter of the First Christian Church in Richland, North Carolina, Alonzo served as pastor of that church in 1891 – as noted above he did more farming, presumably to make a living and feed his family.
In 1910, at age 72, he was still a farmer and only Hattie remained at home with her parents. His primary occupation in 1920, however, was "Preacher" and his industry was "Gospel" – he was 82 and Mary Jane 76 years old. In 1930, at the age of 92 he was still preaching, a clergyman in the Christian Church according to that year's census.
On January 1, 1935, at the age of 97, Alonzo Jerkins Holton passed away and was buried in the Alonzo Holton Cemetery in Pamlico County. Mary Jane passed away in 1937. On his tombstone, the inscription reads: "I hope to see my pilot face to face when I have crossed the bar."
At the time of his death he was one of the two surviving members of the original North Carolina Christian Missionary Society members. According to the Pamlico Profile, "he read the Bible religiously; a large part of his money was spent for books; he died saying he had no grudge against any person."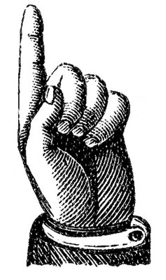 Did you enjoy this article?  Yes? Check out Digging History Magazine.  Since January 2018 new articles are published in a digital magazine (PDF) available by individual issue purchase or subscription (with three options).  Most issues run between 70-85 pages, filled with articles of interest to history-lovers and genealogists — it's all history, right? 🙂  No ads — just carefully-researched, well-written stories, complete with footnotes and sources.
Want to know more or try out a free issue? You can download either (or both) of the January-February 2019 and March-April 2019 issues here:  https://digging-history.com/free-samples/
Thanks for stopping by!