The American West has hundreds of abandoned ghost towns, but east of the Rockies some refer to towns that may still have a few residents as "quiet towns".  These towns have diminished over the years as residents moved away to bigger cities, post offices and schools closed and buildings fell into disrepair.  Today's ghost or "quiet" town has an interesting history with its founding in the post-Civil War Reconstruction years.
After the Civil War and Reconstruction, ex-slaves were eager to leave the South and strike out on their own in a new place.  In 1877 an Indiana land developer, W.R. Hill, and a black minister, Reverend W.H. Smith, formed the Nicodemus Town Company.  Smith became the town's president and Hill the treasurer.  How the name of the town originated is not exactly known, although some believe it was named after a slave who came to America and later purchased his freedom.
The town was advertised as a "Promised Land" – a place where an ex-slave could purchase his own land, $5 for a residential lot and $75 for a commercial lot. Reverend Simon P. Roundtree, the first settler, arrived on June 18, 1877. Reverend Smith's daughter Jenny and son-in-law Zachary Fletcher arrived the following month. Reverend Roundtree would later be called a fraud, however: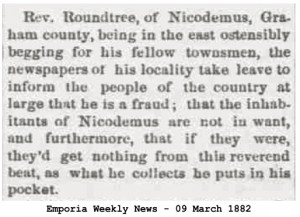 Circulars were printed and Roundtree, assisted by a black carpenter from Nashville, Benjamin "Pap" Singleton, began to make the rounds in the Deep South promoting their new town. Singleton distributed so many ads that he became known as the "Moses of the Colored Exodus". Those who chose to emigrate to Kansas were called "Exodusters".
Pap Singleton had been working for sometime before his involvement in settling Nicodemus to convince ex-slaves to leave the South. According to "Pap" Singleton, the Moses of the Colored Exodus" (July 1, 1909):
He spent $600 for circulars, he says. All his life Singleton well understood the value of advertising. His literature was given to preachers going into the interior districts, to porters on the railroads, and to employees on the steamboats to be scattered among the negroes farther south.
Furthermore, according to the book, Pap had contempt for educated (Northern) Negros since they opposed his efforts. Negroes in the North had lived free for some time – a mass migration of Southern Negros was threatening to their well-established lives.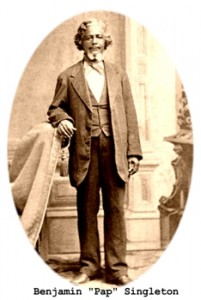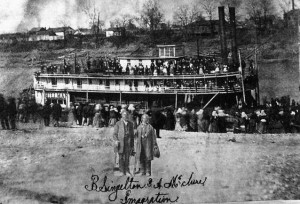 Kansas had an historic reputation for its attitudes toward blacks and slavery. John Brown had been a champion of abolition and Kansas had paid a price for its part in the anti-slavery movement (Bloody Kansas). For that reason it wasn't hard to convince ex-slaves to make their way to Kansas. By the late summer of 1877, over 300 people had arrived in Nicodemus.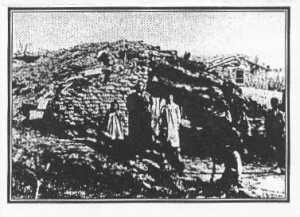 The settlers built dugouts and struggled through their first winter – tools, food and money were scarce but many managed to survive by selling buffalo bones gathered on the prairie, while others worked for the railroad. As reported by the Western Kansas World newspaper on February 22, 1890, so determined were the settlers to make it through the winter, some men walked to Colorado to find work while the women held their claims in Nicodemus. Some, however, were overwhelmed with discouragement and returned to their former homes. Those who made it to spring began to work the soil and settle in, but it wouldn't be easy. Spring brought more Exodusters and Williana Hickman was heard to say upon her arrival:
When we got in sight of Nicodemus the men shouted, "There is Nicodemus!" Being very sick, I hailed this news with gladness. I looked with all the eyes I had. I said, "Where is Nicodemus? I don't see it." My husband pointed out various smokes coming out of the ground and said, "That is Nicodemus." The families lived in dugouts…. The scenery was not at all inviting, and I began to cry.

Williana and her husband Reverend Daniel Hickman decided to stay and founded The First Baptist Church. At first services were held in a dugout, but by 1880 a stone structure had been constructed.

Zachary Fletcher was the first postmaster of Nicodemus and one of its first business owners (St. Francis Hotel and a livery stable). The complex which he built housed the hotel, stables, post office and school and eventually became known as the Fletcher-Switzer House which still stands today. City government and services were put into place and by 1880 Nicodemus had a population of approximately five hundred, with a bank, two hotels, three churches, a drug store and three general stores.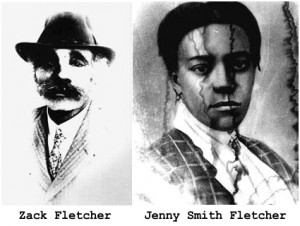 By 1887 the town had added more businesses and civic organizations – even a baseball team and a band. The townspeople hoped that the Union Pacific Railroad would extend their track (closest railroad was several miles away) – unfortunately the two parties could never agree on an acceptable financial arrangement. Without railroad access, Nicodemus was becoming increasingly isolated just when it was beginning to grow and prosper. Businesses began to desert the town and gradually Nicodemus would decline and the depression of the 1890's didn't bode well for the town's future.
The small, mostly black community, managed to do well enough to hang on through World War I, but then came the Depression and the Dust Bowl of the 1930's. In 1928 farmers produced abundant wheat harvests, but when drought and the winds came, people began to leave. By 1935 only 76 residents remained and in 1938 a community center, a WPA project, was built. In 1950 the population was down to 16 residents; the post office closed in 1953.
There had been more than a half-dozen black "colonies" in Kansas after Reconstruction, but Nicodemus was the only one to survive, albeit quite diminished by mid-twentieth century. In 1976 the town was designated as a National Landmark and in 1996 as a National Historical Site. A few buildings remain and the Nicodemus Historical Society Museum is the only business. The last weekend of July every year Emancipation Day is celebrated, bringing descendants of the original settlers to celebrate their ancestors and heritage.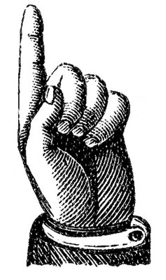 Did you enjoy this article?  Yes? Check out Digging History Magazine.  Since January 2018 new articles are published in a digital magazine (PDF) available by individual issue purchase or subscription (with three options).  Most issues run between 70-85 pages, filled with articles of interest to history-lovers and genealogists — it's all history, right? 🙂  No ads — just carefully-researched, well-written stories, complete with footnotes and sources.
Want to know more or try out a free issue?  That's easy if you have a minute or two.  Here are the options (choose one):
Scroll up to the upper right-hand corner of this page, provide your email to subscribe to the blog and a free issue will soon be on its way to your inbox.
A free article index of issues is available in the magazine store, providing a brief synopsis of every article published in 2018.  Note:  You will have to create an account to obtain the free index (don't worry — it's easy!).
Contact me directly and request either a free issue and/or the free article index.  Happy to provide!
Thanks for stopping by!