John Baptiste Priquet, according to his death certificate, was born in Paris, France on April 18, 1843.  Curiously, his gravestone (added later) says that he was born in 1846 and various family research sites indicate an April 14, 1846 date as well.  His daughter's signature is on the death certificate, thus I would assume she would have more intimate knowledge of his correct birth date… more on the death certificate later.  Through the years of census records, his name was spelled, variously, Priquet, Priquette and Prickett.
According to census records, John immigrated to America in 1854 and at some point became a citizen. I found no immigration records, no census records for 1860 and 1870 and thus no record of his parents (likely due to misspelled names which hindered an accurate search). Various family histories indicate that John migrated to Idaho Springs, Colorado around the age of twenty-one. Whether he served in the Civil War is unknown. If the year was 1864, that was the year of the Sand Creek Massacre and as a previous Tombstone Tuesday article indicated, there was a mining boom in Colorado around that time.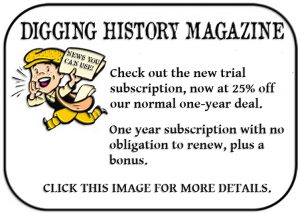 The family of the woman he met and married, Adaline Melissa Schenck, migrated to Idaho Springs from Boone County, Illinois sometime after the 1860 census. At the time of the 1860 census, Melvin and Sarah Ann (Lanning) Schenck had four children, ranging in age from 3 to 15 – Adaline was 8 years old. Melvin and Sarah Ann were married on February 14, 1844 in Boone County, Illinois.
It may not have been long after the 1860 census before the Schenck family headed to Colorado – one story said they traveled either with Mormons or as Mormon pioneers. Sarah Ann passed away on March 11, 1862, aged 35 years and 5 months. She was buried in what is now the foothill town of Evergreen, Colorado. The solitary grave is now on private property and surrounded by a small fence, left undisturbed all these years.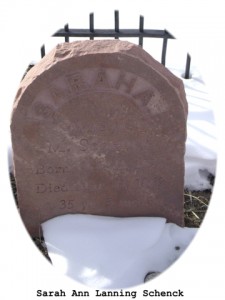 One genealogy researcher had thought that perhaps Melvin had died in 1860 (or perhaps soon after their arrival) at Pikes Peak. If that was the case, and Sarah died in 1862, their children were left as orphans. In 1870, Melvin and Sarah Ann's son James was living in Golden City, Jefferson County, Colorado in the home of William Trotter, a hotel keeper. James' occupation was listed as a 25 year-old hotel cook. According to one family tree, John and Adaline were married on April 4, 1867.
In 1866, John Priquet & Co. was assessed a tax of $3.60 for nine head of cattle. Unless John worked as a miner on the side he was a farmer or rancher.
In 1880 the census enumerated a family of six living in the Idaho District (Soda Creek) of Clear Creek County. John's occupation was listed as "log hauler" and their four children at the time ranged in age from 1 to 11. The births of their children up until 1880 were as follows with six live births and two deaths:
Joseph Riley – b. August 18, 1869
Mary – b. February 6, 1871 (died February 12, 1871)
Sarah Ann – b. February 26, 1872
Wilbert Henry – b. April 6, 1875 (died May 4, 1875)
Leone Leota – b. May 4, 1876
William Lorenzo – b. July 7, 1878
The 1890 census records are unavailable but family historians believe that sometime in 1900 the family moved to Saratoga, Wyoming, after that year's census. The 1900 census enumerated on June 15, 1900, lists the remainder of their children born after the 1880 census:
Etta Mable – b. August 23, 1880
Oscar Melvin – b. August 14, 1882
Claud Antoine – b. August 28, 1884
Carrie Felicia – b. September 24, 1886
Gertrude Valoria – b. May 24, 1889
The family was still living in Colorado in what then was called Idaho Springs. John was a wood hauler and sons William, Oscar and Antoine were "wood choppers" – presumably operating a family-run lumber business or sawmill.
It is not clear if John's entire family migrated with him to Saratoga. Family history seems to indicate that all but perhaps Sarah Ann (who had married James H. McDonald in 1890) left with John and Adaline. In 1900, Sarah Ann was living in Cimarron, Oklahoma – one of her children was named "Idaho" and another "Arizona". John and his sons cut wood at the Ferris-Haggerty Mine, one of the richest mines (copper) in Carbon County, Wyoming.
Joseph is said to have had an argument with his father around 1901, wherein he left Saratoga, moved to Montana and on to Oregon and never to be heard from again by his family. Claud Antoine passed away in 1903 (details unknown). According to the Saratoga Sun (April 8, 1907), William Priquet was instantly killed in a stagecoach accident at the Cow Creek Station of the Saratoga-Encampment Stage Line. The stage, stopped to water the horses, had three passengers. Two male passengers had stepped out of the coach and the female passenger remained inside. A sudden and sharp clap of thunder spooked the horses and:
Priquet caught the wheelers by the bridles and grabbed for the lines of the leaders, but stumbled into a depression in the ground. The leaders trampled on him and both wheels of the coach passed over him, crushing his skull, breaking his collar bone and his right leg below the knee. Death was instantaneous.
Deceased would have been 29 years of age the 7th of next July and was the eldest son of Mr. and Mrs. John Priquet of this place. He was a young man of excellent character and habits and was esteemed by all who knew him. His death fell with crushing force on his family and was a severe shock to the entire community.
By 1910, the remaining children had married and left home, except 24 year-old Carrie. John, Adaline and Carrie were still living together in Saratoga. John's occupation was listed as "teamster". Carrie was listed as "Hello Girl Telephone". Carrie was said to have been crippled all her life (her nickname was "Tadpole") and by the 1930 census she had married James Mauk (she still worked for the telephone company).
On May 7, 1913, Gertrude (who had married Fred Myers in approximately 1908 or 1909), died as a result of Bright's disease and heart dropsy ten days after the birth of her son. She was laid to rest beside her brother William and her infant who had died two years before her death.
I found no 1920 census records for John and Adaline, although they were both still living in Saratoga. Their daughter Leone had married David Davis and was living in Littleton, Colorado when apparently her father (and perhaps her mother) were visiting since her name is on John's death certificate. Find-A-Grave lists John's year of death as 1925 (and for whatever reason, his birth is listed as being in 1846 in Gilpin County, Colorado – clearly incorrect information). John's death certificate tells a tragic story, although I found no record of any compelling circumstances which lead to his death:
Death Certificate for John BapOn March 15, 1927, at age 83 years, 10 months and 27 days, John Baptiste Priquet died as a result of a revolver wound to the head – a suicide. His daughter, Leone, signed the death certificate as informant. He was buried in Saratoga Cemetery on March 17. After John's death, Adaline's health declined rapidly. Her last three years were spent as an invalid. In 1930 at the age of 79, she was living with James and Carrie Mauk in Saratoga. Adaline passed away the following year.
There were several gaps in John and Adaline's history, but they most certainly experienced tragedies in their lives. Adaline had likely lost both parents after her family came to Colorado, perhaps leaving her and her siblings orphaned in a place of strangers. They experienced the death of both their very young and adult children and the estrangement of their oldest son Joseph. Whatever were the circumstances of John's death, I could find no information – it even appeared in family histories to gloss over the fact that he committed suicide or that he died in Colorado rather than Wyoming. John and Adaline's remaining family members, except for daughters Sarah and Leone, remained in Carbon County after the deaths of their parents.
I ran across a great story while researching this article. A blogger, known as "The Traveling Genealogist", wrote an article in 2011 for Mother's Day about Sarah Ann Schenck's grave in Evergreen, Colorado. The blogger had some of the same questions I had – did her husband Melvin die at the same time but buried elsewhere or in an unmarked grave? Why did they come to Colorado from Illinois? In 2013, a commenter thanked him for finding his long-lost ancestor! I also hope my Tombstone Tuesday articles might help someone find some overlooked or missing piece of information – making all the time spent researching and writing the article more rewarding and well-worth the effort.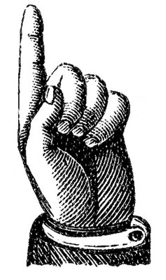 Did you enjoy this article?  Yes? Check out Digging History Magazine.  Since January 2018 new articles are published in a digital magazine (PDF) available by individual issue purchase or subscription (with three options).  Most issues run between 70-85 pages, filled with articles of interest to history-lovers and genealogists — it's all history, right? 🙂  No ads — just carefully-researched, well-written stories, complete with footnotes and sources.
Want to know more or try out a free issue? You can download either (or both) of the January-February 2019 and March-April 2019 issues here:  https://digging-history.com/free-samples/
Thanks for stopping by!