Absalom Baker Scattergood was born on July 11, 1822 in Dolington, Bucks County, Pennsylvania.  I was unable to definitely determine who his parents were, although one source lists his parents as John Head and Catherine (King) Scattergood.  I believe, based on the history of the area encompassing Bucks County, Pennsylvania and across the river to Burlington, New Jersey, that Absalom's family would have been Quakers more than likely. According to the records of the First United Methodist Church of Mount Holly, New Jersey, Absalom married Rachel King on August 12, 1843, so at some point Absalom had left the Society of Friends and joined the Methodist Church.  According to church records, he was a member of the First United Methodist Church in 1840.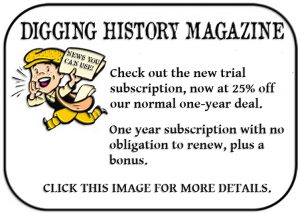 This article is no longer available at this site.  However, it will be enhanced and published later in a future issue of Digging History Magazine, our new monthly digital publication available by individual purchase or subscription.  To see what the magazine is all about you can preview issues at our YouTube Channel.  Subscriptions are affordable, safe and easy to purchase and the best deal for getting your "history fix" every month.
Want to know more or try out a free issue? You can download either (or both) of the January-February 2019 and March-April 2019 issues here:  https://digging-history.com/free-samples/
Thanks for stopping by!