America Virginia Palmer was born on June 11, 1848 in Cass County, Missouri to parents William Henry and Jane Francis (Cowherd) Palmer.  The Palmer family is enumerated on the 1850 Census with William listed as a farmer with property worth $340 with three young children (America is one year old).  By the 1860 Census William's property has increased to $5,000 and now there are eight children ranging in age from seventeen to two – America was eleven years old.
By 1870 I suspect the Palmer family had migrated to Colorado to pursue interests in silver mining, but I found no census record for them that year. In 1880 America had married (some family trees list the date of marriage as either August 15, 1871 or 1872) and was living in Crookeville, Hinsdale County, Colorado. Her husband Thaddeus P. Bell was listed as being forty-two years old and working in a silver mine. Jennie, as she was known, was thirty years old and kept house. Their daughter, baby Jennie, was listed as one month old(?). Baby Jennie, according to her gravestone died in 1879: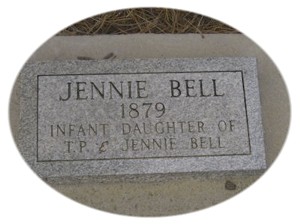 Another daughter, Mary Wilina, was born on August 27, 1880. On January 16, 1885 another child, Charles Jasper Bell, was born to Jennie and Thaddeus. On June 1, 1885 the Colorado State Census was taken and Thaddeus (T.P.) was still employed as a miner and Jennie keeping house. The couple has two young children: Mary W. who is listed as three years of age (should be five) and Charles J. who is four months old.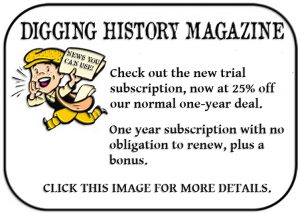 Jennie passed away on March 29, 1891 in Lake City, Hinsdale County, Colorado. The cause of death is not specifically known but a good guess would be influenza. About that time a wave of influenza was sweeping through the country and around the world. Other than Baby Jennie, there are no other family members buried in the Old Cemetery in Lake City, Hinsdale County, Colorado. It appears that her young children were sent back to Missouri to be raised and cared for by her parents (Jennie's parents had relocated back to Missouri at some point). In the 1900 United States Census Jennie's father William is listed as being seventy-six years old and living with him are Mary W. Bell age eighteen and Charles J. Bell age fifteen. I was not able to locate a 1900 census record for Thaddeus, although I found a United States Military Pension record — he was still living in Colorado and listed as "invalid" in 1902:
On October 6, 1908 Thaddeus died of a cerebral hemorrhage at the Veterans Home in Leavenworth, Kansas. This is a very interesting record, however. Thaddeus, who had been born in North Carolina, was sixty-nine years old at the time of his death. His body was shipped to his son C.J. Bell of Blue Springs, Missouri. According to a biography of Charles Jasper Bell, he graduated from the Kansas City (Missouri) School of Law in 1913 so it is likely that Charles was a student at the time. More on Charles a bit later… stay tuned.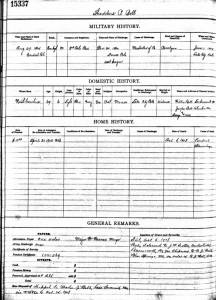 The most interesting part about Thaddeus' military record (click photo above to enlarge) is this — Thaddeus was present at the Sand Creek Massacre (see this recent blog article), serving in the 3rd Colorado Cavalry under Colonel John Chivington. On the Veterans Home record there is an notation regarding his time and place of discharge – December 30, 1864 in Denver and listed as "asst surgeon". This is particularly intriguing because I believe this is the gravestone of Thaddeus Bell in Blue Springs Cemetery, Blue Springs, Missouri. It matches the information listed on the Veterans Home record.
Regarding the Sand Creek Massacre, Thaddeus was called to testify and he recounted some gruesome details: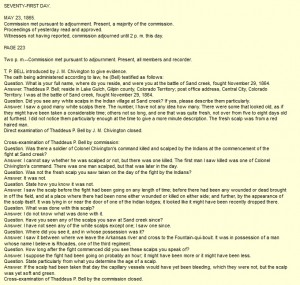 At one point in the testimony (not shown above) there is a reference to more specificallly "Dr. Thaddeus P. Bell". I did find a record in the Directory of Deceased American Physicians, his specialty listed as "allopath", often called "heroic medicine" (bloodletting, for instance) in the 19th century.
Maybe after leaving the military Thaddeus decided to head back to the mountains, become a silver miner, find a wife and start a family, leaving those gruesome memories behind. Why he stayed in Colorado after his wife's death and why he sent his children away to be raised by her family is a mystery. But it does appear that he kept in contact with his children all those years since Charles was to receive his body for burial.
Now a little more about Charles Jasper Bell. After graduating from law school in 1913, he started his own practice. On September 12, 1918 Charles registered for the World War I draft and listed his occupation as attorney and his wife Grace was his nearest relative. From 1926 to 1930 Charles served as a member of the Kansas City, Missouri City Council. In 1931 he began serving as a circuit judge until 1934 when he resigned to run for Congress. He was elected as a Democrat to the Seventy-Fourth Congress and served six consecutive terms (1935-1949) before returning to his law practice. He died on January 21, 1978 and is buried in the same cemetery as his father in Blue Springs, Missouri.
It appears that Mary Wilina Bell (known as "Willie") never married — she is buried in the same cemetery as her father and brother: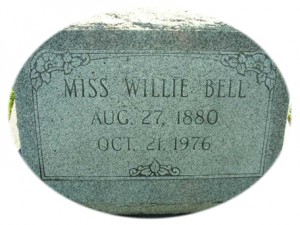 So, I didn't find a lot of specific information on Jennie (her given name "America Virginia" initially caught my eye) but found some very interesting stories about her husband and children — remember I just picked her randomly without knowing about these additional facts. I wonder if she could have ever imagined that her son would grow up to be a United States Congressman, serving with a future President (Harry S. Truman) in the Missouri delegation of Representatives and Senators?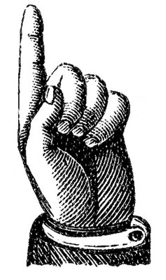 Did you enjoy this article?  Yes? Check out Digging History Magazine.  Since January 2018 new articles are published in a digital magazine (PDF) available by individual issue purchase or subscription (with three options).  Most issues run between 70-85 pages, filled with articles of interest to history-lovers and genealogists — it's all history, right? 🙂  No ads — just carefully-researched, well-written stories, complete with footnotes and sources.
Want to know more or try out a free issue? You can download either (or both) of the January-February 2019 and March-April 2019 issues here:  https://digging-history.com/free-samples/
Thanks for stopping by!