The land in Carbon County, Montana which eventually grew into this company mining town was purchased in 1903 by Fred and Annie Bartels.  Carbon County had been created out of portions of Park and Yellowstone Counties in 1895, and so named for the rich coal deposits in the area.
In 1906 the Anaconda Copper Company purchased the land which was situated at the foot of the Beartooth Mountains near the headwaters of the Bearcreek river.  Although I couldn't locate an exact map location of Washoe, I assume it lies somewhere between Bearcreek (town) and Red Lodge.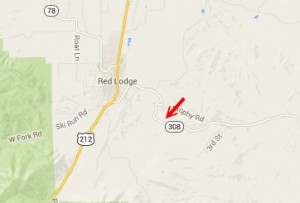 Anaconda Copper Mining Company and its subsidiary, Washoe Coal Company, developed the land into a company mining town, presumably to provide coal to the Anaconda mining operations in Anaconda and Butte. The name "Washoe" was a Nevada Indian tribal name and even today that name is seen on buildings and landmarks in Anaconda. In 1907 a post office was built and residents of Washoe (approximately 950), nearby Smith Mine and Scotch Coulee received mail in Washoe. Daily shipments of twelve hundred tons of coal left Washoe via the Northern Pacific Railroad.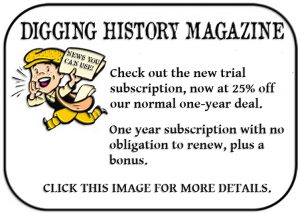 Washoe was no different than most company mining towns – a company store, community hall and company housing were built. The first school was held in 1907 in one of the houses on Company Row and later a two-story school building was built near the company store with eight rooms, bell tower, playground and outhouses. The school burned down and classes were again held on Company Row until a new brick building replaced it in 1924. The school closed in 1955 and is now a private residence.
Other buildings in the town included a church, teacherage, boarding houses, and train depot. Even though residents did not own the land they still built their own homes. The Women's Club of Washoe purchased one of the homes for club meetings and it was also used for Sunday school and regular church services when a minister was available.
By 1936 the town began to decline because Anaconda no longer required coal for their smelting operations (in 1912 the Montana Power Company had been established in Butte — electricity was less expensive). On February 27, 1943, the worst mining disaster in Montana history occurred at the nearby Smith Mine #3, operated by the Montana Coal and Iron Company. That day was a Saturday and there were only 77 men working the mine that day – being paid time and a half for weekend work. World War II dominated the world news and miners who had in recent years experienced the Great Depression were eager to work and contribute to the war effort.
According to Matt Stump of Montana State University Billings (Billings Gazette – February 26, 2013), the miners were quite patriotic. While doing research for his senior thesis, he discovered records indicating that one miner, a native of Austria, increased his bi-weekly purchase of war bonds from $75 to $132. The crew had just over an hour and half earlier descended approximately seven thousand feet underground to begin work.
No one is sure exactly what caused the explosion but it was likely due to an unusually high buildup of methane gas. The explosion was powerful enough to blow a 20-ton locomotive off the tracks, although the site of the explosion was so deep it wasn't detected at the mine entrance. Smoke began pouring from the entrance and sirens sounded, bringing both family members and emergency crews to the site.
The Bureau of Mines reported that 30 miners were killed instantly in the explosion and the rest died later as a result of injuries or suffocation from carbon monoxide and methane fumes. Rescue efforts began immediately as telephone line was strung down the mine shaft to enable communications with crews on the surface. While some family members remained hopeful of their loved ones being rescued, it soon became apparent that would not be possible. On March 7 the last body was removed – mine foreman Elmer Price aged 53, who left behind a widow and five children.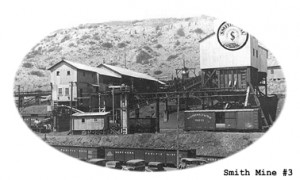 According to the Billings Gazette, a few miners lived long enough to scribble farewell messages to their families:
"Goodbye wifes and daughters. We died an easy death. Love from us both. Be good."
"We try to do our best but couldn't get out."
"It's five minutes pass 11 o'clock. Dear Agnes and children I am sorry we had to go this way — God bless you all."
There were 58 widows and 125 fatherless children left behind. Many miners were buried in the Bearcreek cemetery.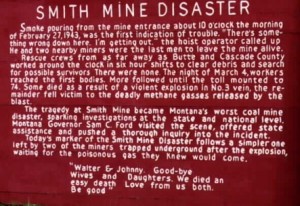 Coupled with the devastating explosion and the eventual cessation of railroad operations in 1953, coal mining was no longer a viable enterprise. A few residents still live in the area – the Washoe Quilt Shop web site indicates when everyone is home there are 21 residents. Nearby, Smith and Scotch Coulee mine buildings remain standing, albeit dilapidated, while the Washoe mine buildings were long ago torn down and the land reclaimed. The area is located between Belfry and Red Lodge on Highway 308.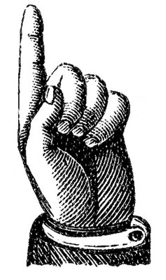 Did you enjoy this article?  Yes? Check out Digging History Magazine.  Since January 2018 new articles are published in a digital magazine (PDF) available by individual issue purchase or subscription (with three options).  Most issues run between 70-85 pages, filled with articles of interest to history-lovers and genealogists — it's all history, right? 🙂  No ads — just carefully-researched, well-written stories, complete with footnotes and sources.
Want to know more or try out a free issue? You can download either (or both) of the January-February 2019 and March-April 2019 issues here:  https://digging-history.com/free-samples/
Thanks for stopping by!